Jefferson "Jef" Cawaon Cablog, a renowned Igorot artist from Barlig, Mountain Province, was recently named as one of the "40 Portrait Masters" in the 40 Contemporary Great Masters of Portrait painting (The Definitive 2019 Book), published by Editorial Staff of The Magazine of Art of Watercolor.
The book showcases the masterpiece of 40 portrait artists from around the world. Cablog who calls himself "Yacamma", a proud native name of his great ancestor from Barlig, is the only Filipino to make the final list. His works are featured under the book section: Towards Abstraction.
The publishers say that every portrait is painted with emotion and is, in fact, a self-portrait because the artists choose to portray a part of themselves. In this book, they try, above and beyond questions of style and different forms of expression, to provide a snapshot of current artistic creation. By lifting the veil over an entire painting area, their goal is to provide an overview of photography skills in every size, shape, and color.
"Although their styles and objectives may differ, the artists we have selected all share a certain attachment to and deep respect for tradition, some opting to go against it and others to play with it."
Jef Cablog hails from Barlig, Mountain Province and graduated with a Bachelor of Fine Arts degree from the University of the Philippines-Baguio campus. He began his career in the visual arts about two decades ago. His favorite subject: the Ob-ofok, or the oral tradition of his hometown, which has been vividly captured in his numerous multi-layered portraits and landscapes.
"I have listened to the countless stories of Barlig, my hometown, as narrated by our village elders; and now I struggle to preserve these through my works and I know I will have to devote my entire life to this task.

I paint as my ancestors have built the rice terraces- stone by stone, piece by piece. My ancestors painstakingly crafted a grand cultural monument. Now I wish to do the same through my art."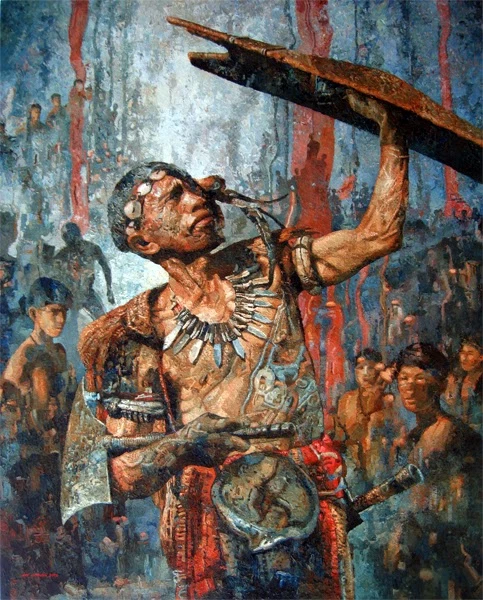 Cablog's art is truly a constant tribute to the traditions of his ancestors - labored with love, patience, and respect. His paintings use the same virtues of his ancestors in his work.
Congratulations, Jef! You are an Igorot pride, the whole Igorot community and the Philippines are so proud of you!