Igorotage supports Video Creators!
Out of the box, Igorotage supports link sharing — Yes, including Youtube videos! Are you a vlogger? Grow your channel for free by sharing your videos with the Igorot community!
Igorotage is on Youtube as well! Support us by subscribing to our channel.
Igorotage Weekly Digest
Don't miss anything important from the Igorot community! Each week we curate the best new information and deliver it directly to your inbox every Sunday morning.
Wallposts
You might also like these related wallposts.
"Ayyoweng di Lambak ed Tadian" 2017
Tadian is one of the latest addition of the municipalities of the Mountain Province that have crafted their home-grown festivals to keep the culture and tradition, unity, and community cooperation alive in the hope of attracting tourists to enhancing socio-economic development.

Tadian, Mountain Province.

#Tadian #MountainProvince

Photos: Rayleigh
MGB starts processing permit application of Nickel Asia unit
Posted on July 02, 2013

THE MINES and Geosciences Bureau (MGB) has begun processing the application of a subsidiary of listed Nickel Asia Corp. for a permit for a gold mining project in northern Luzon, according to a notice published in a newspaper yesterday.
The application for a Financial or Technical Assistance Agreement (FTAA) of Cordillera Exploration Company, Inc. -- formerly Newmont Philippines, Inc. -- was filed on Dec. 20, 1994. FTAA, which is for large-scale development, is the only mineral agreement that allows total foreign ownership.

The application covers a total of 77,549 hectares (ha), divided into 57,559.5121 ha in the Cordillera Administrative Region (CAR) and 19,989.4879 ha in Region 1, or Ilocos Region.

The area straddles the municipalities of Luba and Tubo in Abra; Bakun, Buguias and Mankayan in Benguet; Bauko, Besao, Bontoc, Sabangan, Sadanga, Sagada and Tadian in Mountain Province; as well as Quirino, Cervantes, San Emilio and Gregorio del Pilar in Ilocos Sur.

If approved, the FTAA will have a term of up to 25 years from date of execution, renewable for another term not exceeding 25 years.

The same document said this development comes in the wake of a decision by the Second Special Division of the Supreme Court, promulgated on May 30, 2011, that sided with then Newmont Philippines in a challenge raised by Diamond Drilling Corporation of the Philippines, which had applied also on Dec. 20, 1994 for a permit -- a Mineral Production Sharing Agreement -- that "was in conflict with a portion of one of Newmont's FTAA applications."

Cordillera Exploration Company, Inc., which was registered with the Securities and Exchange Commission on Oct. 19, 1994, is 71.25% owned by Nickel Asia, according to the parent firm's Web site.

The subsidiary "has a number of mining properties at various stages of exploration, all located in the central Cordillera area of northern Luzon," according to the same site.

Nickel Asia concluded its acquisition of Cordillera Exploration from Anglo American in November 2010, information on the same site showed, noting the deal gave the parent firm "four properties in central Cordillera of northern Luzon that are prospective for the exploration of gold and copper."

"The purchase marks our first step in our vision to become a diversified mineral resource company," the site read.

Nickel Asia itself was originally formed and operated as a British Virgin Islands company in 2006 by putting Hinatuan Mining Corp. -- which owned majority stakes in Taganito Mining Corp. and Cagdianao Mining Corp. -- and Rio Tuba Nickel Mining Corp. under one roof, according to the company's profile on the Web site of the Philippine Stock Exchange.

It currently owns four operating mines, namely: Rio Tuba in Palawan, Taganito and Tagana-an in Surigao del Norte, as well as Cagdianao on Dinagat Island off Surigao del Norte, according to the same profile.
Besides Cordillera Exploration, Hinatuan Mining, Taganito Mining, Cagdianao Mining and Rio Tuba Nickel Mining, the list of Nickel Asia subsidiaries also includes Samar Nickel Mining Resources Corp.; Taganito HPAL Nickel Corp.; Coral Bay Nickel Corp.; Falck Exp., Inc.; and La Costa Shipping and Lighterage Corp., according to Nickel Asia's Web site.

Nickel Asia reported last May 9 that its net income was more than halved to P217.959 million in the first quarter from P517.335 million in the same three months last year. Revenues dropped by a fifth to P1.405 billion from P1.747 billion -- due to lower nickel ore sales and lower prices at the London Metal Exchange -- while costs and expenses edged up 3% to P1.095 billion from P1.061 billion.

Its shares added 48 centavos or 3.10% to close at P15.98 apiece yesterday from P15.50 each on Friday last week.
BALANGBANG, A Native Victory Dance of the Mountain Province

(courtesy of Barangay Folk Dance Troupe)
circa 1960s Krüger-NBS Colored Photo Postcard
________

"... Balangbang requires the participation of many to beat the gongs and many women dancers. This originated from the western municipalities of Mountain Province (Besao, Sagada, Tadian, Bauko, Sabangan) but performed anywhere. Its version in eastern Mountain Province is the 'pattong'.

"The male gong players could be five or more and the female dancers could range from a single dancer to more than 10. It is a dance appropriate for mass participation. The male gong players move in a circular direction as they synchronize their artistic graceful steps and body swaying. The women dancers follow as they dance with the appropriate step, body swaying and arm position depending on the art and style of the music players."

excerpts from "Ethnic Dances in Mountain Province" by Dr. Caridad B. Fiar-od

#Balangbang #ethnicdance #MtProvince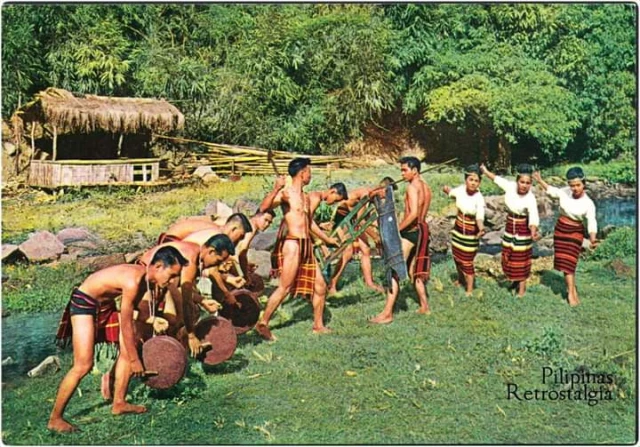 Who are the Kankana-ey people?
The name Kankanaey came from the language which they speak. The only difference among the Kankanaey are the way they speak like intonation and the usage of some words.

In intonation, there is a hard Kankanaey or #Applai and soft Kankanaey. Speakers of hard Kankanaey are from Sagada, Besao and the surrounding parts or barrios of the said two municipalities. They speak Kankanaey hard in intonation where they differ in some words from the soft-speaking Kankanaey.

The soft speaking Kankanaey comes from Northern #Benguet, some parts of Benguet, and from the municipalities of #Sabangan, #Tadian and #Bauko from #Mountain Province. In words, for example, an Applai might say otik or beteg (pig) and the soft-speaking Kankanaey may say busaang or beteg as well. The #Kankanaey may also differ in some words like egay or aga, maid or maga. They also differ in their ways of life and sometimes in culture.

Source: en.wikipedia.org/wiki/Kankanaey_people
Photo: The Cordillera Life
Three people died while six others were injured when their van fell off a ravine along Halsema Highway on Tuesday afternoon. The incident occurred within the vicinity of barangay Cattubo in Atok, Benguet. The passenger van came from Bauko, Mt. Province and was on its way to Baguio City.

According to an incident report by the Atok municipal police station, the van tried to overtake a truck when it swerved off the road and fell off a mountain slope that's around 300 meters high. The van was owned and driven by Rey Carias Batong.

The fatalities have been identified as follows:
1. Lourdes Payacda Balog-ang, 69, senior citizen, native of Bila, Bauko, Mt. Province and resident of #03 Purok 6, Irisan, Baguio
2. Mateo Elector Loy-odan Ngade, 34, married, mechanic, native and resident of Tadian, Mt. Province
3. Rey Carias Batong, 38, married, native and resident of Guinzadan Norte, Bauko, Mt. Province