A proposal to declare Baguio's pine as a heritage tree is being reviewed to determine how it would impact on development projects in the city.

The proposal was revived by the city council on Monday only to be tabled because of questions regarding its scope, how it could be enforced, and whether it would prevent developers from cutting pine trees standing on their projects.

The measure reached first reading before the term of the previous council ended in June.

#Baguio #Pines #HeritageTree
Igorotage supports Video Creators!
Out of the box, Igorotage supports link sharing — Yes, including Youtube videos! Are you a vlogger? Grow your channel for free by sharing your videos with the Igorot community!
Igorotage is on Youtube as well! Support us by subscribing to our channel.
Igorotage Weekly Digest
Don't miss anything important from the Igorot community! Each week we curate the best new information and deliver it directly to your inbox every Sunday morning.
Wallposts
You might also like these related wallposts.
Baguio Boy promoted to Two-Star Army General
True-blue Baguio boy Benedict Musni Arevalo has been promoted to two-star Army general during donning of ranks at Camp Aguinaldo last week with Armed Forces of the Philippines Chief of Staff Felimon Santos donning his second star. A member of the Philippine Military Academy Class of 1990, Arevalo is the current AFP Deputy Chief of Staff for Civil-Military Operations.

Arevalo is the son of retired military officer Filoteo Arevalo Sr. of PMA Class of 1956.

The newly-promoted Army officer has also four siblings, who are all military officers namely Alexander of PMA Class 1982, Filoteo Jr. of PMA Class 1984 (now a commercial pilot), Robert of PMA Class 1985, and Armand of PMA Class 1991.

Photo: AFP-PAO
Credit: Baguio Midland Courier

#Baguio #Army #General #BenedictMusniArevalo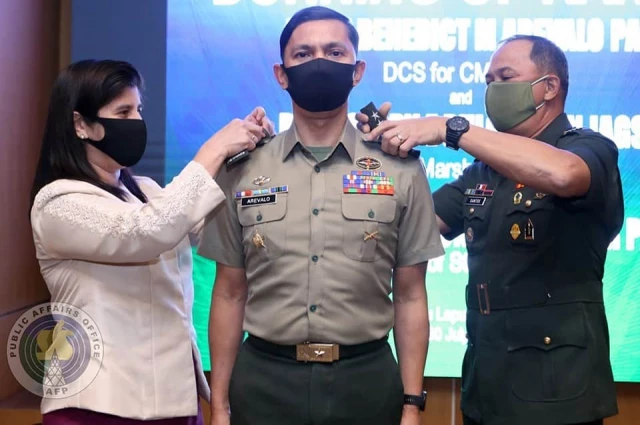 Honest Baguio Mall Guard Returns P216k + Passbook
One of Baguio City's mall security detail, Bernard C. Ridon, was praised and valued for his honesty after returning a pouch that has P216,000 cash in it and a passbook.

Courtesy of SM City Baguio and Baguio Midland Courier

#honest #Security #guard #Baguio #SM
Baguio Canine "microchipping" starts November
Want to give "man's best friend" a bit more protection in case they get lost or stolen?

The mandatory installation of microchip tags on dogs will start this November.

Thus bared City Veterinary and Agriculture Office (CVAO) chief Dr. Bridgit Piok during the City Hall flag-raising program.

She said, installation of microchips is mandatory for pets that are three-months old or over.

The microchip tagging of dogs is pursuant to Ordinance No. 60-2020. It establishes easier ownership tracking of dogs; protection of pets from theft; monitoring schedule of anti-rabies jabs; and, establishing accountability of pet-owners, among others.

The micro tag which rests under the dog's skin holds information on the owner's name, address, contacts, and description of the canine.

It costs P300 per dog and may be administered in barangays during scheduled mass tagging activities or at the CVAO.

A registration certificate shall then be issued after the dog had been microchipped. It is a permanent record that lasts until the dog's lifetime, unless there a change of ownership.

When the dog passes, the owner is required to inform the barangay or CVAO within five days.

In changes of ownership, the new owner must report the same within a period not exceeding ten days. Registration by the new owner costs P250.

Under the ordinance, Piok revealed, absence of the chip on a dog three-months old or over violates Ordinance No. 60-2020. A fine of P2,000 shall be imposed upon the owner.

A fine of P2,000 is likewise imposed upon owners of stray pooches.

She said, any person who releases an impounded dog without it having been micro-tagged or without fees or fines having been paid by the owner shall be fined P1,000, over possible administrative or criminal charges.

The ordinance imposes an impounding fee of P500 per dog; maintenance fee of P50 per dog per day; and, adoption fee of P500 per dog, she added.

Piok disclosed, within three-days, unclaimed dogs at the city pound may be put up for adoption; or, donated for scientific studies; or, put down.

Report from Gaby Keith via PIO-BAGUIO (26 July 2020)

Your thoughts?

#Baguio #microchip #dogs
Magalong: Hindi tayo susuko... The goal is clear, to build Baguio back in far better ways
"Hindi tayo susuko... The goal is clear, to build Baguio back in far better ways."

"Hihilom tayo. Babangon tayo ng tuluyan. Babalik ang Baguio sa higit pang ganda, sa higit pang gayuma at sa isang progresong walang naiwan."

"Ating tandaan, nasa Diyos ang awa, nasa atin pa rin ang gawa. Salamat ng marami sa inyong pagsuporta at pagtitiwala."

- Mayor Magalong via RAB for Magalong FB Page

#Magalong #Baguio
Baguio Boy is Next PNP Chief
UPDATE: Lieutenant General Camilo Cascolan is the next Philippine National Police (PNP) chief, replacing retiring top cop General Archie Gamboa, Interior Secretary Eduardo Año confirmed to Rappler on Tuesday, September 1.

Cascolan is set to retire on November 10 as he reaches the mandatory age of retirement of 56, unless President Rodrigo Duterte decides to extend his term.

Asked about Cascolan's possible short term, Año said the public should not focus on the span of his stint, but the work to be done.

"Matagal pa naman ang 2 months (2 months is still long). We don't think of that yet. There is a lot to be done," he said.

In terms of seniority, Cascolan was next in line to be chief as the deputy chief for administration of the PNP. He belongs to the Philippine Military Academy Sinagtala Class of 1986.

...

Police Lt. Gen. Camilo Pancratius Cascolan will serve as officer-in-charge of the Philippine National Police (PNP) upon the retirement of Gen. Archie Gamboa on Wednesday, Malacañang said Tuesday.

Known by his nickname "Pikoy," Cascolan is also a member of the Philippine Military Academy Class of 1986, to which his two predecessors, Police Generals Gamboa and (now Senator) Ronald de la Rosa also belonged.

A native of Baguio City, he is a product of the Maryknoll Convent School and the University of the Philippines Baguio High School.

#Baguio #Pikoy #Cascolan #PMA #PNP