At the start of its modified general community quarantine, Baguio suddenly reported two new coronavirus cases on Monday, June 1, bringing to 4 its total active cases.

Ailene Doria, 28, of City Camp Central, came out in the open to help in the city's contact tracing program.

Doria returned to Baguio last March 28 to resume her job as a store manager here.

Instead, she tested positive for the coronavirus.

Bernardo Agbuya, 25, was having a drinking spree with friends in Sitio Apugan in Barangay Poliwes on the evening of May 28, despite a citywide liquor ban.

Agbuya and his brother had an alcohol-induced fistfight and their father tried to pacify them.

Instead, the brothers mauled their father.

They were slapped charges of direct assault with resistance and disobedience to persons in authority, and violation of the liquor ban.

It is city policy to test all incoming detainees, and Bernard tested positive for the coronavirus. He was asymptomatic.

#Baguio #covid19 #coronavirus #cases #lockdown #Poliwes #SitioApugan #CityCampCentral
Igorotage supports Video Creators!
Out of the box, Igorotage supports link sharing — Yes, including Youtube videos! Are you a vlogger? Grow your channel for free by sharing your videos with the Igorot community!
Igorotage is on Youtube as well! Support us by subscribing to our channel.
Igorotage Weekly Digest
Don't miss anything important from the Igorot community! Each week we curate the best new information and deliver it directly to your inbox every Sunday morning.
Wallposts
You might also like these related wallposts.
COVID-19 Regional update as of 12nn of June 10, 2020

No new case reported in the Region.

NOTE: 1 case is reflected in CAR (Baguio) but the patient is admitted in NCR since our reporting is based on the place of residence.

[UPDATE] COVID CASE UPDATE TODAY JUNE 10, 2020

BOMBO NEWS DEPARTMENT
JUNE 10,2020

BAGUIO CITY--Maibasar iti datus manipud kadagiti local government units ken DOH-Cordillera, nailista ti maysa a kaso ti covid sadiay La Trinidad, Benguet nu sadinu daytoyten ti maika-15 a confirmed case ti probinsya.

Ti nasao a covid-patient ket agtawen ti 28, truck helper, ken residente ti Little Kibungan La Trinidad, Benguet.

Daytoy ket maatap a close contact ti 22-anyos a truck helper manipud Botiwtiw, La Trinidad a nagpositibo iti covid-19 kalpasan a nagturong sadiay Cubao Quezon City idi May 31, 2020.

Malaksid iti daytoy, nailista met ti maysa a kaso ti covid-19 sadiay KALINGA nu sadinu nakasangpet ita ti swabtest result daytoy kalpasan a nagtaud sadiay Caloocan, Metro Manila.

Dagus met a naiturong daytoy iti isolation area ti Tabuk City bayat a maipatpatungpal metten ti contact tracing nu sadinu daytoy ti maysa a pasahero ti victory liner bus no.1 nga adaan iti 25 a pasaeors.

Kabayatanna, nailista metlaeng ti kabarbaru a kaso iti covid-19 sadiay Lagawe Ifugao ita nga aldaw.

Daytoy ket maysa a lalaki, 30-anyos ken OFW a nagtaud sadiay Dubai.

Sigun iti LGU-Lagawe, simmangpet daytoy iti nasao a munisipyo idi June 7 ken dagus a nagturong daytoy iti Municipal Community Quarantine sadiay.

Nagpaisong met daytoy iti Rapid test a nagresulta iti reactive kasta metten a naipasidong daytoy iti swab test nu sadinu naamuan a nagpositibo daytoy iti covid-19 ita nga aldaw.

Iti agdama ket ada daytoyen iti natalged a kasasaad bayat a manarimaan metten ti contact tracing kadagiti indibidual a nakapulapol daytoy.

#BeatCOVID19 #covid19 #WeHealAsOne #Coronavirus #COVIDkaya19to #Cordillera
TWO New COVID-19 Deaths reported in the Cordillera
COVID-19 Cases Regional Update as of 5:00pm of August 1, 2020

Twenty (20) new Recoveries, five (5) new Cases and two (2) new Deaths Reported in the Region:
Recoveries:
- 5 in Abra
- 4 in Apayao
- 5 in Baguio City
- 3 in Ifugao
- 2 in Kalinga
- 1 in Mt. Province

Cases:
- 3 in Baguio City
- 1 in Benguet
- 1 in Kailinga

Deaths:
- 1 in Abra
- 1 in Baguio City

for additional or more detailed information visit:
caro.doh.gov.ph/doh-car-covid-19-tracker/

NOTE:
• Some data may change as new information occur based on further validation and investigation.

#BeatCOVID19 #covid19 #Cordillera
#WeHealAsOne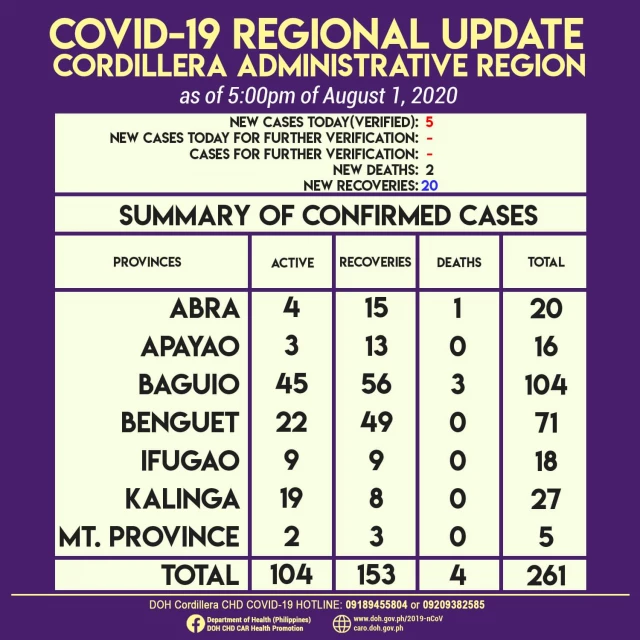 Baguio Canine "microchipping" starts November
Want to give "man's best friend" a bit more protection in case they get lost or stolen?

The mandatory installation of microchip tags on dogs will start this November.

Thus bared City Veterinary and Agriculture Office (CVAO) chief Dr. Bridgit Piok during the City Hall flag-raising program.

She said, installation of microchips is mandatory for pets that are three-months old or over.

The microchip tagging of dogs is pursuant to Ordinance No. 60-2020. It establishes easier ownership tracking of dogs; protection of pets from theft; monitoring schedule of anti-rabies jabs; and, establishing accountability of pet-owners, among others.

The micro tag which rests under the dog's skin holds information on the owner's name, address, contacts, and description of the canine.

It costs P300 per dog and may be administered in barangays during scheduled mass tagging activities or at the CVAO.

A registration certificate shall then be issued after the dog had been microchipped. It is a permanent record that lasts until the dog's lifetime, unless there a change of ownership.

When the dog passes, the owner is required to inform the barangay or CVAO within five days.

In changes of ownership, the new owner must report the same within a period not exceeding ten days. Registration by the new owner costs P250.

Under the ordinance, Piok revealed, absence of the chip on a dog three-months old or over violates Ordinance No. 60-2020. A fine of P2,000 shall be imposed upon the owner.

A fine of P2,000 is likewise imposed upon owners of stray pooches.

She said, any person who releases an impounded dog without it having been micro-tagged or without fees or fines having been paid by the owner shall be fined P1,000, over possible administrative or criminal charges.

The ordinance imposes an impounding fee of P500 per dog; maintenance fee of P50 per dog per day; and, adoption fee of P500 per dog, she added.

Piok disclosed, within three-days, unclaimed dogs at the city pound may be put up for adoption; or, donated for scientific studies; or, put down.

Report from Gaby Keith via PIO-BAGUIO (26 July 2020)

Your thoughts?

#Baguio #microchip #dogs
The viral photos of Philippine National Police (PNP) chief General Archie Gamboa showing him with a group of people without face masks and not following the protocols on physically distancing were actually taken before the imposition of pandemic restrictions.

The Philippine National Police (PNP) threatened to file complaints against individuals who are spreading photos of the PNP chief.

On Tuesday, August 18, the Philippine Star posted the photos, saying that the images were of Gamboa's controversial Baguio City dinner allegedly held on Saturday, August 15. The publication said the information came from a reliable source.

However, the photos were taken on February 18 at a dinner party in Forbes Park, Makati City, weeks before the coronavirus lockdown and health protocols were enforced.

#Baguio #Gamboa #PNP #protocol #COVID19
Baguio Boy promoted to Two-Star Army General
True-blue Baguio boy Benedict Musni Arevalo has been promoted to two-star Army general during donning of ranks at Camp Aguinaldo last week with Armed Forces of the Philippines Chief of Staff Felimon Santos donning his second star. A member of the Philippine Military Academy Class of 1990, Arevalo is the current AFP Deputy Chief of Staff for Civil-Military Operations.

Arevalo is the son of retired military officer Filoteo Arevalo Sr. of PMA Class of 1956.

The newly-promoted Army officer has also four siblings, who are all military officers namely Alexander of PMA Class 1982, Filoteo Jr. of PMA Class 1984 (now a commercial pilot), Robert of PMA Class 1985, and Armand of PMA Class 1991.

Photo: AFP-PAO
Credit: Baguio Midland Courier

#Baguio #Army #General #BenedictMusniArevalo