Filipino and Igorot troops captured after the Battle of Caloocan.

They eventually became U.S. allies and guides for American troops in the rugged highlands of northern Luzon. Perhaps because they felt betrayed, deceived, and used by the same Filipino soldiers who unfortunately also deceived Fangued's group.

A Tingguian Igorot named Mr. Januario Galut led the American troops to Gen. Gregorio del Pilar's flank, allowing them to quickly defeat the Filipino forces in Tirad Pass on December 2, 1899.

#Tingguian #Igorot #BattleOfCaloocan #Filipino
Igorotage supports Video Creators!
Out of the box, Igorotage supports link sharing — Yes, including Youtube videos! Are you a vlogger? Grow your channel for free by sharing your videos with the Igorot community!
Igorotage is on Youtube as well! Support us by subscribing to our channel.
Igorotage Weekly Digest
Don't miss anything important from the Igorot community! Each week we curate the best new information and deliver it directly to your inbox every Sunday morning.
Wallposts
You might also like these related wallposts.
Proud Igorot OFW is a United Arab Emirates Hero
Proud Igorot, now a frontliner in the United Arab Emirates!

Red Cloud Decaleng Capuyan is one of the healthcare workers who continues to fight COVID-19 in the UAE.

Red is from the Cordillera Administrative Region.

He graduated with a Bachelor of Science in Nursing from the St. Louis University in Baguio city. He also has an International Interprofessional Wound Care Course at the University of Toronto in Canada.

He has been an Overseas Filipino Worker for five years. He is also the founding president of the Philippine Nurses Association in the UAE (PNA-UAE).

Despite the danger to the chosen profession, Red remains hopeful.

We salute you all Igorots abroad! Stay safe and see you the soonest!

Credit: GMA Pinoy TV

#ProudIgorot #OFW #frontliners #heroes #UnitedArabEmirates #COVID19 #RedCloudDecalengCapuyan
Unsung Heroes: Brave Igorots helped refugees escape from Baguio during World War 2
From mid-March of 1945 through April, a steady stream of refugee civilians escaped from Baguio through Japanese lines to Tubao.

Brave Igorot guides shepherded the refugees through mountain paths in what became known as the "Refugee Trail".

Among those who escaped were Manuel Roxas, Filomena Osmeña, daughter of President Sergio Osmeña; Jose Yulo, Chief Justice of the Supreme Court; Antonio de las Alas, Minister of Finance; and Teofilo Sison, Minister of the Interior.

Source: Winston, Sanford H. *The Golden Cross: A History of the 33rd Infantry Division in World War II.* Washington [D.C.]: Infantry Journal Press, 1948. p.334 via Cito Maramba

#WW2 #RefugeeTrail #Igorot #refugee #Baguio #Tubao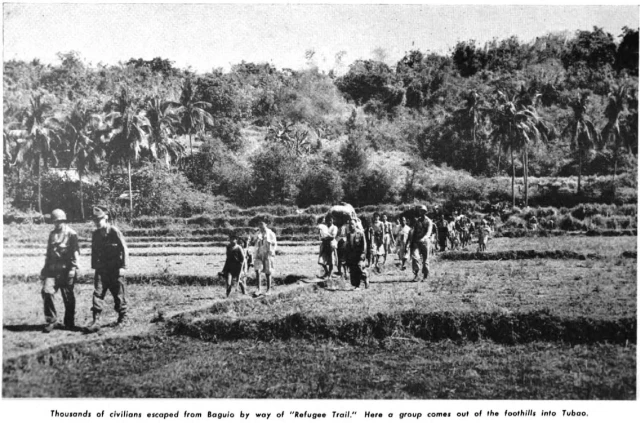 Igorot Cop killed in Sulu twin explosion
Another fallen Igorot warrior. Igorot Police Senior Master Sergeant Joe Michael Ananayo Langbis is one of the soldiers and civilians killed following the twin explosion in Jolo, Sulu on August 24, 2020.

The Igorot hero is from Ampusa, Tuba, Benguet, and a member of the Philippine Special Action Force.

Our condolences to the bereaved family and friends!

Rest in peace, kabsat.

Photo: Doddie Mendillo

#JoeMichaelAnanayoLangbis #JoloSulo #TwinExplosion #SAF #Benguet #Igorot #hero #warrior
Igorot film "Tokwifi" makes it to Bangkok ASEAN filmfest
Carla Pulido Ocampo's "Tokwifi" or "Star," and four other PH Films will vie against 12 entries from Vietnam, Laos, Thailand, Malaysia, Singapore, Cambodia, and Myanmar for the Short.

Tokwifi is inspired by a Bontok Igorot folklore.

Bangkok ASEAN Film Festival 2020, organized by Thailand's Ministry of Culture, aims to promote the film of Southeast Asia to acquire a more prominent status in the international film community and to foster a co-operation between the regional film industry and other film industries around the world.

The 6th edition of the festival will take place from Sept. 3 to 6.

#Tokwifi #Bontok #Igorot #film
RIP Igorot Hero: MAJOR MARVIN A INDAMMOG PA
MAJOR MARVIN A INDAMMOG PA - isang dugong mandirigma na Igorot mula sa Tanudan, Kalinga, miyembro ng PMA Class 2006, at subok sa labanan partikular sa Bangsamoro Autonomous Region in Muslim Mindanao bilang isang Scout Ranger.

Ginugol ni Major Indammog ang kanyang mga araw sa militar bilang isang Scout Ranger na buong tapang na nakikipaglaban sa Abu Sayyaf at iba pang mga rebelde sa Mindanao sa loob ng walong (8) taon.

Siya ay tumanggap ng maraming mga parangal mula sa militar dahil sa kanyang buong tapang na pakikipaglaban sa mga terorista sa Mindanao pagkatapos ay inilipat siya sa AFP ng Intelligence Service noong 2014.

Isang taus pusong pakikiramay sa buong pamilya sa sa mga tatlo pa nitong kasamahan.

R.I.P

#SaluteToTheFallen