Police units in the province continue to provide aid indigent families in the barangays amid the implementation of the Enhanced Community Quarantine (ECQ) due to the threat of coronavirus disease 2019

More than a dozen less fortunate families received assorted relief goods from three municipal police stations and the Ifugao Provincial Mobile Force Company (IPMFC) funded through their voluntary contributions.

God Bless you po mga mga Police at IPMFC!

#Ifugao #CommunityQuarantine #aid #Police #IPMFC
Igorotage supports Video Creators!
Out of the box, Igorotage supports link sharing — Yes, including Youtube videos! Are you a vlogger? Grow your channel for free by sharing your videos with the Igorot community!
Igorotage is on Youtube as well! Support us by subscribing to our channel.
Igorotage Weekly Digest
Don't miss anything important from the Igorot community! Each week we curate the best new information and deliver it directly to your inbox every Sunday morning.
Wallposts
You might also like these related wallposts.
What is "UBBU" in Ifugao?
In the central part of Ifugao where I was born and raised, I have witnessed a lot of times what they call "ubbu".

It is a term used to describe a traditional Ifugao practice, where a person calls the help of other folks to be part of a work (usually in their ricefields). In return, the person who called for help must repay it with work, commensurate to the number of days the person worked for him/her.

They don't use money to pay workers, but they use work to barter for work.

When these folks gather to work, it's a time for a good fellowship, and in the olden times, it is used to learn their traditional hymn of "Hudhud" for the ladies.

It is still very much alive in my native barangay. But in many parts of Ifugao, "ubbu or ub-ubbu" is becoming strange; just a part of our rich history.

What can the new generation of the "real sons and daughters of Ifugao" do?

By: Abe Ngipol

#Ubbu #Ububbu #binnadang #Ifugao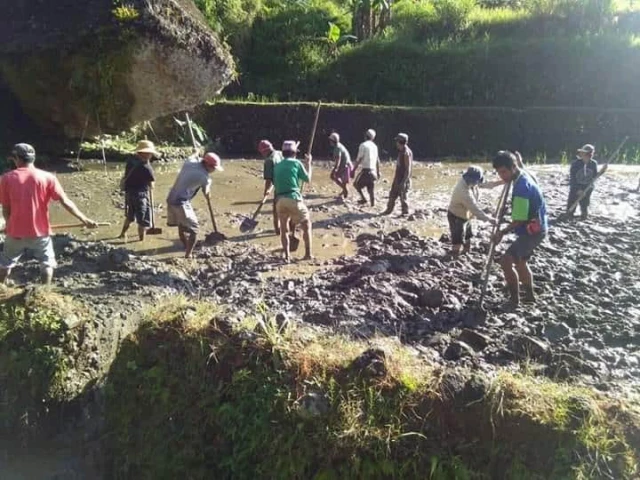 La Trinidad awarded Best Municipal Police Station Regionwide and Nationwide
PMAJ CLEFF B VENCIO, COP together with Hon. Romeo K Salda, Municipal Mayor of La Trinidad received an award as BEST MUNICIPAL POLICE STATION Regionwide and Nationwide during the 119th Police Service Anniversary Celebration at Masigasig Grandstand Camp Major Bado Dangwa, La Trinidad, Benguet.

(Joint Accomplishment during the stint of PMAJ JOEFFER BANGLAYAN, PMAJ ROLDAN CABATAN and PMAJ CLEFF VENCIO)

THANK VERY MUCH LA TRINIDAD LGU, STAKEHOLDERS and the COMMUNITY FOR ALL THE SUPPORT!!!!
MATAGOTAGO TAKO AMIN!!!!

From La Trinidad MPS

#LaTrinidad #PoliceStation #Benguet
The Baguio City Police Office (BCPO) charged four person for usurpation of authority for using the logo of the Baguio General Hospital and Medical Center (BGHMC) in trying to gain entry to the city last August 18.

Police City Director Col. Allen Rae Co said the filing of charges was attested to by BGHMC Medical Specialist IV Dr. Frederick Mars Untalan against the suspects David Rivers, 60; Nick Narag Sy, 34; Violeta Rivera, 69; and Elizabeth Rivera, 42, all residents of Pideg, Tubao, La Union with city address at Lourdes Ext..Naguillian Road, Baguio City.

#Baguio #hospital #IllegalEntry
And totoong rason kung bakit pinalayas sina Piolo Pascual sa Sagada

Joking aside, here's the official statement from the Sagada LGU.

Sagada, Mountain Province. On July 3, 2020, a coordinator from the Malacanang Presidential Broadcast Staff-RTVM called the Mayor and the Municipal Disaster Risk and Management Officer (MDRRMO) asking if a team under Direk Joyce K. Bernal can come to video shoot in Sagada. Accordingly, video materials will be used in this year's State of the Nation Address (SONA) scheduled on the 3rd Monday of July. Both declined the request.

On July 5, 2020, word was received that the team was on its way to Sagada. The MDRRMO recommended for an emergency meeting to refer the matter to the Local COVID-19 Task Force which was convened at 1:30 PM. Upon the query of the body for any written communication regarding the video shoot, it was found out that an email was sent by Direk Joyce Bernal's team after office hours on July 3, 2020, Friday. The letter was informing the Mayor of the team coming on the night of July 5, 2020. Attached to the letter was an Authorization Letter signed by DENNIS WILFRED P. PABALAN, Executive Director of the Malacanang Presidential Broadcast Staff-RTVM.

While the meeting was ongoing, the advance party of Direk Joyce were being escorted by our Phil. National Police to Sagada Cellar Door where they will be staying, after the management of Sagada Heritage Village turned them down following the local guideline that all tourism establishments continue to be suspended/closed due to the COVID-19 pandemic.

Mr. Andrew Chinalpan, Sagada Cellar Door manager and Direk Joyce Bernal were called to attend the ongoing meeting. It was Direk Joyce who came down to attend said meeting.The Local Task Force explained the sentiments of the body and their stand which was contained in a letter addressed to the team's coordinator. Direk Joyce clearly understood the decision of the body and she was apologetic. She appealed that they be given the night to rest in Cellar Door and to ensure that their vehicles are ready for the long trip back to Manila. The body agreed since they were already at the Cellar Door.

Meantime, our Local COVID Task Force will be conducting monitoring activities for Cellar Door management to ensure that those in the establishment undergo a mandatory quarantine.

#PioloPascual #Sagada
108-year-old Ifugao Centenarian Receives 100k Cash Gift
Tinoc, Ifugao - Natanggap na ni Lola Martina Campoy Gugunay, 108 taong gulang, ang kanyang centenarian cash gift mula sa DSWD-CAR.

Ang centenarian gift mula sa national na pamahalaan ay nagkakahalaga ng Php 100,000.00 na ibinibigay sa mga senior citizens na nakaabot ng 100 years old at higit pa.

Photo courtesy of MSWDO Esther Paduyao Juan

#centenarian #Tinoc #Ifugao #DSWDCAR #seniors