Planning a trip with friends can be tricky-everyone's availability must be considered, the budget must be set, and the group's consensus on where to go and what to do must be achieved. Failing to finalize these factors often lead to cancelled plans, or as they call it, "drawing na hindi nakulayan."
To ensure those travel plans happen, consider what the group wants to do to determine where the group goes. Here are some local destinations for three kinds of barkada.

No need to go far; some local hiking destinations are just three or four hours outside of the metro, so friends can easily hop on a bus or organize a road trip. For starters, the trails of Mount Daraitan in Tanay, Rizal is an easy climb and usually takes three hours to reach the summit. Though the climb is pretty steep in the beginning, the majestic view at the top makes all the sweat worth it.
Another awesome option is Batad, Ifugao where the group can trek along the breathtaking Batad Rice Terraces. This UNESCO World Heritage Site is believed to be sculpted by the Ifugao and a trip here will make thrill-seekers appreciate their stunning work of ingenuity.

#BATAD #Ifugao #RiceTerraces
Igorotage supports Video Creators!
Out of the box, Igorotage supports link sharing — Yes, including Youtube videos! Are you a vlogger? Grow your channel for free by sharing your videos with the Igorot community!
Igorotage is on Youtube as well! Support us by subscribing to our channel.
Igorotage Weekly Digest
Don't miss anything important from the Igorot community! Each week we curate the best new information and deliver it directly to your inbox every Sunday morning.
Wallposts
You might also like these related wallposts.
What is "UBBU" in Ifugao?
In the central part of Ifugao where I was born and raised, I have witnessed a lot of times what they call "ubbu".

It is a term used to describe a traditional Ifugao practice, where a person calls the help of other folks to be part of a work (usually in their ricefields). In return, the person who called for help must repay it with work, commensurate to the number of days the person worked for him/her.

They don't use money to pay workers, but they use work to barter for work.

When these folks gather to work, it's a time for a good fellowship, and in the olden times, it is used to learn their traditional hymn of "Hudhud" for the ladies.

It is still very much alive in my native barangay. But in many parts of Ifugao, "ubbu or ub-ubbu" is becoming strange; just a part of our rich history.

What can the new generation of the "real sons and daughters of Ifugao" do?

By: Abe Ngipol

#Ubbu #Ububbu #binnadang #Ifugao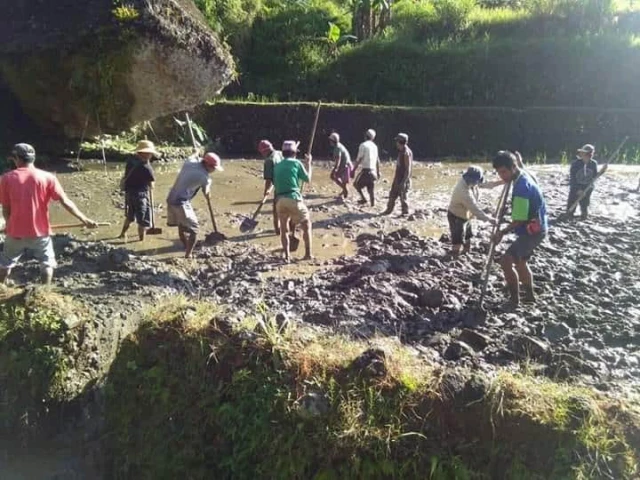 3 honest Ifugao kids return found valuables
A lost belt bag containing cash found along Paypay, Poblacion, Hingyon, Ifugao was turned-over to PNP Hingyon office by these three good samaritans of the day namely; Dexter Lagmoy, Bryson Dagumay and Zaijan Dagumay, all residents of Poblacion, Hingyon, Ifugao.

Thanks to these little but responsible kids of Poblacion. God bless you a thousand fold.

Good parenting!

Credit: Pnp Ifugao Hingyon

#Hingyon #Ifugao #Honesty
This is the Chaya cluster of the breathtaking Mayoyao Rice Terraces in Mayoyao, Ifugao, photographed from the Mt. Nagchajan Viewpoint, also in the same town. It is part of the Rice Terraces of the Philippine Cordilleras inscribed as UNESCO World Heritage Site in 1995 (along with those in Batad and Bangaan in Banaue, Hungduan, and Nagacadan in Kiangan, all located in the province of Ifugao).

These payew ('rice terraces' in Henanga, the language of the Majawjaw or Mayoyao people) witnessed the victory of our lolo and lola beteranos in the last World War II battle fought in the Philippines, exactly 75 years ago on this day. The capture of Mayoyao defense line of Imperial Japanese Army Commander Tomoyuki Yamashita resulted in the eventual surrender of the Japanese in the Philippines. In this event, Ifugao warriors fought together with fellow Filipinos from other provinces, as well as the American soldiers.

This coming 3 September 2020, the grateful Filipino people will commemorate the 75th anniversary of the end of World War II in the Philippines.

The National Historical Commission of the Philippines (NHCP) commemorated the Victory at Mayoyao with a historical marker installed at the Mt. Nagchajan.

Credits: Ivan Henares, National Quincentennial Committee, Republic of the Philippines

#Chaya #Mayoyao #RiceTerracss #Nagchajam #Ifugao #payew
Ifugaos unique ritual for the dead vanishing
LAGAWE, Ifugao , Philippines - The Ifugaos' traditional and unique way of honoring their dead - known as bogwa - seems to be vanishing.

Today, locals say only few Ifugao natives perform the ritual, given the changes in burial practices and modern cemeteries. Natives have also begun leaving to settle in urban areas.

Bogwa is the practice of exhuming the bones of the dead, cleaning and rewrapping them after a year or more depending on necessity and returning them to the grave or lubuk.

It is considered one of the most expensive rituals of the Ifugao natives as animals have to be offered during the three days it is being performed.

But being a family responsibility to honor a deceased loved one, it is being done as the Ifugaos do not observe All Saints' Day and All Souls' Day like most Filipinos.

Marcos Bantiyan, former vice mayor of Hingyon town, said bogwa repeats the usual burial ceremonies when an Ifugao dies, except this time without expressions of grief.

"It's more on feasting rather than mourning, pigs and carabaos will be offered for three days to appease the spirits of the dead," Bantiyan said.

According to Bantiyan, the Ifugaos believe bogwa is necessary so those left behind will prosper and live in peace with the spirits of their departed loved ones.

It is also the Ifugaos' way of showing love and valuing what their deceased loved ones have done for them, Bantiyan said.

Apo Daniel Himayod, now 80 and who has served as a traditional mumbaki (pagan priest), said bogwa is also needed if any member of the family keeps on dreaming of their departed loved ones, if a widow or widower wishes to remarry or if the family has been experiencing sickness without knowing the reason.

Himayod said as a mumbaki, he believes that sometimes sickness could be caused by the displeasure of spirits of the departed.

During the first day of the three-day ritual, mumbakis and other tribal elders including gong beaters will perform the gohwat in the morning by taking out the remains from the gungat (traditional burial chamber) or urn, cleaning the bones, arranging them in proper position and wrapping them in traditional woven cloth called gamong before bringing them to a residence for bogwa.

The second day is called kadwa where immediate family members continue to prepare food and drink (rice wine) for visitors who attend the ritual, since the invitation for bogwa is open not only within the village but even outside the community.

At 3 p.m. in the afternoon of the katlu or third day of the ritual, the bones are brought back to the grave with gong accompaniment, with the skull positioned facing the opening of the gungat.

Animals like pigs are butchered every day of the bogwa, with some specific parts of the slaughtered animals given to relatives of the deceased as a sign of kinship, while the rest of the meat is cooked and served to the people joining the wake.

"In some cases, bogwa is more expensive than marriage because of the presence of people who attend the wake for three days and two nights," Himayod said.

Himayod said traditionally, early Ifugaos did not embalm their dead or place the body inside coffins and thus, the corpse decayed fast and was ready for bogwa after a year.

"In the Ifugao original practice, the dead was wrapped in a traditional blanket called bay-yaung and placed in a sitting position called hangdel, but now, the dead are embalmed and buried in coffins," Himayod said.

Because of the embalming practices, Himayod said the cadaver is still intact even after three to five years and when bogwa is performed, the bones have to be separated forcibly from the remaining flesh as a requirement for cleaning.

"I usually perform baki (pagan prayer) during those days but now, different religious sectors are participating by praying and singing religious songs during bogwa instead of baki and hudhud," Himayod added.

Aside from bogwa, one of the fast disappearing practices of the Ifugao is the multi-chambered burial site called gungat.

Alongside preparation of the terraces centuries ago was the gungat, the original lubuk (cemetery) of the Ifugao engineered by the ammod (forebears) for their kinsmen.

Bantiyan, whose family owns a gungat in Hingyon town, said a typical gungat has a small entrance and tunnel leading to the burial chambers, each containing bones of the departed descendants with space enough for kinsmen of the family that owns the burial place.

But according to tradition, only the kadangyan or wealthy families have the right to be buried in gungat, while ordinary people will be buried near their abung or traditional house.

(PHOTO: The pre-Hispanic multi-chambered burial sites or gungat in Barangay Bitu, Hingyon, Ifugao. By VICTOR MARTIN)

Read more at www.philstar.com/headlines/2017/11/01/1754835/ifugaos-unique...

#Ifugao #bogwa #ritual #dead #burial #baki