Ano na po mangyayari sa mga hindi high-risk na provinces?

Back to normal na ba or slowly lang? Baka mamaya sila pa biglang lumubo covid-19 cases, lalo na sa mga lugar na walang mass testing.

#CommunityQuarantine #COVID19 #coronavirus
Igorotage supports Video Creators!
Out of the box, Igorotage supports link sharing — Yes, including Youtube videos! Are you a vlogger? Grow your channel for free by sharing your videos with the Igorot community!
Igorotage is on Youtube as well! Support us by subscribing to our channel.
Igorotage Weekly Digest
Don't miss anything important from the Igorot community! Each week we curate the best new information and deliver it directly to your inbox every Sunday morning.
Wallposts
You might also like these related wallposts.
LOOK: Abra Province, nagiwaras ti libre nga manok

Naiwaras ti manok a sidaen dagiti residente sadiay Sal-lapadan, Bucay, Lagangilang, La Paz, Danglas, ken San Juan kas kanayunan nga ayuda kabayatan ti enhanced community quarantine.

Photo by : Abra Province

#ABRA #CommunityQuarantine #COVID19 #Coronavirus
COVID-19 Regional update as of 12nn of June 10, 2020

No new case reported in the Region.

NOTE: 1 case is reflected in CAR (Baguio) but the patient is admitted in NCR since our reporting is based on the place of residence.

[UPDATE] COVID CASE UPDATE TODAY JUNE 10, 2020

BOMBO NEWS DEPARTMENT
JUNE 10,2020

BAGUIO CITY--Maibasar iti datus manipud kadagiti local government units ken DOH-Cordillera, nailista ti maysa a kaso ti covid sadiay La Trinidad, Benguet nu sadinu daytoyten ti maika-15 a confirmed case ti probinsya.

Ti nasao a covid-patient ket agtawen ti 28, truck helper, ken residente ti Little Kibungan La Trinidad, Benguet.

Daytoy ket maatap a close contact ti 22-anyos a truck helper manipud Botiwtiw, La Trinidad a nagpositibo iti covid-19 kalpasan a nagturong sadiay Cubao Quezon City idi May 31, 2020.

Malaksid iti daytoy, nailista met ti maysa a kaso ti covid-19 sadiay KALINGA nu sadinu nakasangpet ita ti swabtest result daytoy kalpasan a nagtaud sadiay Caloocan, Metro Manila.

Dagus met a naiturong daytoy iti isolation area ti Tabuk City bayat a maipatpatungpal metten ti contact tracing nu sadinu daytoy ti maysa a pasahero ti victory liner bus no.1 nga adaan iti 25 a pasaeors.

Kabayatanna, nailista metlaeng ti kabarbaru a kaso iti covid-19 sadiay Lagawe Ifugao ita nga aldaw.

Daytoy ket maysa a lalaki, 30-anyos ken OFW a nagtaud sadiay Dubai.

Sigun iti LGU-Lagawe, simmangpet daytoy iti nasao a munisipyo idi June 7 ken dagus a nagturong daytoy iti Municipal Community Quarantine sadiay.

Nagpaisong met daytoy iti Rapid test a nagresulta iti reactive kasta metten a naipasidong daytoy iti swab test nu sadinu naamuan a nagpositibo daytoy iti covid-19 ita nga aldaw.

Iti agdama ket ada daytoyen iti natalged a kasasaad bayat a manarimaan metten ti contact tracing kadagiti indibidual a nakapulapol daytoy.

#BeatCOVID19 #covid19 #WeHealAsOne #Coronavirus #COVIDkaya19to #Cordillera
16-day old baby is youngest COVID-19 survivor
Meet BABY SURVIVOR, a 16-day old baby who conquered Coronavirus disease 2019 (COVID-19)!

Our frontliners at the National Children's Hospital tirelessly took care of the neonate for 11 days and successfully nursed him back to health!

SALUDO PO KAMI SA ATING MGA HEALTHCARE WORKERS!

Last April 25, there was also a recorded covid1o case of an 8-day-old baby in the city of Baguio. L So sad, musta na kaya siya? www.igorotage.com/blog/p/Zlq5Y/8-new-covid-19-cases-baguio-c...

Photos taken from DOH

#COVID19 #survivor #coronavirus #Baguio #frontliners #topstory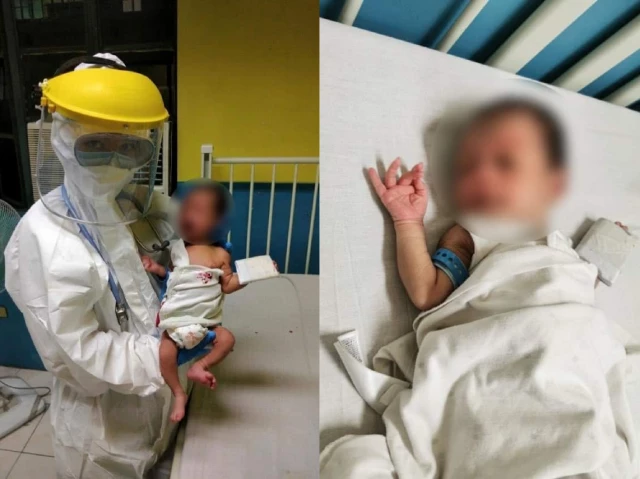 BREAKING: Another BGHMC nurse tests positive for COVID
Another nurse at the Baguio General Hospital and Medical Center tested positive for Coronavirus disease (COVID-19).

Mayor Benjamin Magalong said the patient is a 22-year old female residing at La Trinidad, Benguet.

He said appropriate measures are now being undertaken by authorities to facilitate contact tracing, quarantine, disinfection and medical interventions to prevent the spread of the disease.

The patient is the second nurse from BGHMC to be afflicted with the disease.

- PIO Baguio

Praying for her fast recovery! God Bless our frontliners.

#COVID19 #coronavirus #Baguio #frontliners
Police ECQ operation nets 42 curfew violators
The heightened Enhanced Community Quarantine operations by the Baguio City Police Office netted 42 curfew violator, Monday, April 20.

In a report to Mayor Benjamin Magalong, BCPO Director P Col. Allen Rae Co said the 42 Unauthorized Persons Outside Residence (UPOR) were apprehended at Quirino Highway, Victoria Village, Upper Magsaysay, Block 4, Hilltop market, Kisad Road, MOT Checkpoint, Kayang Street, Lower Gen Luna Road, Public Market, Zandueta Street, Post Office Loop, Legarda Road, Mabini Street, Abanao Street, Wright Park, Lualhati Barangay and Engineer's Hill Barangays.

They were brought to the Baguio Athletic Bowl and the different police stations for processing of their transgressions.

Some of those apprehended were minors and some were senior citizens and one was a Korean. Two violators found to be under the influence of alcohol are still detained at Police Station 7, Co said.

Co said volators who did not immediately comply and showed signs of resistance were handcuffed.

They were made to stay at the holding areas for six hours of lectures and "contemplation" and were also booked with mugshots taken.

Charges will be filed against them for violation of Republic Act 11469 (Bayanihan to Heal as One Act) and Presidential Proclamation (PP) 922 : State of Public Health Emergency after the lifting of the ECQ. -- PIO Baguio

#Baguio #CommunityQuarantine #violators #COVID19 #coronavirus