Training out of Team Lakay in La Trinidad, Benguet, Philippines, Danny "The King" Kingad, 23, was one of the winners at "ONE: Dawn of Heroes." It was the ninth victory of the Filipino mixed martial artist in ONE Championship.

Featuring 13 mixed martial arts matches and two Muay Thai matches, "ONE: Dawn of Heroes" took place at the SM Mall of Asia Arena in Pasay City, Metro Manila, Philippines. In the 10th bout of the evening, Kingad faced Reece "Lightning" Mclaren, 27, of Australia.

Yoshinori Umeki served as the referee. After three five-minute rounds, the bout was left in the hands of the judges.

In the end, Umeki raised the hand of Kingad, who was declared the winner via split decision. It was the Philipines first win that evening.

Including the Philippines and Australia, 14 countries were represented at "ONE: Dawn of Heroes." The other countries were Brazil, China, India, Indonesia, Italy, Japan, Malaysia, the Philippines, South Korea, Thailand, the United Kingdom, the United States and Vietnam.

Kingad was one of the five hometown heroes on the card. McLaren was one of the two representatives of Australia.

Here is a clip from the "ONE: Dawn of Heroes" press conference:

#MMA #ONEChampionship #SPORTS #DannyKingad #ONE:DawnOfHeroes #ReeceMcLaren #TeamLakay
Igorotage supports Video Creators!
Out of the box, Igorotage supports link sharing — Yes, including Youtube videos! Are you a vlogger? Grow your channel for free by sharing your videos with the Igorot community!
Igorotage is on Youtube as well! Support us by subscribing to our channel.
Igorotage Weekly Digest
Don't miss anything important from the Igorot community! Each week we curate the best new information and deliver it directly to your inbox every Sunday morning.
Wallposts
You might also like these related wallposts.
Being an Igorot makes one standout in the mainstream.
'In replacement of the 54 pine trees, we are turning over a total of 10,800 seedlings,' says Vista Residences, which is under fire from environmentalists for cutting trees in one of Baguio City's last pine forest stands.

#Baguio #treecutting #Villar #VistaResidences
Dangwa Tranco's MB bus coachwork by Almazora Motors Corp.

Taken from telephone directory and shared by Renato

#bus #dangwatranco #dangwa
TWO New COVID-19 Deaths reported in the Cordillera
COVID-19 Cases Regional Update as of 5:00pm of August 1, 2020

Twenty (20) new Recoveries, five (5) new Cases and two (2) new Deaths Reported in the Region:
Recoveries:
- 5 in Abra
- 4 in Apayao
- 5 in Baguio City
- 3 in Ifugao
- 2 in Kalinga
- 1 in Mt. Province

Cases:
- 3 in Baguio City
- 1 in Benguet
- 1 in Kailinga

Deaths:
- 1 in Abra
- 1 in Baguio City

for additional or more detailed information visit:
caro.doh.gov.ph/doh-car-covid-19-tracker/

NOTE:
• Some data may change as new information occur based on further validation and investigation.

#BeatCOVID19 #covid19 #Cordillera
#WeHealAsOne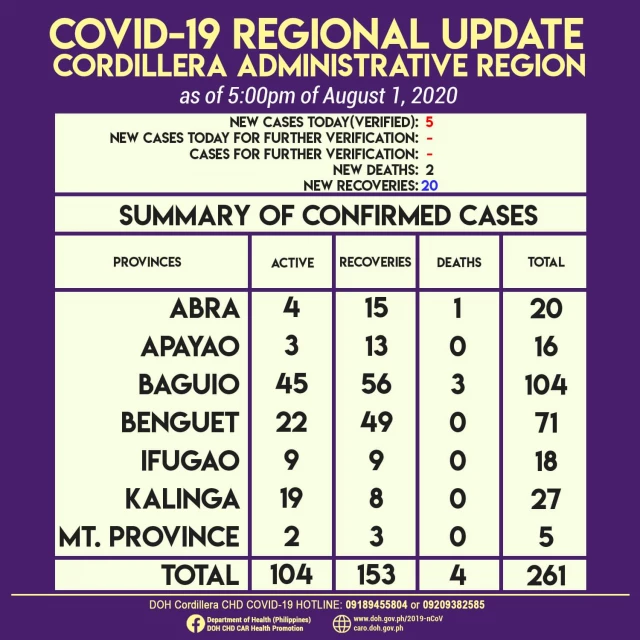 Baguio City Jail holds first DOTA tournament for inmates
E-Sports: BCJMD conducted its 1st E-games tournament for PDL.

The event was largely participated by PDL.

"Over 40% said that gaming improves emotional well-being. That's a serious benefit if you consider that one in five people in America experience mental health issues each year." Qutee Research.

#BaguioCityJail #ESPORTS #DOTA
#ChangingLivesBuildingASaferNation
#defeatboredom

Source: BJMP BAGUIO CJ-MD