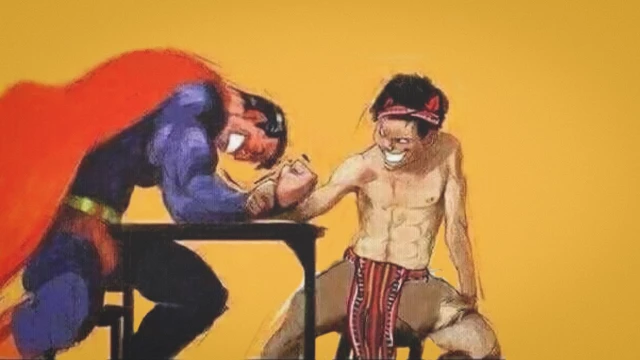 In a stunning upset, an Igorot man from the Cordillera region of the Philippines has defeated Superman in an arm wrestling match. The match, which took place in a small village in the mountains of Luzon, was witnessed by a crowd of amazed onlookers.
The Igorot man, who has not been identified, is said to be a descendant of the ancient warriors of the Cordilleras. He is known for his immense strength and his ability to withstand pain.
Superman, of course, is one of the most powerful superheroes in the world. He has superhuman strength, speed, and durability. However, he was no match for the Igorot man's raw power.
The match was close at first, but the Igorot man eventually overpowered Superman and forced him to submit. The crowd erupted in cheers as the Igorot man was declared the victor.
After the match, Superman admitted that he had been defeated by a worthy opponent. "I've never faced anyone as strong as that man," he said. "He's a true warrior."
The Igorot man's victory has sent shockwaves through the superhero community. Many are now wondering if there are other superheroes out there who could defeat Superman.
Only time will tell who the next challenger will be. But one thing is for sure: the Igorot man has made history.
In a related story, the Igorot man has been offered a contract to join the Justice League. He is still considering the offer.