Igorot weaver Lydia Langpawen won the prestigious World Crafts Council (WCC) Asia-Pacific Region Competition of Excellent Crafts during the virtual WCC 38th General Assembly.
Ms. Langpawen, 62, who hails from Maligcong, Bontoc, Mountain Province, has been weaving with Narda's for more than a quarter of a century.
The Igorot weaver won the prestigious WCC-Asia-Pacific Region Competition of Excellent Crafts during the Pandemic Period held in Tashkent, Uzbekistan at the WCC 38th General Assembly on December 4-5, 2020.
The award was turned over by Father Jose Quilongquilong SJ, Director of Jesuit Aid Foundation and Rector of the Jesuit Community at ADMU, who commissioned the tapestry; and Ms. Venus Tan, former COO of the Tourism Promotions Board.
Also present at the turnover ceremony were Mr. Wilson Capuyan, CEO of Narda's; Myrna Pablo, Director of DTI Cordillera; Jovi Ganongan, DOT Cordillera Director; Ms. Andrea Mangusan, Production Manager of Narda's; Ms. Lorraine, Head of Narda's Weaving Department; and Mr. Ryan Dale B. Mangusan, Regional Development Council IP Concerns Committee Co-Chair and Igorot Global Organization Vice-President.
The turnover ceremony was held on April 30, 2021, at the Mirador Jesuit Villa Retreat House in Baguio City where the award-winning tapestry hangs.
Weaving is one of the important arts of the Philippines. Fibers from piña, piña seda, banana seda, banana or abaca leaves are widely used in weaving clothes. Apart from fabrics, various other craft items are made from these leaves. Abaca is used in the manufacture of braided bowls and bins. Buri is used for making hats, boxes, and other new items. Caragumoy is traditionally used for making mats, hats, bags, and baskets. Pandan-Dagat is made into hats and mats and ahs evolved to be a favored material for pillows and canisters. Coconut is probably the most used palm in the Philippines. Cocomidrib is mainly used in the handicraft industry as a material for coarse brooms (tingting) and baskets. It can be easily dyed and formed into interesting products such as canisters and tabletop accessories (ceramic liners, bowls, etc.) combined with other materials. In addition, bamboo and rattan are widely used in the manufacture of furniture items.
The WCC-Asia Pacific Region has the same mission and objectives of the World Crafts Council (WCC) International, which are: to bring handicrafts and craftspeople (artisans) into the mainstream of life, elevate their social and economic status and build fellowship among them, upgrade the quality of their products and promote them in the local and international markets.
WCC-Asia Pacific Region is the largest, richest, and most diversified in the field of handicrafts. The craftspeople in APR countries, their communities, and their governments have a great degree of awareness of the cultural, aesthetic, sentimental, creative, and innovative value of handmade production.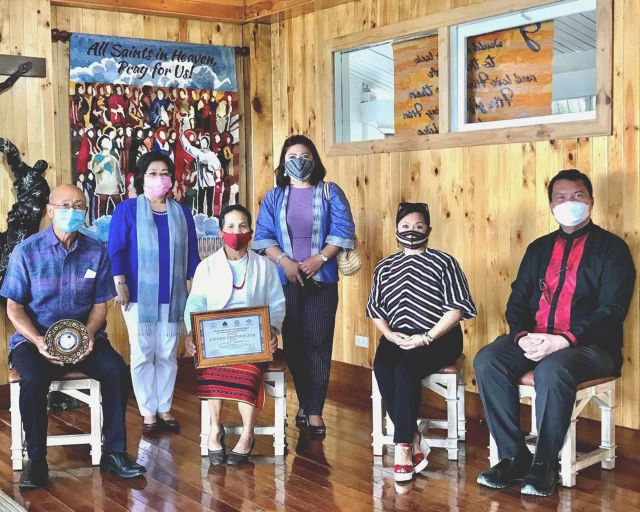 Congratulations Ms. Lydia Langpawen for bringing honor to our country and promoting the Igorot culture through your craft! God Bless you.