Carrot Man craze
The Carrot Man craze started after Edwina Bandong while heading to Sagada, Mountain Province snapped some photos of a good-looking Igorot carrying a basket of carrots. After posting them on Facebook, netizens quickly shared their admiration for the Igorot because of his good looks, similar to Korean idols.
The photos went viral overnight after being shared thousands of times on social media. The Igorot carrot man was born.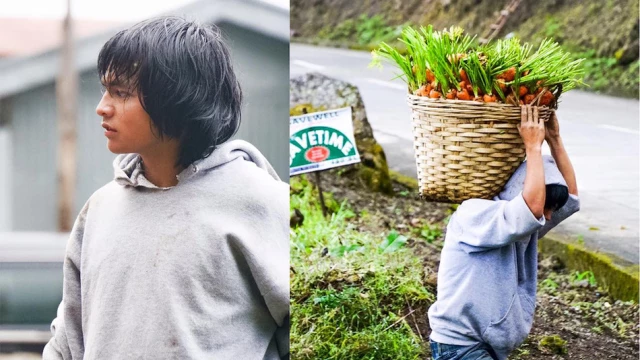 Who is Carrot Man?
A humble farmer, "Carrot Man" Jeyrick Sigmaton, born in 1994, is a native Igorot from Barlig, Mountain Province. The eldest of seven children, he was not fortunate enough to continue his education after graduating from elementary school due to a lack of financial assistance.
Sigmaton is deeply devoted to his family and his ambitions revolve around them. He said he was working hard to help his parents in sending his siblings to school. He has a simple and meaningful desire, to somehow own their farm.
Carrot Man's most notable TV appearances
Jeyrick "Carrot Man" Sigmaton, having a virtual celebrity badge tattooed on his forehead began appearing on GMA programs.
Many questions arose. Will he be an actor now? Will he sign a GMA contract? Who will be his love interest? What will be his next project?
Carrot Man on the Kapuso mo, Jessica Soho show
The crew of the program "Kapuso Mo, Jessica Soho" on the GMA channel, was lucky enough to score an exclusive interview with the handsome Carrot Man.
During the interview, Jeyrick thanked the person who posted his picture online, as a result, people showed interest again in the Mountain Province, especially for the Igorots.
While his interview may have touched and inspired millions of viewers, some of the Igorots were dissatisfied, following a statement by Dr. Jimmuel Naval on the program.
According to the doctor, the young man's aquiline nose may have been caused by the marriage of Caucasian missionaries/colonialists to the Cordilleran people, resulting in "racial improvement".
Carrot Man on Unang Hirit
Jeyrick Sigmaton's first live interview after his photo went viral on social media was on GMA's morning show, Unang Hirit.
In his interview, he mentioned that he has not had a girlfriend since birth and he also said that he is a fan of Wowowin host, Willie Revillame.
Carrot Man on Wowowin
Guess what? Carrot Man, along with the people who took his picture were invited to the afternoon show Wowowin.
Willie Revillame, the main host of the program, after interviewing Sigmaton, was moved by the story of his life. The host offered him a scholarship.
Carrot Man continued to appear on other GMA programs such as Vampire Ang Daddy ko ni Bossing Vic Sotto, Bubble Gang, Sunday Pinasaya, and various local and national radio stations.
Carrot Man's story told on Magpakailanman
We got to know Jeyrick Sigmaton better in GMA's anthology program Magpakailanman which featured the story of his life.
Jake Vargas played the role. Epy Quizon, Tess Antonio, Lou Veloso, Tess Bomb, Ana Castro, Faith da Silva, Lharby Policarpio, Jacob Vargas, Lloydie Sarmiento, and Sachi Manahan also played important roles.
Carrot farmer became an instant Brand endorser
Sigmaton signed a contract with a fashion line. The humble carrot farmer from the Cordilleras is now officially a brand endorser of Boardwalk Philippines.
He is now in line with Boardwalk ambassadors like Alden Richards, Matteo Guidecelli, JC de Vera, Janine Gutierrez, Juancho Trivino, and many other famous names.
Carrot Man went to the United Kingdom
To meet the queen? No, no, no, not so fast!
The Igorot community in the United Kingdom made Jeyrick Sigmaton their special guest during their Grand Canao UK in 2016 following their 21st foundation celebration.
What's next for Carrot Man?
Jeyrick Sigmaton will be part of an upcoming movie!
"Ang Binibining Ifugao", to be directed by Tom Subijano, is an official entry for the Metro Manila Film Festival, to be produced by Garen Films International. It stars Eddie Garcia, Isabel Granda, Gloria Diaz, and Aljur Abrenica, Neil Perez, Kalinga tattoo artist Whang-Od, and of course, Jeyrick Sigmaton.
Update: The Executive Committee of MMFF 2016 announced the eight entries that will be released at the annual Filipino film festival, which opens on Christmas Day. "Ang Binibining Ifugao" is not listed.
Carrot Man version 2.0
October 2017, more than a year after his instant fame. Guess what? Jeyrick Sigmaton was featured once again on Kapuso Mo, Jessica Soho.
In 2019, Jeyrick Sigmaton joined FAB4z, a 4-member boy band. Yes, he is a member of a boy band now.
FAB4z is composed of members including Jeffer Kim, Patrick Villanueva, and Yuan Quiblat. The boy band was awarded at the People's Choice Philippines Awards and they do international tours.
Carrot Man stars in a new indie film, Dayas
"Dayas" is a short film that aims to showcase the Igorot culture and local talents. The short film stars Carrot Man as the lead actor.
Carrot Man Jeyrick Sigmaton wins Best Actor Award in International Film Festival Manhattan Autumn 2021 in New York
Jeyrick "Carrot Man" Sigmaton won as the Best Actor for the International Film Festival Manhattan Autumn 2021 in New York (IFFM) for the short film "DAYAS".
In the history of the IFFM New York, it is the first time that a Cordilleran won as the Best Actor in the Short film Category.
Jeyrick won together with Philippine Veteran actress Janice De Belen as Best Actress for their film "Wounded Blood" and bested his co-nominee, actor Angelo Reyes (USA) from the film "21st Colonial" for the Best Actor Category.
IFFM offers a quality selection of world-class films showcasing it in theaters in Manhattan New York City, USA. They feature a collection of various works in different genres like narrative features, documentaries, student films, and short films.
DAYAS was chosen as an official selection of the Short film category where it competed against works of both new and upcoming directors as well as veteran directors with known actors all over the world, surprisingly, Dayas' Jeyrick Sigmaton won as the Best Actor for the said category. Indeed, this is a win for Dayas and the whole cordillera. This feat would not be possible if not for the collective effort and passion poured by everyone who are part of this film.
A brainchild of Scriptwriter and Director Direk Jianlin De Los Santos Floresca, Dayas explores the lives of small-scale miners of Itogon Benguet. An introspection to the lives of "Bantay", Jeyrick Sigmaton, and "Hakob", Kel Vicente Aguilan in response to the challenges of the changing times, the continuation of beliefs and traditions, and an unforeseen tragedy.
Carrot Man Jeyrick Sigmaton receives International Actor of the Year at 3rd Dangal ng Lahi Awards 2021
Jeyrick Sigmaton was awarded "International Actor of the Year" at the Dangal ng Lahi Awards on Saturday, November 27, at Okada Manila.
Dangal ng Lahi is an award-giving body that recognizes individuals who excel in various fields of expertise, gaining honor and recognition and ultimately contributing to the Honor of our race, as Filipinos.
One of the awardees of the said event was Ms. Aiko Melendez, who received the title "Most Versatile Actress of the Decade" and Ms. Julia Clarete, who won as "Most Admired Multi-Media Artist."
Back to you
As we value beautiful faces, some things are more important that we need to open our attention to.
Vicky Tauli-Corpuz, of the UN, said the Carrot Man phenomenon is a reflection of society's low understanding of the issues surrounding indigenous peoples. Corpuz is also an Igorot from the Kankana-ey tribe.
In the succeeding years, we haven't heard much from Jeyrick Sigmaton, but "Carrot man" remains a household name in the Cordillera region.
Igorotak: The First Proud Igorot Actor in Philippine Showbiz