Five scholars from the Philippine Science High School - Cordillera Administrative Region Campus (PSHS - CARC) Batch "Hiranglaya", aside from receiving academic awards, were also given scholarship grants and offers from various universities abroad, following the recent Virtual Graduation in May 2021.
Among the five scholars mentioned were Allesandra Noelle Mendoza, Anshari Kirsten Dalan, Jelms Watts Daquel, Jemielyn Ruth Lacap, and Krisandra Mae Serafica.
1. Allesandra Noelle Mendoza
Allesandra Noelle Mendoza was awarded scholarships from Duke Kunshan University in China for the Global Health course; New York University, Shanghai Campus, also from China in the Natural Sciences course; and Florida Institue of Technology in Florida, USA in the Biomedical Sciences course.
2. Anshari Kirsten Dalan
Anshari Kirsten Dalan received the Dean's Scholarship (Chemistry) from Alfred University in New York, USA; Merit Scholarship (Microbiology) from Albany College Of Pharmacy And Health Sciences in New York, USA; Presidential Scholarship (Public Health) from American International College in Massachusetts, USA; and offers from Aquinas College in Michigan, USA and the University of East London in England, the United Kingdom for the Chemistry course.
3. Jelms Watts Daquel
Jelms Watt Daquel earned a Merit Scholarship from the Albany College of Pharmacy and Public Health (B.S. in Pharmaceutical Sciences) in New York, USA and the Florida Institute of Technology in the USA for the Chemistry - Research course; Iñigo scholarship from Saint Louis University (Biomedical Engineering) in Spain; and international offer from Duke Kunshan University in China for the Natural Sciences course.
4. Jemielyn Ruth Lacap
Jemielyn Ruth Lacap won University offers for BS Psychology programs and courses from Saint Leo University in Florida, USA and Bachelor of Psychology (Honors Program) and Monash University Foundation Year (Standard Program) from Monash University in Melbourne, Australia.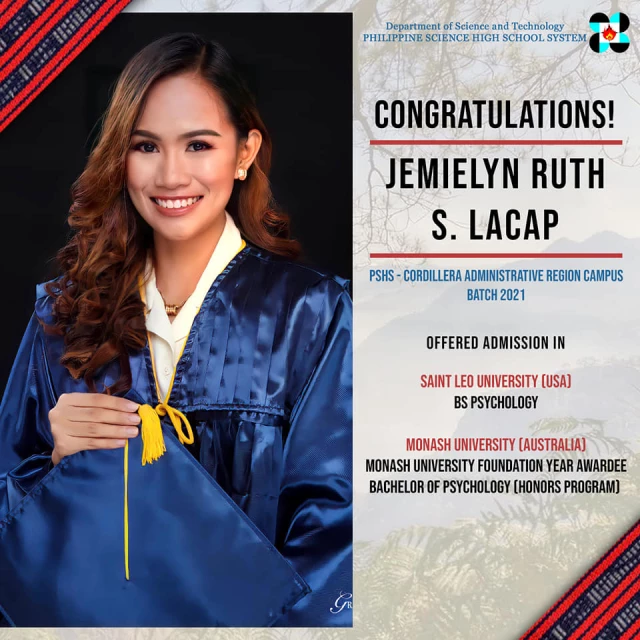 5. Krisandra Mae Serafica
Krisandra Mae Serafica, the class Valedictorian, earned a Merit Scholarship from Albany College of Pharmacy and Health Sciences for the BS Public Health course.
Wrap up
"It has been a test of my application to combine applications and online classes; it is also difficult to maintain self-confidence because there are thousands of students at the same time," Mendoza said of her experience in submitting applications.
She added that although it is difficult to be calm in applying, it is important to maintain faith and self-confidence throughout the process.
Serafica, on the other hand, encouraged active participation in extracurricular activities that can be helpful for those who also plan to try.
Applications can be submitted using the Common App, a website open to those seeking to study at various universities abroad.
Meanwhile, PSHS congratulates all the students from various PSHS campuses who have been given scholarships to advance their studies at various universities around the world.
DOST Fortunato de la Pena has also revealed that a student from PSHS - Cordilleran Campus has obtained the highest average score of all students from PSHS.
"The highest average was obtained by a student from Pisay Cordillera Administrative Region ( CAR ) Campus whose GWA is 1.03 from a grading system where 1.00 is the highest. A total of 49.55% of the graduates graduated with honors, one of the highest percentage of honor graduates in Pisay's history," de la Pena wrote in a post.
Source: Ang Pahayagang Kaigorotan