BALANGBANG, A Native Victory Dance of the Mountain Province

(courtesy of Barangay Folk Dance Troupe)
circa 1960s Krüger-NBS Colored Photo Postcard
________

"... Balangbang requires the participation of many to beat the gongs and many women dancers. This originated from the western municipalities of Mountain Province (Besao, Sagada, Tadian, Bauko, Sabangan) but performed anywhere. Its version in eastern Mountain Province is the 'pattong'.

"The male gong players could be five or more and the female dancers could range from a single dancer to more than 10. It is a dance appropriate for mass participation. The male gong players move in a circular direction as they synchronize their artistic graceful steps and body swaying. The women dancers follow as they dance with the appropriate step, body swaying and arm position depending on the art and style of the music players."

excerpts from "Ethnic Dances in Mountain Province" by Dr. Caridad B. Fiar-od

#Balangbang #ethnicdance #MtProvince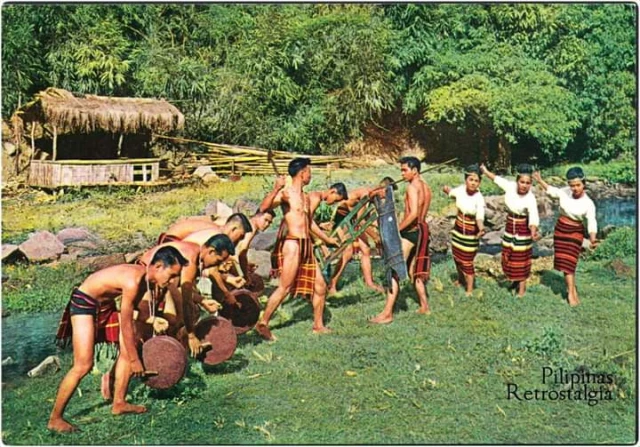 Igorotage supports Video Creators!
Out of the box, Igorotage supports link sharing — Yes, including Youtube videos! Are you a vlogger? Grow your channel for free by sharing your videos with the Igorot community!
Igorotage is on Youtube as well! Support us by subscribing to our channel.
Igorotage Weekly Digest
Don't miss anything important from the Igorot community! Each week we curate the best new information and deliver it directly to your inbox every Sunday morning.
Wallposts
You might also like these related wallposts.
A few days before Christmas, a group of small-scale miners went to Natonin, Mountain Province, to fulfill a promise to make the town safer from landslides.

It was in Banawel village where a landslide caused by Typhoon Rosita last October 30 buried the unfinished DPWH Building killing 30 people although six remained missing.

#Natonin #Benguet #Itogon #MtProvince #mining
On March 10, OFWs from the Mountain Province in Hong Kong and Macau gathered at Pier 10, Central, to celebrate the so called Lang-ay Festival with a theme "Sustaining development through tourism opportunities". Lang-ay Festival is an event in which all municipalities from the Mountain Province gathered together to celebrate and to promote their cultures and traditions, as well as eco tourism of their home province.

The said festival in Hong Kong was attended by Bendahara Beau Killip Macliing, the Lang-ay Secretariat of the Tourism Office of the Provincial Government of Mountain Province. Hosted by Municipalities of Sabangan, and Paracelis.

#Langay #Hongkong #MtProvince #Macau
Senator Cynthia Aguilar Villar is now an adopted daughter of Bauko Mountain Province. She was conferred the name "Kadem-ayan", a kankanaey term for a renowned woman who is rich materially, caring, generous and loving.

#Villar #Kademayan #Bauko #MtProvince
Lola Erlinda Doyog from Pidlisan, Sagada shows off her mastery of the English language when she talks about her village to tourists.

Lola Doyog also known as Lola 'Englisera' spoke fluent English when she talked with tourists who interviewed her about her community and their indigenous practices.
The interviewer was amazed to Lola Doyog's fluency in speaking the English language.

#LolaDoyog #LolaEnglisera #EnglishSpeaker #Sagada #MtProvince