In Spring 1904, when the World's Fair in St. Louis opened, people from faraway lands were an expected attraction. "Villages" from different nations were recreated including the Philippines.

The U.S. government spent $1.5 million to import 1,300 indigenous Filipinos from different tribes to show the Americans the backward ways of the natives. Fairgoers were both shocked and fascinated at the cultural practice of the Igorots of eating dog meat. In the words of then U.S. Secretary of War William Howard Taft, their "little brown brothers," were not ready to rule their island nation on their own. They needed guidance, they needed the Americans.

The Igorots soon became one of the most famous displays during the fair. The man in charge of keeping them in check was Truman Hunt, who served as a medical doctor during the war. Hunt stayed in the province after the way and soon became the lieutenant governor of Bontoc Province.

Hunt saw firsthand how the Igorots were a hit among the Americans. This was how he got the idea to bring them back the following year, and this time, for his own financial benefit.

#Igorrotte #StLouis #HumanZoo #Igorot
Igorotage supports Video Creators!
Out of the box, Igorotage supports link sharing — Yes, including Youtube videos! Are you a vlogger? Grow your channel for free by sharing your videos with the Igorot community!
Igorotage is on Youtube as well! Support us by subscribing to our channel.
Igorotage Weekly Digest
Don't miss anything important from the Igorot community! Each week we curate the best new information and deliver it directly to your inbox every Sunday morning.
Wallposts
You might also like these related wallposts.
The Igorot Man behind the Iconic Dragon Headdresses
LOOK : LIVING TREASURE a ni Anicito Degay iti Brgy. Patiacan, Quirino Ilocos Sur.

Ti 63 anyos a ni Mang Anicito ket aglaglaga iti disenyo a segun kenkuana ket basar iti tag tagainepna, kas kuma iti dragon, ken phoenix hat.

Us-usarenna ti maysa a klase ti lanot a maaw awagan ti bannito wenno nito. Narigat ti agsapul ti nito ta agpagna pay iti banbantay iti uppat nga oras.

Nangrugi nga aglaga ni Mang Anicito idi daytoy ket adda iti high school sadiay Tublay, Benguet babaen iti maysa a 'subject' da.

Simple a kallugong laeng ti ar-aramidenna idi, ngem idin ta agtagtagainep iti sabsabali a pinarsua kas iti dragon ken babbai a nakakallugong iti billit, pinadasna ti naglaga basar kadagitoy a nakitana iti tagtagainep ket kastoyen dagiti resultana.

Ti kadakkalan a gapuananna a pinanagananna ti Drako ket linagana iti uneg ti tallo a bulan. Sinuportaran daytoy ti lokal a gobierno ti Quirino kadagiti naglablabas nga administrasion ken ti agdama a liderato ni Mayor Allen Nimo. Sinuportaran met daytoyen ti Provincial Government of Ilocos Sur babaen kadagiti naglabas nga administrasion da Hon. Chavit Singson ken Hon. DV Savellano.

Itultuloy latta daytoy ti agdama nga administrasion ni Gov. Ryan Singson. Dagiti gapuanan ni Mang Anicito ket makitkita kadagiti adu a festival ti probinsia kas iti Kannawidan Ylocos Festival. Panawagan da Gov. Ryan Singson ken Mayor Nimo, maaddaan iti gaget dagiti agtutubo a sursuruen daytoy a talento ti Living Treasure tapno saan a mapukaw daytoy a pagpannakkel ti buo a probinsia.

Iti agdama, adda dua a nataengan a sinuruanen ni Mang Anicito. Silulukat latta isuna kadagiti mayat nga agsursuro.

Ladawan : Michael P Escobar
Newsteam : Michael P Escobar, Marvin Parel
Crew : Dan dela Rosa, Marco de Peralta, Santino Castillo
Special Thanks : LGU Quirino, Ilocos Sur, Mayor Allen Nimo, Municipal Agriculturist Marlyn Bad-ay, Marcelo Lucain, Brgy. Capt William Maiyon Sr of Patiacan, and PGIS family headed by Gov Ryan Singson.

Via PTV YLOCOS

#DRAGONS #PHOENIX #hat #Igorot #Patiacan #IlocosSur
RIP Igorot Hero: MAJOR MARVIN A INDAMMOG PA
MAJOR MARVIN A INDAMMOG PA - isang dugong mandirigma na Igorot mula sa Tanudan, Kalinga, miyembro ng PMA Class 2006, at subok sa labanan partikular sa Bangsamoro Autonomous Region in Muslim Mindanao bilang isang Scout Ranger.

Ginugol ni Major Indammog ang kanyang mga araw sa militar bilang isang Scout Ranger na buong tapang na nakikipaglaban sa Abu Sayyaf at iba pang mga rebelde sa Mindanao sa loob ng walong (8) taon.

Siya ay tumanggap ng maraming mga parangal mula sa militar dahil sa kanyang buong tapang na pakikipaglaban sa mga terorista sa Mindanao pagkatapos ay inilipat siya sa AFP ng Intelligence Service noong 2014.

Isang taus pusong pakikiramay sa buong pamilya sa sa mga tatlo pa nitong kasamahan.

R.I.P

#SaluteToTheFallen
Proud Igorot OFW is a United Arab Emirates Hero
Proud Igorot, now a frontliner in the United Arab Emirates!

Red Cloud Decaleng Capuyan is one of the healthcare workers who continues to fight COVID-19 in the UAE.

Red is from the Cordillera Administrative Region.

He graduated with a Bachelor of Science in Nursing from the St. Louis University in Baguio city. He also has an International Interprofessional Wound Care Course at the University of Toronto in Canada.

He has been an Overseas Filipino Worker for five years. He is also the founding president of the Philippine Nurses Association in the UAE (PNA-UAE).

Despite the danger to the chosen profession, Red remains hopeful.

We salute you all Igorots abroad! Stay safe and see you the soonest!

Credit: GMA Pinoy TV

#ProudIgorot #OFW #frontliners #heroes #UnitedArabEmirates #COVID19 #RedCloudDecalengCapuyan
Unsung Heroes: Brave Igorots helped refugees escape from Baguio during World War 2
From mid-March of 1945 through April, a steady stream of refugee civilians escaped from Baguio through Japanese lines to Tubao.

Brave Igorot guides shepherded the refugees through mountain paths in what became known as the "Refugee Trail".

Among those who escaped were Manuel Roxas, Filomena Osmeña, daughter of President Sergio Osmeña; Jose Yulo, Chief Justice of the Supreme Court; Antonio de las Alas, Minister of Finance; and Teofilo Sison, Minister of the Interior.

Source: Winston, Sanford H. *The Golden Cross: A History of the 33rd Infantry Division in World War II.* Washington [D.C.]: Infantry Journal Press, 1948. p.334 via Cito Maramba

#WW2 #RefugeeTrail #Igorot #refugee #Baguio #Tubao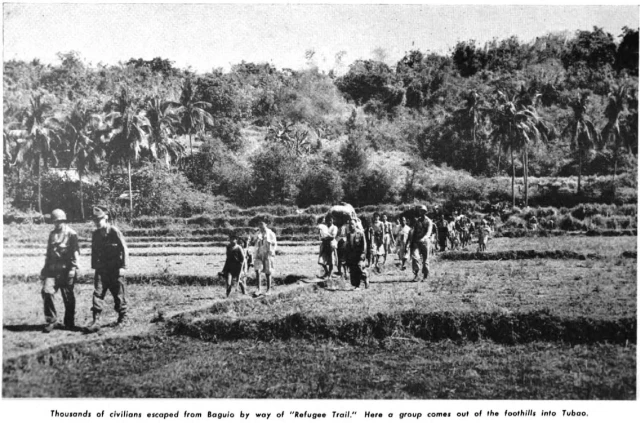 Igorot Cop killed in Sulu twin explosion
Another fallen Igorot warrior. Igorot Police Senior Master Sergeant Joe Michael Ananayo Langbis is one of the soldiers and civilians killed following the twin explosion in Jolo, Sulu on August 24, 2020.

The Igorot hero is from Ampusa, Tuba, Benguet, and a member of the Philippine Special Action Force.

Our condolences to the bereaved family and friends!

Rest in peace, kabsat.

Photo: Doddie Mendillo

#JoeMichaelAnanayoLangbis #JoloSulo #TwinExplosion #SAF #Benguet #Igorot #hero #warrior