Baguio City has been declared by UNESCO as a creative city in 2017 and different establishments are rising up to the occasion. There have always been unique dining places that also showcase artworks, but more shops are following the trend including Potenciana Galleria.

The resto-gallery is an annex of Arca's Yard located at 888 Tip-Top, Ambuclao Road. The new branch is just a few meters away from it. Just like the original café, every corner is worth the gram. Diners are surrounded by Cordilleran artifacts. You can even choose to eat on the veranda overlooking lush vegetation and mountain ranges.

If you're a reader or a musician, there are perfect spaces for you. You can dine on a classic family table style setting, lounge on a sofa, or even squat on the floor. Whether you want a memorable family lunch, fun group date with friends or intimate dinner with your partner, there is a corner just right for you.



Of course, the food is just as fantastic. The servings are generous. The tastes are either okay or surprisingly delightful. And, the prices are reasonable. The presentation is also a charm for your #foodporn photography.

Don't forget to check out Potenciana Galleria's erotica gallery in the basement.

 



The post Quench your Craze for Culture, Cuisine, and Craft at Potenciana Galleria appeared first on CordilleraNow.

#Blog
Igorotage supports Video Creators!
Out of the box, Igorotage supports link sharing — Yes, including Youtube videos! Are you a vlogger? Grow your channel for free by sharing your videos with the Igorot community!
Igorotage is on Youtube as well! Support us by subscribing to our channel.
Igorotage Weekly Digest
Don't miss anything important from the Igorot community! Each week we curate the best new information and deliver it directly to your inbox every Sunday morning.
Wallposts
You might also like these related wallposts.
16-day old baby is youngest COVID-19 survivor
Meet BABY SURVIVOR, a 16-day old baby who conquered Coronavirus disease 2019 (COVID-19)!

Our frontliners at the National Children's Hospital tirelessly took care of the neonate for 11 days and successfully nursed him back to health!

SALUDO PO KAMI SA ATING MGA HEALTHCARE WORKERS!

Last April 25, there was also a recorded covid1o case of an 8-day-old baby in the city of Baguio. L So sad, musta na kaya siya? www.igorotage.com/blog/p/Zlq5Y/8-new-covid-19-cases-baguio-c...

Photos taken from DOH

#COVID19 #survivor #coronavirus #Baguio #frontliners #topstory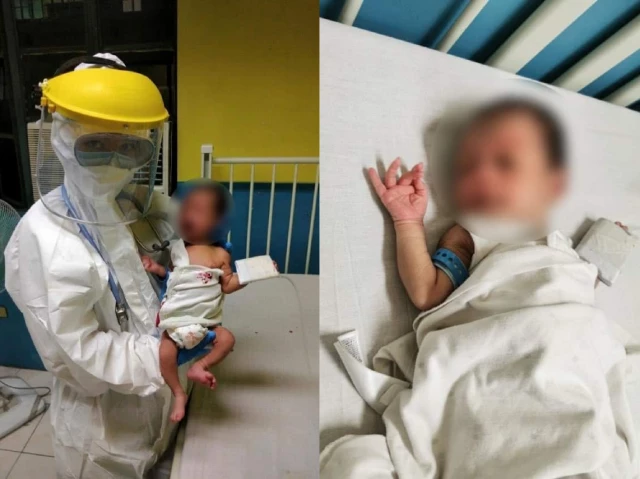 Two ONE Championship fighters namely Ariel "Tarzan" Sexton, 37, of Costa Rica and Lowen Tynanes, 28, of the United States were pulled from the ONE Lightweight World Grand Prix. This gave Honorio "The Rock" Banario, 29, of the Philippines a second chance to be in the competition.

Training out of Team Lakay in Baguio City, Banario lost to Tynanes in the ONE Lightweight World Grand Prix quarter-finals on January 25, 2019. In another quarter-final bout on February 22, 2019, Sexton defeated Amir Khan, 24, of Singapore.

But both Tynanes and Sexton are out from the game due to injuries. This means both Banario and Khan are proceeding to the ONE Lightweight World Grand Prix semi-finals.

"I'm truly grateful to be given this second chance at the Grand Prix by ONE Championship," Banario said. "Opportunities like these in the world of martial arts are diamonds in the rough and this is definitely something that I will not allow to pass me by. It's truly unfortunate about what happened to Ariel and Lowen and I wish for their fast recovery."

On March 31, 2019, Timofey Nastyukhin, 29, of Russia shocked the mixed martial arts world by knocking out Eddie "The Underground King" Alvarez, 35, of the U.S. in a  ONE Lightweight World Grand Prix quarter-final bout. The Russian fighter will face Banario in a semi-final bout at "ONE: Dawn of Heroes" on August 2, 2019 at the SM Mall of Asia Arena in Quezon City, Metro Manila, Philippines.

During Banario's time in ONE Championship, he has had his fair share of highlight reel knockouts. It will be difficult to distinguish who among the two powerful strikers will prevail.

But for Banario, he and Nastyukhin are quite different. The Team Lakay fighter said, "I think Timofey and I have different striking skills."

"He is more explosive and aggressive while I prefer to be accurate and bide my time with my attacks," Banario said of Nastyukhin. "He is a very dangerous striker and I respect his skills as a martial artist but I will not allow myself to lose just yet."

Banario has a lot to be thankful for lately. He wants to show his gratitude with the best performance of his entire career.

"I am not one to give a prediction but you can expect me to give everything I have and more until the very end," Banario said. "I want to show my appreciation to ONE Championship by giving them a performance worthy of a world champion as well as give my fellow Filipinos something to cheer about."

Watch one of Banario's previous ONE Championship bouts here:

#MMA #SPORTS #ArielSexton #HonorioBanario #LowenTynanes #ONEChampionship #TeamLakay
Benguet-  The first Honesty store in La Trinidad Benguet was opened on Wednesday during the La Trinidad Highland Vegetable Industry Week. The store will sell fresh organic agricultural products.

The Honesty store in Batanes wowed and informally educated every tourists who visited the place. This inspired the opening of  the La Trinidad Honesty store aiming to offer fresh and safe organic vegetables.

There are two chillers in the store to preserve and store vegetables to prolong shelf life and ensure freshness.

Supported by the La Trinidad employees' cooperative, La Organica, Organic vegetable farmers and the municipal government, you can find the Honesty Store in the municipality of La Trinidad which is open to all.

There will be a log book to record your purchases so you can leave your payments or get your change at the counter. For the members, it will be deducted in their payroll.

The Municipal Agriculturist, Filicitas Tecbaen said that once farmers bring their products, these will be registered to the cooperative so that consumers can easily buy the products 

From the name of  the store itself, this will promote honesty to all consumers who wish to purchase their organic vegetables in the Honesty Store. As there will be no one around to receive your payments,  the only policy in the store is honesty.  

#FirstHonestyStoreInLaTrinidadBenguet #LaOrganica #LaTrinidadEmployees'Cooperative #OrganicVegetableFarmers #OrganicVegetables
Baguio City-  A bonus amounting to nearly  ₱900,000.00  from the winning prizes of Batang Pinoy (BP) national finals in September last year was released for the 295 athletes to receive.

The city government released the cash prizes to the athletes after a few months from winning the national competition.

"More than 90 percent of the total athletes have already received their bonus.....They got 30 percent of the amount of the incentive," said Paul Rillota, one of the facilitators from the Baguio government's city sports office.

Athletes who won the gold, silver and bronze medal received  a cash  amounting to ₱3,000.00, ₱2,000.00 and ₱1,000.00  respectively.

The incentives distributed to the athletes came from the ₱3,000,000.00 cash price received by the city for winning the overall crown from the Philippine Sports Commission.

Last year,  among the 298 young athletes who won the gold medal received ₱10,000.00, silver medal received ₱6,000.00 and bronze medal received ₱4,000.00. 

Majority of the athletes who are 15 years old and below have already started receiving their cash prizes in May.

In 2016, the city government passed the athletes incentive ordinance stating the amount athletes can receive in certain levels of sports competitions.

Likewise, athletes who won the Palarong Pambansa 2019 received a total of ₱395,000.00. 

Source || PNA

#BatangPinoyNationalFinals #PalarongPambansaAthletes #WinningAthletesCashIncentivesReleased