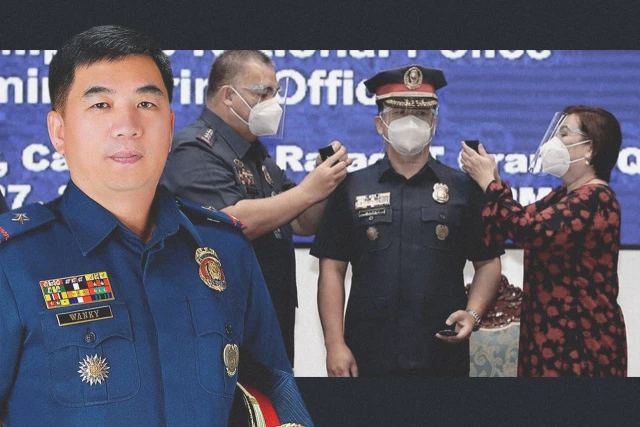 Newly promoted PBGEN JACK LIMPAYOS WANKY, a proud Igorot born in Amlinay, Buguias, Benguet is the first to fill up the position of Chief of Staff of the Philippine National Police Academy (PNPA) after the supervision and control were transferred from Philippine Public Safety College to the Philippine National Police.
Born to a humble family whose primary source of livelihood is vegetable trading and growing up with six female siblings, then young PBGen Wanky was motivated and inspired to get better in life thereby taking up Commerce at Saint Louis University in Baguio City.
However, life proved itself not easy as he struggles to survive college due to financial constraints. That was the time he decided to join the long maroon line of the Philippine National Police Academy.
After two years of arduous training and education, he graduated from the premier educational institution for public safety officers in 1992 as part of the TAGAPAGPATUPAD Class.
He was first assigned in Central Mindanao where he had his first taste of battle against rebels and secessionists. Like infantry soldiers, he and his fellow police officers had fought for peace and order but with a costly trade-off as one of his classmates ended up being one of the casualties of their operations. He too was once wounded in a gun battle but fortunate to survive. Such first-hand experiences induced him to continuously serve his country and people.
Eventually, In 1996 after serving as Aide de Camp of then PBGEN JOVENCIO INES SALES, he served successively for more than 10 years as Chief of Police in four municipalities in the Province of Iloilo, and Station Commander of JARO District in Iloilo City.
He also served as Chief of the Boracay Special Protection Unit, the PNP force tasked to secure the famous and world-class tourist destination in the country, the Boracay Island. Drawing lessons from the Bali Bombing incident, he implemented the One entry One exit policy that immensely contributed to the overall security of the said tourist island up to this time.
Presented with the chance to serve and explore new places, he opted to settle permanently in Iloilo for his heart was captured by an Ilongga. He was married to Ms. Julie Gosiaoco of La Carlota City in Negros Occidental and they had three sons which they named Von, Jose Luis, and Nathaniel.
Following his last assignment in Iloilo City, he continued his law enforcement career as he transferred to a National Operational Support Unit.
From 2009 to 2013, he served as Chief of Regional Intelligence Units of Region 6 and Region 13 successively. He was exposed to various intelligence works where his contributions led to various major successful operations against the terrorist dissidents and the arrest of Most wanted personalities.
He also worked out for the surrender of numerous NPA Cadres in the CARAGA region who opted to return to the folds of the law. These triumphs earned him numerous awards and commendations.
In 2014, he joined the PNP Anti-Kidnapping Group and was designated Chief of the Mindanao Field Unit. His area of designation practically covers all parts of Mindanao to include Zamboanga, Basilan, Sulu, and Tawi Tawi (ZAMBASULTA) area where kidnapping was very rampant perpetrated by the ABUSAYAF Group. Applying his acquired knowledge from his training in Hostage Negotiation in Scotland Yard, UK, his participation was material to the successfully negotiated release of some numbers of abducted Foreign Nationals and local victims that were held hostage in the jungles of Sulu Island.
After his stint in Mindanao, he went back to Region 6 and served as Chief of Regional Mobile Force Battalion, then Chief of Regional Intelligence Division until he became the City Director of Bacolod City in 2017. A year later, he was personally invited by the former PNPA director PBGEN JOSEPH CAGAYAN ADNOL, to serve as Executive Director for PNPA.
The recent promotion of PBGen Jack Limpayos Wanky to a star rank made him the very first police officer to fill up the position of Chief of Staff of PNPA effectively on November 25, 2020.