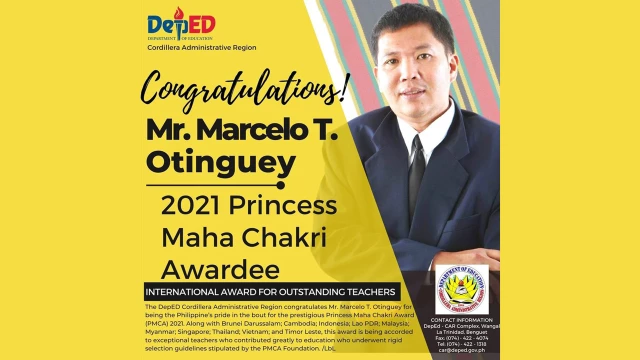 Marcelo T. Otinguey, an Igorot teacher from Benguet Province, is a recipient of the prestigious Princess Maha Chakri Award 2021.
The Princess Maha Chakri Award (PMCA), based in Thailand, is given once every two years to only one teacher from each of the 11 SEAMO member countries (10 ASEAN countries and Timor Leste) to celebrate excellence in the teaching profession and recognize teachers for their contribution to the future generation especially for teachers who made a significant impact on the lives of their students.
The award aims to promote excellent practices to inspire and serve as examples for other teachers in Southeast Asia.
Teacher Otinguey who hails from Balakbak, Kapangan, Benguet was recently awarded the Princess Maha Chakri Award 2021.
He topped all other nominees across the country after the rigorous screening by the Department of Education.
His civic works, dedication, and achievements resulted in a significant impact on students' lives, communities, and the betterment of the local educational system.
Otinguey, 50, graduated Bachelor of Secondary Education from Benguet State University (BSU) and Master of Arts in Education-General from Baguio Central University.
He is currently working as the Head Teacher V of the Governor Bado Dangwa Agro-Industrial School.
Otinguey had received many certifications of recognition/appreciation from various organizations. Recently, he received the Certification of Recognition as School Brigada Skwela Coordinator by the DedEd-Cordillera, the Certification of Appreciation by Southeast Asian Ministers of Education Organization (SEAMO) on the video produced for the Massive Open Online Course (MOOC) Teach On: Keeping the Passion Alive.
The Igorot community joins the DepED Cordillera Administrative Region in congratulating Mr. Marcelo T. Otinguey for being the Philippine pride in the bout for the prestigious PMCA 2021. May you become an inspiration!