If you happen to see a Kankanaey lady smiling calmly in the storm, do not be surprised. And no she has not lost her mind. Know it's her strong belief in KASIYANA that gives her the peace of mind, and the calm to confront the turmoil of the world.
KASIYANA is a Kankanaey expression that means "It's alright. Things will get better."
Just a word, but it says a lot. Its utterance, when uttered sincerely can do wonders. We say it to wish someone well, or to express our sympathy to someone in mourning. And yes when you're down on your luck, maybe fighting a battle no one knows about, you can whisper it to yourself, and ask any Kankanaey, it works most of the time.
Now, as we all struggle to arrest the threat of this fast spreading disease known as COVID-19, every Kankanaey has a sincere message to the entire world: - "KASIYANA! It's alright. Things will get better!"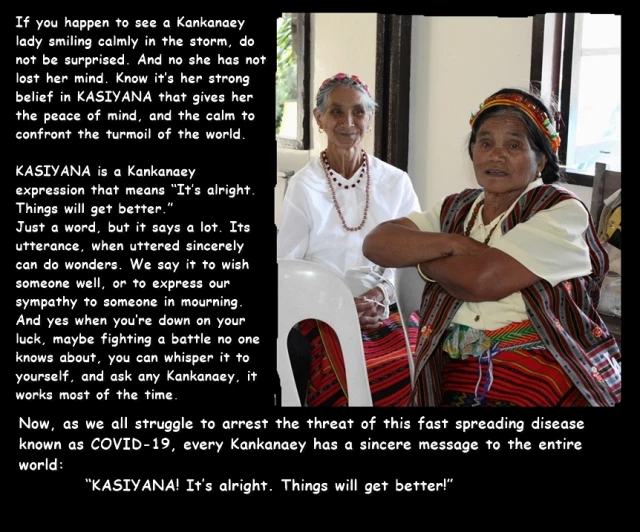 "KASIYANA" (a poem)
We hear it from our elders' mouths,
In times when things go south;
A word that can move mountains,
A word to ease our pain.
Remember when you got very ill,
Or that time love broke your heart,
When you lost all the strength and will
To do another start.
Grandma found you in deep despair
And said, "kasiyana, kasiyana!"
The dark sky then became so clear;
Banished your dystopia.
Since then we've known hope's purest form
Throughout life's wild arena;
Our proven refuge from the storm -
A prayer and kasiyana!
---by Bag-iw, March2020 #Kasiyana