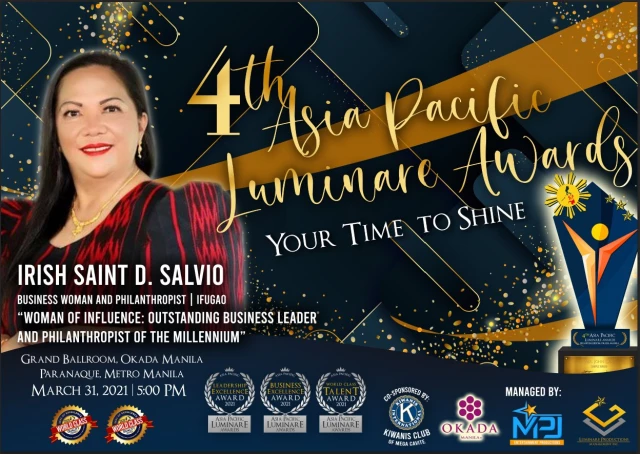 WOMAN OF INFLUENCE. Irish Saint D. Salvio, a proud Igorot woman from the Ifugao Province, has been recognized by the Asia Pacific Luminare Awards as the "Outstanding Business Leader and Philanthropist of the Millennium".
Anchored to her strong sense of social responsibility, this humble Igorot philanthropist, and businesswoman firmly believes that she has nothing to brag about but only her pure heart, strong faith, and noble purpose to help more, give more, and do more to uplift the lives of the people in the communities around her towards betterment and sustainable progress.
In 2012, her scholarship program flourished when her duty as a hardworking business leader of a construction firm took her to a deprived community in Kasibu, Nueva Vizcaya where she witnessed many children who couldn't afford the demands of education.
Thereby, she was challenged and motivated to establish her scholarship program as she was also a scholar during her college years as well as inspired by her late grandmother and mom who were both educators.
She has been determined to reach out and help more specifically the unfortunate children and students thru financial grants and provision of educational aids like smartphones, pocket WIFI's, laptops, and school supplies. As well, she adopted at least three secondary schools in their municipality wherein she pledged to continually sponsor the miscellaneous fees of the identified indigent grantees.
At present, she has more than a thousand scholars/grantees who are not only from her municipality but also outside her provinces such as in Kalinga, Nueva Vizcaya, Baguio City, and Manila.
Amid the pandemic in 2020, she wholeheartedly provided almost three (3) million pesos out of her pocket to aid various development projects and programs of local government and non-government offices in her municipality.
Besides, she helped many local farmers by buying almost tons of their agricultural produce and donated it to needy households during the past month-long lockdowns and crisis. Likewise, she has been actively organizing and sponsoring out-reach activities such as a feeding program, free haircutting, gift-giving, and distribution of school supplies particularly for the marginalized sectors in far-flung communities. Additionally, she openhandedly provides medical assistance to indigent patients.
Last November 2020, Ms. Salvio, together with her bighearted family, donated relief packs and assistance worth one (1) million pesos for the victims of typhoon Ulysses in Cagayan. Further, as the Federated PTA President in Ifugao, she deposited P106, 000 from her pocket to fund the proposed small projects of different district PTAs.
Moreover, with the use of her personal resources, she has generously accomplished lots of road-opening and improvements especially of farm to market road projects as proposed by concerned local leaders and individuals particularly in remote barangays across Lamut in order to pave ways for agricultural, tourism, and social development in said municipality.
Indeed, more of her selfless services and deeds are worth recognizing but one thing is for sure; the municipality of Lamut, Ifugao, or the Asia Pacific rather is greatly blessed to have MS. IRISH SAINT D. SALVIO who deserves most the prestigious award as "WOMAN OF INFLUENCE: OUTSTANDING BUSINESS LEADER AND PHILANTHROPIST OF THE MILLENNIUM".
Asia Pacific Luminare Awards (Philippines) and Asia's Top Luminary Awards (Vietnam) are organizations that search for the best of the best individuals and companies across all of the Philippines and Asia! Industry titans, corporate heroes, advocates of planet and people.
The 4th Asia Pacific Luminare Awards Awards Night will be held at the Grand Ballroom, Okada Manila, Paranaque, Metro Manila on March 31, 2021.
Note: The Awards Night has been postponed and moved to May 31, 2021, due to the COVID-19 pandemic and with respect to the Ramadan Feast.
Kalinga Engineer is Outstanding Young Professional Leader and Inspiring Advocate for the Poor
Marion Tombaga: Igorot Grade 12 Student is Exemplary and Inspiring Youth Leader