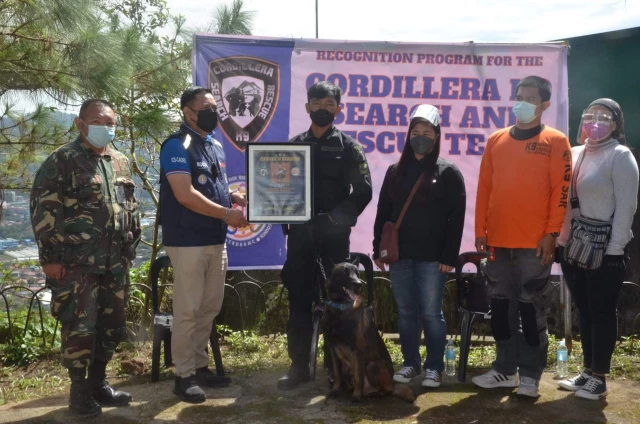 Zeus, a 6-year-old Belgian Malinois, is a hero dog who recently helped locate two landslide victims in Loacan, Itogon, Benguet.
The landslide struck on August 17, 2021, burying several people under the rubble. The search and rescue efforts were hampered by the difficult terrain, but Zeus was able to sniff out the location of the two missing victims.
"Zeus was able to pinpoint the exact location of the victims, even though they were buried deep under the rubble," said Patrolman Cyrus Backeng, Zeus' handler. "He is a true hero."
Zeus' story is one of overcoming adversity. He was once a malnourished and neglected dog, but he was rescued by Ruben Ventura, a dog trainer and rescue worker. Ventura worked with Zeus to overcome his behavioral problems, and eventually, Zeus was able to graduate from the Cordillera Search and Rescue K9 Team training program.
"Zeus is a strong-willed dog," said Ventura. "He is always willing to work, and he is always eager to please. I knew that he had the potential to be a great rescue dog, and I am so proud of him for what he has accomplished."
But Zeus' story is even more inspiring than that.
When Zeus was first rescued, he was so malnourished that he could barely walk. He had no fur on his ears, and his body was covered in scars. He was also very aggressive, and he bit several people who tried to help him.
But Ruben Ventura was determined to help Zeus. He worked with Zeus every day, and slowly but surely, Zeus began to improve. He gained weight, his fur grew back, and his behavior became more manageable.
Eventually, Zeus was able to graduate from the Cordillera Search and Rescue K9 Team training program. He is now a certified rescue dog, and he has helped to locate several missing persons.
On September 6, 2021, Zeus was awarded the Outstanding Service Medal and Certificate of Recognition for recovering landslide victims at Camp Major Bado Dangwa.
Zeus' story is a reminder that anything is possible if you set your mind to it. It doesn't matter where you come from or what your past is like. If you have the courage to overcome your challenges, you can achieve anything you set your mind to.
I hope you enjoyed this article about Zeus, the Malinois who defied the odds. If you're inspired by Zeus' story, please share it with your friends and family.