July 15, a Monday, has been declared as a special non-working day in the Cordillera region. In a proclamation dated July 4, Malacanang made the declaration through Executive Secretary Salvador C. Medialdea by authority of President Rodrigo Duterte.

The provided date marks the 32nd founding anniversary of the Cordillera Administrative Region. "It is but fitting and proper that the people of the CAR be given full opportunity to celebrate and participate in the occasion with appropriate ceremonies", the document reads.

You can read the full document here at the Official Gazette website.

The Cordillera Administrative Region was officially created on July 15, 1987 through an executive order issued by then President Corazon C. Aquino. The region is currently comprised of six provinces. These are Abra, Apayao, Benguet, Ifugao, Kalinga, and Mountain Province.

#Cordillera #News
Igorotage supports Video Creators!
Out of the box, Igorotage supports link sharing — Yes, including Youtube videos! Are you a vlogger? Grow your channel for free by sharing your videos with the Igorot community!
Igorotage is on Youtube as well! Support us by subscribing to our channel.
Igorotage Weekly Digest
Don't miss anything important from the Igorot community! Each week we curate the best new information and deliver it directly to your inbox every Sunday morning.
Wallposts
You might also like these related wallposts.
Another Igorot added to High-ranking Cordilleran Police Roster
The Cordilleras has added another star in its roster of high ranking police officers.

Newly-promoted Police Brigadier General Oliver Alilis Enmodias took his oath yesterday (April 23, 2019) and he shall be assigned at the Directorate for Integrated Police Operation for Northern Luzon.

PBGen Enmodias traces his roots from Barlig, Mountain Province. He was once the Provincial Director of the Mountain Province Police Provincial Office. Congratulations Sir.

By Maam Cristine Enmodias

#General #Igorot #Cordilleran #Enmodias #Police
The Kalinga People of the Cordilleras, Ethnic Group in Philippines
Due to the mountainous terrain and warrior-culture of the people, the Kalinga were able to preserve their culture despite centuries of occupation in the lowlands by the Spaniards, Americans, and the Japanese.

The Kalinga people are highlanders and the most extensive rice farmers of the Cordillera peoples, having been blessed with some of the most suitable land for both wet and dry rice farming. Like the Ifugao, the Kalinga are prolific terrace builders. The Kalinga are also skilled craftsmen, well-versed in basketry, loom weaving, metalsmithing, and pottery, the last centred in the lower Chico River Valley.

On February 22, 2019, the Department of Tourism announced the bid of Digdiga Ni Tupayya, a Kalinga courtship dance, to be included in the UNESCO Intangible Cultural Heritage Lists.

From ASEAN Heritage & History

Photo Credits: This Is It Photography, Parangal_Org, and others

#Kalinga #ethnic #culture #UNESCO #heritage
Ganito ka-astig mga Pulis Cordillera!
Ganito ka-astig mga Pulis Cordillera! Salute!

PSBRC Class 2018 - 1 Kasandagan Highlights - Cordillera Administrative Region Training Center

Audio: The Drum by The Seige

#CARTC #Pulis #Cordillera
TWO New COVID-19 Deaths reported in the Cordillera
COVID-19 Cases Regional Update as of 5:00pm of August 1, 2020

Twenty (20) new Recoveries, five (5) new Cases and two (2) new Deaths Reported in the Region:
Recoveries:
- 5 in Abra
- 4 in Apayao
- 5 in Baguio City
- 3 in Ifugao
- 2 in Kalinga
- 1 in Mt. Province

Cases:
- 3 in Baguio City
- 1 in Benguet
- 1 in Kailinga

Deaths:
- 1 in Abra
- 1 in Baguio City

for additional or more detailed information visit:
caro.doh.gov.ph/doh-car-covid-19-tracker/

NOTE:
• Some data may change as new information occur based on further validation and investigation.

#BeatCOVID19 #covid19 #Cordillera
#WeHealAsOne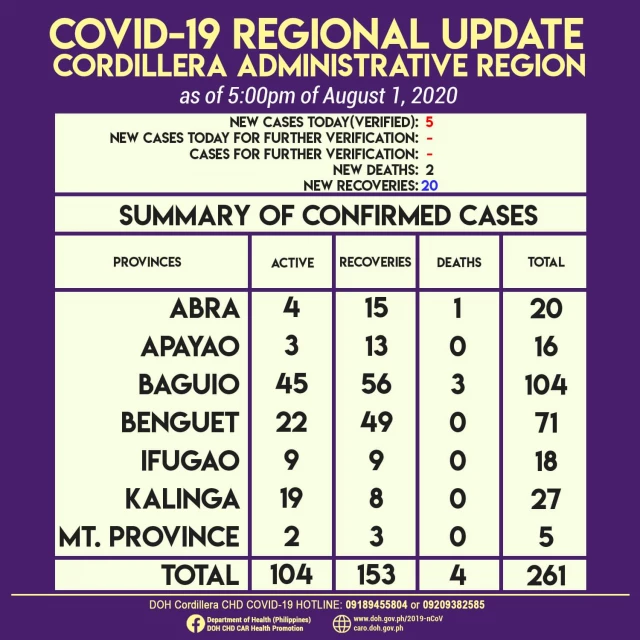 Another young Cordilleran soldier killed in an ambush
2nd Lt. RALF AMANTE C. ABIBICO, 23, from Mt. Data Cliff, Monamon Sur, Bauko, Mountain Province was killed in an ambush in Himamaylan City, Negros Occidental this morning, April 19, 2019.

Abibico was one of three soldiers killed in a clash between government troops and the New People's Army (NPA).

Four Cordilleran soldiers were killed in an encounter in Patikul, Sulu on Friday.

CTTO

#RalfAbibico #MtProvince #ambush #NegrosOccidental