Governor Melchor Diclas on Friday said they are now ready to receive overseas Filipino workers (OFWs) returning to the province.

"We will prepare for them, they are our own people, we will take them in," he said.

Diclas said they have been sending two vans every Tuesdays and Fridays in Metro Manila and elsewhere to fetch returning OFWs and locally stranded individuals (LSI) since April.

As of May 28, there were already 140 OFWs and 131 LSIs who have been fetched by the provincial government.

Upon their arrival in Baguio City, they were brought for triage before bringing them to Teachers Camp, the quarantine facility of Baguio, Benguet and Mountain Province.

The LSIs, on the other hand, were brought to the quarantine facility at Wangal here.

"If they have health declarations and have completed the 14-day quarantine and at the triage, they are well and do not show any signs and symptoms of the Covid-19, then they are led to the facility where they will be fetched by their respective municipal governments and brought to their homes," Diclas said, noting they are coordinating with municipal officials.

"If they are positive, let them heal, if they are negative, let them go home," he added.

Diclas appealed to the people of Benguet not to discriminate against the returning OFWs.

He said that the provincial government can assist the OFWs and LSIs as they register via the website of the provincial government.

"We assist them in terms of permits and the requirements then fetches them where they are," Diclas said.

The national government has announced that some 40,000 more OFWs are expected to arrive in the country.

"We will accept them, subject them to the protocols, and will have them go through a 14-day quarantine in a medical facility or at their villages, depending on their condition," Diclas said. (With reports from Zedrick John Patil-ao/ PNA)

#Benguet #OFW #Baguio #COVID19
Igorotage supports Video Creators!
Out of the box, Igorotage supports link sharing — Yes, including Youtube videos! Are you a vlogger? Grow your channel for free by sharing your videos with the Igorot community!
Igorotage is on Youtube as well! Support us by subscribing to our channel.
Igorotage Weekly Digest
Don't miss anything important from the Igorot community! Each week we curate the best new information and deliver it directly to your inbox every Sunday morning.
Wallposts
You might also like these related wallposts.
TWO New COVID-19 Deaths reported in the Cordillera
COVID-19 Cases Regional Update as of 5:00pm of August 1, 2020

Twenty (20) new Recoveries, five (5) new Cases and two (2) new Deaths Reported in the Region:
Recoveries:
- 5 in Abra
- 4 in Apayao
- 5 in Baguio City
- 3 in Ifugao
- 2 in Kalinga
- 1 in Mt. Province

Cases:
- 3 in Baguio City
- 1 in Benguet
- 1 in Kailinga

Deaths:
- 1 in Abra
- 1 in Baguio City

for additional or more detailed information visit:
caro.doh.gov.ph/doh-car-covid-19-tracker/

NOTE:
• Some data may change as new information occur based on further validation and investigation.

#BeatCOVID19 #covid19 #Cordillera
#WeHealAsOne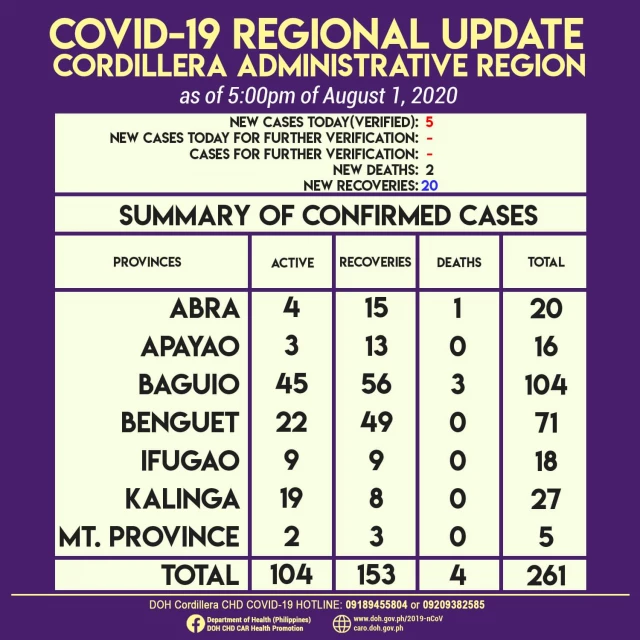 Inspired by the K-drama Crash Landing On You, this online store allows you to order local products from the Cordillera region while helping the livelihood of Filipino farmers at the same time. Teddy Baguilat Jr. of the CLOY (Cordillera Landing On You) team says, "Literally, we're from Cordillera-I'm from Ifugao. And we're bringing in products from Cordillera to land in the city-in Metro Manila." They offer vegetables from Benguet, pasalubong items from Baguio City (yes, strawberries and ube included!), Cordilleran coffee, and face masks locally made by the weavers from Ifugao.

#KDrama #TeddyBaguilatJr #Cordillera #Ifugao #CrashLandingOnYou
Baguio City Jail holds first DOTA tournament for inmates
E-Sports: BCJMD conducted its 1st E-games tournament for PDL.

The event was largely participated by PDL.

"Over 40% said that gaming improves emotional well-being. That's a serious benefit if you consider that one in five people in America experience mental health issues each year." Qutee Research.

#BaguioCityJail #ESPORTS #DOTA
#ChangingLivesBuildingASaferNation
#defeatboredom

Source: BJMP BAGUIO CJ-MD
The viral photos of Philippine National Police (PNP) chief General Archie Gamboa showing him with a group of people without face masks and not following the protocols on physically distancing were actually taken before the imposition of pandemic restrictions.

The Philippine National Police (PNP) threatened to file complaints against individuals who are spreading photos of the PNP chief.

On Tuesday, August 18, the Philippine Star posted the photos, saying that the images were of Gamboa's controversial Baguio City dinner allegedly held on Saturday, August 15. The publication said the information came from a reliable source.

However, the photos were taken on February 18 at a dinner party in Forbes Park, Makati City, weeks before the coronavirus lockdown and health protocols were enforced.

#Baguio #Gamboa #PNP #protocol #COVID19
La Trinidad awarded Best Municipal Police Station Regionwide and Nationwide
PMAJ CLEFF B VENCIO, COP together with Hon. Romeo K Salda, Municipal Mayor of La Trinidad received an award as BEST MUNICIPAL POLICE STATION Regionwide and Nationwide during the 119th Police Service Anniversary Celebration at Masigasig Grandstand Camp Major Bado Dangwa, La Trinidad, Benguet.

(Joint Accomplishment during the stint of PMAJ JOEFFER BANGLAYAN, PMAJ ROLDAN CABATAN and PMAJ CLEFF VENCIO)

THANK VERY MUCH LA TRINIDAD LGU, STAKEHOLDERS and the COMMUNITY FOR ALL THE SUPPORT!!!!
MATAGOTAGO TAKO AMIN!!!!

From La Trinidad MPS

#LaTrinidad #PoliceStation #Benguet