AM I QUALIFIED? Joel Junsay asks as he tries to process his papers to qualify for the PHP100,000 the national government could give to medical health care workers who recovered from the coronavirus disease (Covdi-19).

Junsay was also the first Baguio case to come out in the open to facilitate contact tracing.

The Department of Health in the Cordillera Administrative Region (DOH-CAR) on Tuesday said only one of the 20 medical health care front line workers who was afflicted with the coronavirus disease 2019 (Covid-19) is eligible to the PHP100,000 financial assistance of the government.

"There is only one who qualifies. When I called the infectious disease center at the BGH (Baguio General Hospital and Medical Center), mild cases sila (they have mild cases)," said Dr. Amelita Pangilinan, DOH-CAR regional director in a press conference.

She said the beneficiary was already able to get the PHP100,000 last Saturday.

The beneficiary, who has a heart problem was classified as a "critical case" because his illnesses were aggravated while he was suffering from Covid-19, which made the person eligible for the assistance of the government.

"This is a continuing benefit," Pangilinan said.

#covid19 #benefits #BGHMC #DOH #Cordillera #Baguio
Igorotage supports Video Creators!
Out of the box, Igorotage supports link sharing — Yes, including Youtube videos! Are you a vlogger? Grow your channel for free by sharing your videos with the Igorot community!
Igorotage is on Youtube as well! Support us by subscribing to our channel.
Igorotage Weekly Digest
Don't miss anything important from the Igorot community! Each week we curate the best new information and deliver it directly to your inbox every Sunday morning.
Wallposts
You might also like these related wallposts.
TWO New COVID-19 Deaths reported in the Cordillera
COVID-19 Cases Regional Update as of 5:00pm of August 1, 2020

Twenty (20) new Recoveries, five (5) new Cases and two (2) new Deaths Reported in the Region:
Recoveries:
- 5 in Abra
- 4 in Apayao
- 5 in Baguio City
- 3 in Ifugao
- 2 in Kalinga
- 1 in Mt. Province

Cases:
- 3 in Baguio City
- 1 in Benguet
- 1 in Kailinga

Deaths:
- 1 in Abra
- 1 in Baguio City

for additional or more detailed information visit:
caro.doh.gov.ph/doh-car-covid-19-tracker/

NOTE:
• Some data may change as new information occur based on further validation and investigation.

#BeatCOVID19 #covid19 #Cordillera
#WeHealAsOne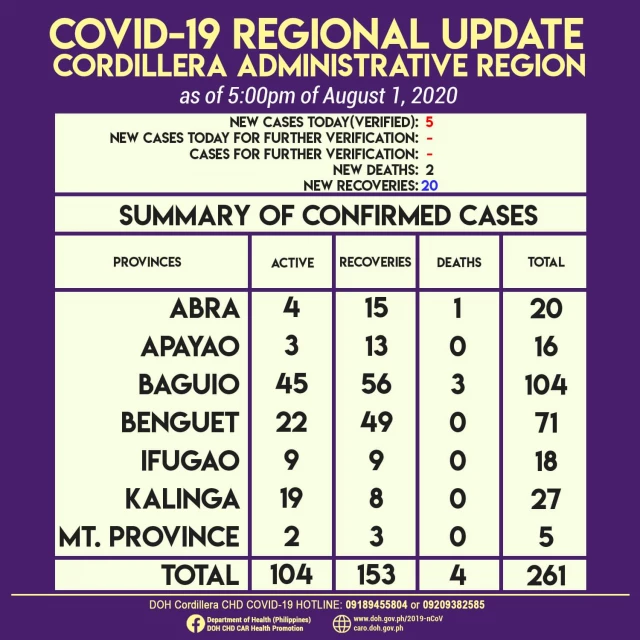 Proud Igorot OFW is a United Arab Emirates Hero
Proud Igorot, now a frontliner in the United Arab Emirates!

Red Cloud Decaleng Capuyan is one of the healthcare workers who continues to fight COVID-19 in the UAE.

Red is from the Cordillera Administrative Region.

He graduated with a Bachelor of Science in Nursing from the St. Louis University in Baguio city. He also has an International Interprofessional Wound Care Course at the University of Toronto in Canada.

He has been an Overseas Filipino Worker for five years. He is also the founding president of the Philippine Nurses Association in the UAE (PNA-UAE).

Despite the danger to the chosen profession, Red remains hopeful.

We salute you all Igorots abroad! Stay safe and see you the soonest!

Credit: GMA Pinoy TV

#ProudIgorot #OFW #frontliners #heroes #UnitedArabEmirates #COVID19 #RedCloudDecalengCapuyan
Baguio City Jail holds first DOTA tournament for inmates
E-Sports: BCJMD conducted its 1st E-games tournament for PDL.

The event was largely participated by PDL.

"Over 40% said that gaming improves emotional well-being. That's a serious benefit if you consider that one in five people in America experience mental health issues each year." Qutee Research.

#BaguioCityJail #ESPORTS #DOTA
#ChangingLivesBuildingASaferNation
#defeatboredom

Source: BJMP BAGUIO CJ-MD
Some areas of Camp John Hay in Baguio will be opened for leisure visit to residents of the city beginning Tuesday, the local government's public information office said Sunday.

Visitors must wear face masks and observe physical distancing when they go around the camp's Manor children's playground, Ayala open field, and Yellow and Eco-Trail, according to the PIO.

These areas will be open from 6 a.m. to 7 p.m. every Tuesday, Thursday, and Saturday, for persons aged 21 to 59, and every Sunday for those below 29 and senior citizens.

#CampJohnHay #Baguio #quarantine #COVID19
Baguio Canine "microchipping" starts November
Want to give "man's best friend" a bit more protection in case they get lost or stolen?

The mandatory installation of microchip tags on dogs will start this November.

Thus bared City Veterinary and Agriculture Office (CVAO) chief Dr. Bridgit Piok during the City Hall flag-raising program.

She said, installation of microchips is mandatory for pets that are three-months old or over.

The microchip tagging of dogs is pursuant to Ordinance No. 60-2020. It establishes easier ownership tracking of dogs; protection of pets from theft; monitoring schedule of anti-rabies jabs; and, establishing accountability of pet-owners, among others.

The micro tag which rests under the dog's skin holds information on the owner's name, address, contacts, and description of the canine.

It costs P300 per dog and may be administered in barangays during scheduled mass tagging activities or at the CVAO.

A registration certificate shall then be issued after the dog had been microchipped. It is a permanent record that lasts until the dog's lifetime, unless there a change of ownership.

When the dog passes, the owner is required to inform the barangay or CVAO within five days.

In changes of ownership, the new owner must report the same within a period not exceeding ten days. Registration by the new owner costs P250.

Under the ordinance, Piok revealed, absence of the chip on a dog three-months old or over violates Ordinance No. 60-2020. A fine of P2,000 shall be imposed upon the owner.

A fine of P2,000 is likewise imposed upon owners of stray pooches.

She said, any person who releases an impounded dog without it having been micro-tagged or without fees or fines having been paid by the owner shall be fined P1,000, over possible administrative or criminal charges.

The ordinance imposes an impounding fee of P500 per dog; maintenance fee of P50 per dog per day; and, adoption fee of P500 per dog, she added.

Piok disclosed, within three-days, unclaimed dogs at the city pound may be put up for adoption; or, donated for scientific studies; or, put down.

Report from Gaby Keith via PIO-BAGUIO (26 July 2020)

Your thoughts?

#Baguio #microchip #dogs