Edible wild fruits in Benguet, Cordillera

A total of 36 fruit species were found in different municipalities of Benguet. These fruit species belong to 27 genera and 20 families. Among the 13 municipalities of Benguet, Kibungan has the highest number of species.

There are many uses of wild fruits which ranged from food (snack/dessert/table food), forage (especially for birds, monkeys and wild animals such as cloud rat and grass eaters), offertory, processed/preserved (as jam, jellies, candies, juice and wine), condiment or ingredient (for cooking), source of dye or ink, decoration (to garnish food) and as medicine to common ailments or health problems.

Based on an inventory and calculated cultural importance index, Garcinia binucao (balokok) belonging to Clusiaceae is the most abundant fruit, hence it is the commonly used fruit for various purposes such as food, forage, processing/preservation and condiment/ingredient; Vaccinium myrtoides (ayusip) for offerings and as source of dye/ink; Saurauia elegans (uyok) for decoration, and, Antidesma bunius (bugnay) for medicine.

Source: Cordillera Indigenous Knowledge on Agriculture, Forestry and Biodiversity

#wildFruits #Benguet #Cordillera
Igorotage supports Video Creators!
Out of the box, Igorotage supports link sharing — Yes, including Youtube videos! Are you a vlogger? Grow your channel for free by sharing your videos with the Igorot community!
Igorotage is on Youtube as well! Support us by subscribing to our channel.
Igorotage Weekly Digest
Don't miss anything important from the Igorot community! Each week we curate the best new information and deliver it directly to your inbox every Sunday morning.
Wallposts
You might also like these related wallposts.
TWO New COVID-19 Deaths reported in the Cordillera
COVID-19 Cases Regional Update as of 5:00pm of August 1, 2020

Twenty (20) new Recoveries, five (5) new Cases and two (2) new Deaths Reported in the Region:
Recoveries:
- 5 in Abra
- 4 in Apayao
- 5 in Baguio City
- 3 in Ifugao
- 2 in Kalinga
- 1 in Mt. Province

Cases:
- 3 in Baguio City
- 1 in Benguet
- 1 in Kailinga

Deaths:
- 1 in Abra
- 1 in Baguio City

for additional or more detailed information visit:
caro.doh.gov.ph/doh-car-covid-19-tracker/

NOTE:
• Some data may change as new information occur based on further validation and investigation.

#BeatCOVID19 #covid19 #Cordillera
#WeHealAsOne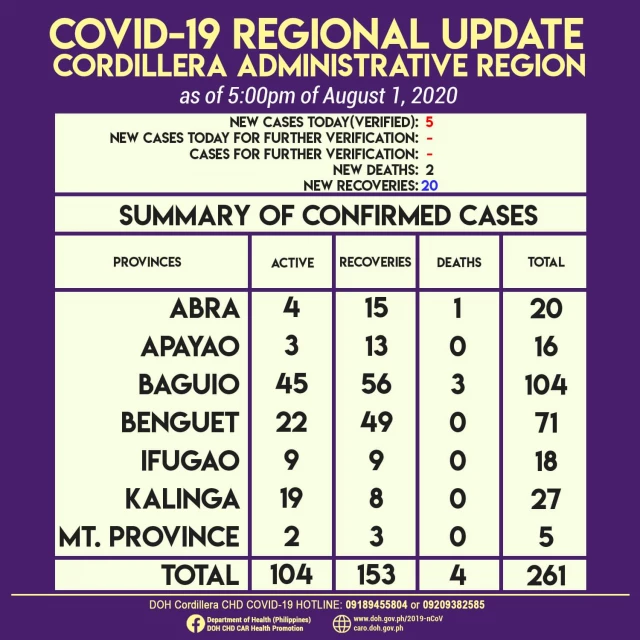 The Kalinga People of the Cordilleras, Ethnic Group in Philippines
Due to the mountainous terrain and warrior-culture of the people, the Kalinga were able to preserve their culture despite centuries of occupation in the lowlands by the Spaniards, Americans, and the Japanese.

The Kalinga people are highlanders and the most extensive rice farmers of the Cordillera peoples, having been blessed with some of the most suitable land for both wet and dry rice farming. Like the Ifugao, the Kalinga are prolific terrace builders. The Kalinga are also skilled craftsmen, well-versed in basketry, loom weaving, metalsmithing, and pottery, the last centred in the lower Chico River Valley.

On February 22, 2019, the Department of Tourism announced the bid of Digdiga Ni Tupayya, a Kalinga courtship dance, to be included in the UNESCO Intangible Cultural Heritage Lists.

From ASEAN Heritage & History

Photo Credits: This Is It Photography, Parangal_Org, and others

#Kalinga #ethnic #culture #UNESCO #heritage
Sablan is Benguet's Most Peaceful Municipality - Benguet PPO
The municipality of Sablan was recognized by the Benguet Police Provincial Office as MOST PEACEFUL MUNICIPALITY AMIDST COVID 19 PANDEMIC for the second time around during the Monthly Operational Pulisteniks Awarding, August 2020.

"Peace does not mean an absence of conflicts; differences will always be there. Peace means solving these differences through peaceful means; through dialogue, education, knowledge; and through human ways"_Dalai Lama

Via Sablan MPS

#Sablan #Benguet #peace #Police #PNP #Pulisteniks
Benguet recorded EIGHT new Covid-19 cases today
Benguet has recorded eight new Covid-19 cases today, bringing the province's total number of confirmed cases to 25.

The patients are:

• a 22-year-old male from La Trinidad
• a 24-year-old male from Buguias
• a 31-year-old male from Buguias
• a 37-year-old female from Itogon
• a 23-year-old female from Mankayan
• a 37-year-old male from Sablan
• a 50-year-old male from Bokod
• a 35-year-old male from Bokod

The LGUs concerned are now conducting contact tracing.

#covid19 #Benguet #updates #LaTrinidad #Buguias #Itogon #Mankayan #Sablan #Bokod
In Photos: Benguet Capitol relief ops activities
Good News: Benguet Provincial Response Team treading long paths to deliver sacks of relief goods in Calhor, Virac, Itogon.

Virac is a barangay in the municipality of Itogon, in the province of Benguet. Its population as determined by the 2015 Census was 10,990. This represented 18.37% of the total population of Itogon.

Thank you Benguet, especially sa Response Team at sa mga strong Igorots na tumulong na magbuhat.

Photo credits to Avelino Cayat, Jr. and Rodzon Ateo-an.

#GoodNews #Benguet #relief #Virac #Itogon