Seven people died while three others were injured when the truck they were riding fell off a ravine in Aguinaldo, Ifugao on Wednesday morning. The incident occurred in the vicinity of sitio Muntonop in the village of Ubao. All of them are residents of Aguinaldo according to Lieutenant Ricardo Dumangeg of the Aguinaldo police.

Initial reports say the group came from the village of Majlong and were on their way to a burial in the nearby town of Alfonso Lista. The driver reportedly lost control of the truck when the brakes malfunctioned. The truck dipped and fell off a ravine estimated to have a height of at least 10 meters. Responders brought those injured to the Potia District Hospital in Alfonso Lista.

The casualties were identified as:

1. Joey Tambiyag (the driver of the truck)

2. Divina Chumatog Tambiyag (wife of the driver)

3. Wilma Chumatog

4. Josephine Uhuban

5. Ricky Chog-ap

6. Vicente Buyag-ao

7. Rosita Paynohan

Those injured are:

1. Aristo Paynohan

2. Kimberly Joy Tambiyag

3. Fernando Bahiwag

#Ifugao
Igorotage supports Video Creators!
Out of the box, Igorotage supports link sharing — Yes, including Youtube videos! Are you a vlogger? Grow your channel for free by sharing your videos with the Igorot community!
Igorotage is on Youtube as well! Support us by subscribing to our channel.
Igorotage Weekly Digest
Don't miss anything important from the Igorot community! Each week we curate the best new information and deliver it directly to your inbox every Sunday morning.
Wallposts
You might also like these related wallposts.
What is "UBBU" in Ifugao?
In the central part of Ifugao where I was born and raised, I have witnessed a lot of times what they call "ubbu".

It is a term used to describe a traditional Ifugao practice, where a person calls the help of other folks to be part of a work (usually in their ricefields). In return, the person who called for help must repay it with work, commensurate to the number of days the person worked for him/her.

They don't use money to pay workers, but they use work to barter for work.

When these folks gather to work, it's a time for a good fellowship, and in the olden times, it is used to learn their traditional hymn of "Hudhud" for the ladies.

It is still very much alive in my native barangay. But in many parts of Ifugao, "ubbu or ub-ubbu" is becoming strange; just a part of our rich history.

What can the new generation of the "real sons and daughters of Ifugao" do?

By: Abe Ngipol

#Ubbu #Ububbu #binnadang #Ifugao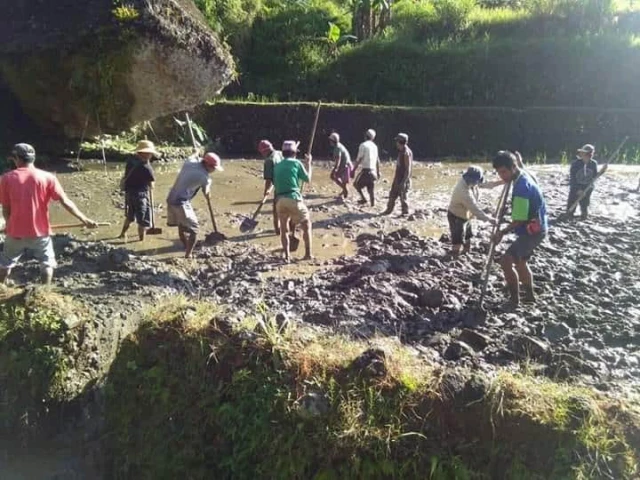 At least 3 Abu Sayyaf members killed in Sulu clash led by Ifugao Lt Col Ruben Guinolbay
Sa katapangan ng 45th infantry batallion na pinamunuan ni Lt Col Ruben Guinolbay mula Ifugao. Nasakmal ng tropa ng Joint Task Force Sulu ang mga teroristang Abu Sayyaf sa engkwentrong naganap sa Latih, Patikul, Sulu alas sais kagabi, ika-22 ng Abril 2020.

Nilapitan ng tropa ng 45th Infantry Battalion na pinamunuan ni Lt Col Ruben Guinolbay ang mga bandido kaya agad itong nabigwasan.

Kumaripas ng takbo ang mga bandido nang paisa-isa silang tinamaan sa naturang bakbakan na umabot ng kalahating oras.

Tinugis sila ng tropa sa running gunbattle hanggang nagkakahiwalay sila sa sobrang takot nang dumami ang natamaan sa kanilang hanay.

Natagpuan ng mga sundalo ang 3 sa mga napatay na bandido at nabawi ang mga personal na kagamitan na kinuha nila sa mga 11 na namatay kamakailan lang.

#RubenGuinolbay
#Ifugao #PatikulSulo #ambush #resbak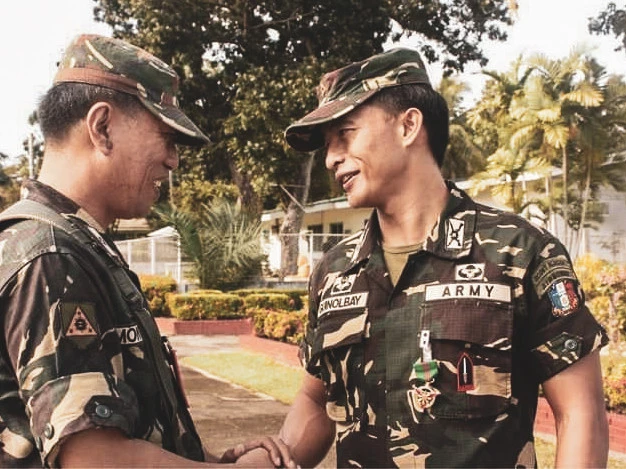 Honest Ifugao 4Ps beneficiary returns emergency subsidy given to her mother
Hungduan, Ifugao 4Ps beneficiary Rosalina Guiniling returns the emergency subsidy given to her mother.

Accordingly, her mother recently moved in with her family due to the need for care and the inability to work.

Her mother is already covered by the SAP provided to the 4Ps family where she is now staying with.

Courtesy: Donald Bulahao

#Hungduan #Ifugao #honest #SocialAmeliorationProgram #4Ps
Ifugaos unique ritual for the dead vanishing
LAGAWE, Ifugao , Philippines - The Ifugaos' traditional and unique way of honoring their dead - known as bogwa - seems to be vanishing.

Today, locals say only few Ifugao natives perform the ritual, given the changes in burial practices and modern cemeteries. Natives have also begun leaving to settle in urban areas.

Bogwa is the practice of exhuming the bones of the dead, cleaning and rewrapping them after a year or more depending on necessity and returning them to the grave or lubuk.

It is considered one of the most expensive rituals of the Ifugao natives as animals have to be offered during the three days it is being performed.

But being a family responsibility to honor a deceased loved one, it is being done as the Ifugaos do not observe All Saints' Day and All Souls' Day like most Filipinos.

Marcos Bantiyan, former vice mayor of Hingyon town, said bogwa repeats the usual burial ceremonies when an Ifugao dies, except this time without expressions of grief.

"It's more on feasting rather than mourning, pigs and carabaos will be offered for three days to appease the spirits of the dead," Bantiyan said.

According to Bantiyan, the Ifugaos believe bogwa is necessary so those left behind will prosper and live in peace with the spirits of their departed loved ones.

It is also the Ifugaos' way of showing love and valuing what their deceased loved ones have done for them, Bantiyan said.

Apo Daniel Himayod, now 80 and who has served as a traditional mumbaki (pagan priest), said bogwa is also needed if any member of the family keeps on dreaming of their departed loved ones, if a widow or widower wishes to remarry or if the family has been experiencing sickness without knowing the reason.

Himayod said as a mumbaki, he believes that sometimes sickness could be caused by the displeasure of spirits of the departed.

During the first day of the three-day ritual, mumbakis and other tribal elders including gong beaters will perform the gohwat in the morning by taking out the remains from the gungat (traditional burial chamber) or urn, cleaning the bones, arranging them in proper position and wrapping them in traditional woven cloth called gamong before bringing them to a residence for bogwa.

The second day is called kadwa where immediate family members continue to prepare food and drink (rice wine) for visitors who attend the ritual, since the invitation for bogwa is open not only within the village but even outside the community.

At 3 p.m. in the afternoon of the katlu or third day of the ritual, the bones are brought back to the grave with gong accompaniment, with the skull positioned facing the opening of the gungat.

Animals like pigs are butchered every day of the bogwa, with some specific parts of the slaughtered animals given to relatives of the deceased as a sign of kinship, while the rest of the meat is cooked and served to the people joining the wake.

"In some cases, bogwa is more expensive than marriage because of the presence of people who attend the wake for three days and two nights," Himayod said.

Himayod said traditionally, early Ifugaos did not embalm their dead or place the body inside coffins and thus, the corpse decayed fast and was ready for bogwa after a year.

"In the Ifugao original practice, the dead was wrapped in a traditional blanket called bay-yaung and placed in a sitting position called hangdel, but now, the dead are embalmed and buried in coffins," Himayod said.

Because of the embalming practices, Himayod said the cadaver is still intact even after three to five years and when bogwa is performed, the bones have to be separated forcibly from the remaining flesh as a requirement for cleaning.

"I usually perform baki (pagan prayer) during those days but now, different religious sectors are participating by praying and singing religious songs during bogwa instead of baki and hudhud," Himayod added.

Aside from bogwa, one of the fast disappearing practices of the Ifugao is the multi-chambered burial site called gungat.

Alongside preparation of the terraces centuries ago was the gungat, the original lubuk (cemetery) of the Ifugao engineered by the ammod (forebears) for their kinsmen.

Bantiyan, whose family owns a gungat in Hingyon town, said a typical gungat has a small entrance and tunnel leading to the burial chambers, each containing bones of the departed descendants with space enough for kinsmen of the family that owns the burial place.

But according to tradition, only the kadangyan or wealthy families have the right to be buried in gungat, while ordinary people will be buried near their abung or traditional house.

(PHOTO: The pre-Hispanic multi-chambered burial sites or gungat in Barangay Bitu, Hingyon, Ifugao. By VICTOR MARTIN)

Read more at www.philstar.com/headlines/2017/11/01/1754835/ifugaos-unique...

#Ifugao #bogwa #ritual #dead #burial #baki
88-year-old Lola in Mayoyao, Ifugao receives financial help from the DSWD
88-year old Mary P. Monchiguing from Mayoyao, Ifugao received the financial assistance from DSWD's Assistance to Individuals in Crisis Situation as on the the Government's Social Amelioration Program.

Lola Mary is living with her daughter whose livelihood was affected by the enhanced community quarantine.

Her daughter heartily expressed gratitude now that they no longer have to worry over money to purchase her mother's maintenance medications. Accordingly, they will also use the subsidy in buying basic commodities to get through the economic consequences of the COVID 19 crisis.

Courtesy: Donald Bulahao

#Mayoyao #Ifugao #SocialAmeliorationProgram #COVID19 #coronavirus