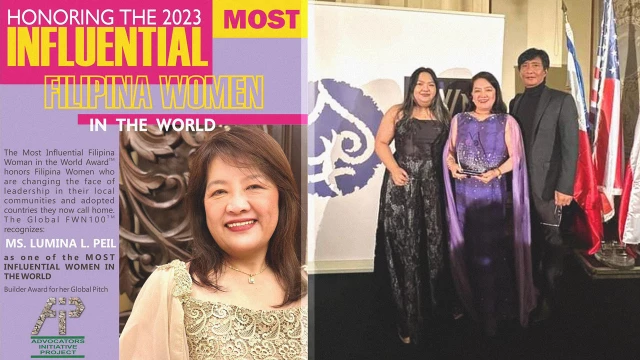 In 2023, Lumina Lawangan Peil, a respected figure from the Cordillera region, earned recognition as one of the Most Influential Filipino Women in the World. The Filipina Women's Network presented her with this esteemed award at the 19th Filipina Leadership Global Summit in Prague, Czech Republic, held on November 2, 2023.
Lumina's Outstanding Contributions
Lumina, based in Baguio, stood out among the awardees for her significant contributions, particularly in leading outreach missions, especially during the challenging times of the Covid-19 pandemic. The award is a nod to Filipino women making a difference in both their local and adopted communities worldwide.
Global FWN100™ Recognition
The Global FWN100™ acknowledges Lumina and others for their outstanding work in various fields, recognizing their leadership and achievements on the global stage and in local communities. It's not just a title; it's a reflection of the impact Lumina has had, showcasing her commitment to leadership and service.
Beyond Borders: Cordilleran Pride
This isn't just a personal achievement for Lumina; it's a recognition of the entire Cordillera region. Lumina's story is a testament to the strength and influence of Filipino women, proving that impactful leadership goes beyond borders. She joins a league of extraordinary women who have excelled in their respective fields, leaving a mark on the world stage.
A Symbol of Inspiration
As we celebrate Lumina L. Peil's accomplishment, it's a reminder that recognition isn't just about individual success; it's about the collective pride of the Cordilleran community and the broader Filipino network. Lumina has become a symbol of inspiration, embodying the spirit of leadership that goes hand in hand with genuine community service.
The Woman Behind the Leader
Adding to Lumina's story is her connection to Arnel Peil of AIP Construction, renowned for completing the construction of the Aluling Bridge. As Arnel's wife, Lumina not only stands as a leader in her own right but also contributes to the community's growth through her family's impactful work in construction and infrastructure development. This dynamic duo showcases the power of collaboration in making a lasting difference.