A 106-year-old Igorot centenarian from Aguinaldo, Ifugao, and a resident of Irisan, Baguio City has beaten COVID-19, making him the oldest survivor of COVID-19 in the country.
After being admitted to Baguio General Hospital (BGH) and battling the virus for 13 days, the swab test of the Igorot centenarian has now turned negative.
The Ifugao native now serves as an example of a COVID-19 champion in Baguio City and the Cordillera Region.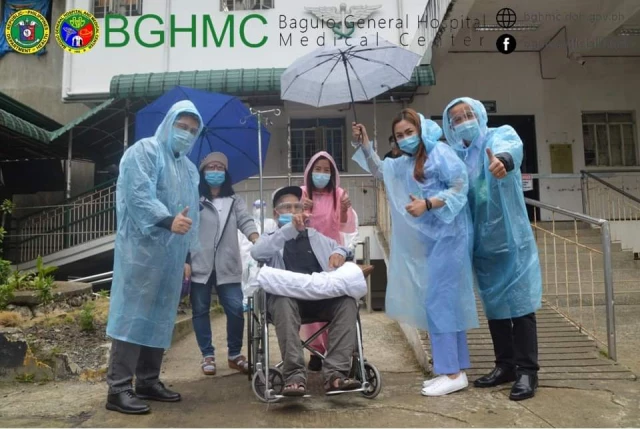 During his send-off ceremony, Dr. Ricardo B. Runez Jr., Medical Center Chief, stated that the discharge of the patient is a testament to our adaptation to the pandemic and striving towards resilience in our everyday life. A tribute is given to our doctors and nurses and the rest of the health care team for their dedication to work as translated to the challenges that were battled and surpassed.
Dr. Thea Pamela T. Cajulao, Adult Infectious Disease Specialist, also reiterated that COVID-19 should not be taken lightly because most cases are mild but the number of severe and critical cases is increasing especially among the vulnerable population including the elderly and those with co-morbidities.
"Our patient is a living proof that COVID-19 can be beaten. Remember that prevention is better than cure, but in instances that we cannot prevent it, early detection, treatment, and isolation can help decrease the risk for mortality" she added.
Also present during the send-off were Dr. Ray P. Suanding, Chief Medical Professional Staff, Dr. Ray P. Aswat, attending Cardiologist, Dr. Larry C. Haya Jr., Emergency Department Head, and Joselito M. Datud, Chief Nurse.
The Infectious Disease Nurses, led by their Nurse Supervisor Czarina T. Mendoza, also performed a dance number to celebrate the centenary's successful recovery.
The patient's daughter expressed her gratitude especially to the health care workers who took good care of their father.
"God made you as an instrument. I hope that my father would be an inspiration to all COVID-19 patients," she said.
As of October 20, Baguio General Hospital received a total of 338 COVID-19 cases, with 63 active cases and 259 recovered. There were 16 deaths, three of whom were dead on arrival.
Baguio City Mayor Benjamin Magalong and tourism stakeholders also agreed to open Summer Capital to tourists from Luzon.
A maximum of 200 visitors will be allowed per day in the city, to be monitored through the digital platform called the Baguio Visitor Information and Travel Assistance (VISITA) app.
Source: Alberto T. Cuilan III