UPDATE - 07 December, 2021: MGen Brawner named new PH Army Commanding General.
Romeo Brawner Jr. promoted to AFP Major General
Brigadier General Romeo Brawner Jr., an Igorot from Kiangan, Ifugao, was promoted to Major General (two stars) of the Armed Forces of the Philippines (AFP) on January 27, 2021, at the AFP General Headquarters in Camp General Emilio Aguinaldo, Quezon City.
AFP Chief of Staff General Gilbert Gapay led the donning of ranks to newly-promoted Major General Romeo Brawner Jr. and Marine Brigadier General Eric Nicanor.
General Gapay extended his congratulations to the newly promoted officers and reminded them of the responsibilities associated with their new rank.
"It is with immense pride and honor that I express my warmest congratulations to our honorees, for their achievements have pushed them up the military's top leadership and have been deemed worthy to receive these stars that represent higher expectations and standards of service and leadership," General Gapay said.

"As you receive heavier responsibilities, I urge and challenge you to sustain this momentum as this will be crucial in fulfilling our operational missions. Once again, I extend my congratulations to these two valiant military officers on their well-deserved promotion," the AFP Chief added.
Brawner is the son of the late Court of Appeals presiding justice and Comelec commissioner, Romeo Brawner, Sr. The newly-promoted officer is also the nephew of retired B/Gen. Felix Brawner, Jr., former commander of the Scout Ranger and PMA Class of 1957 topnotcher.
Major General Brawner recently assumed as the first Deputy Chief of Staff for Financial Management, J10, an office which was newly activated last December 2020.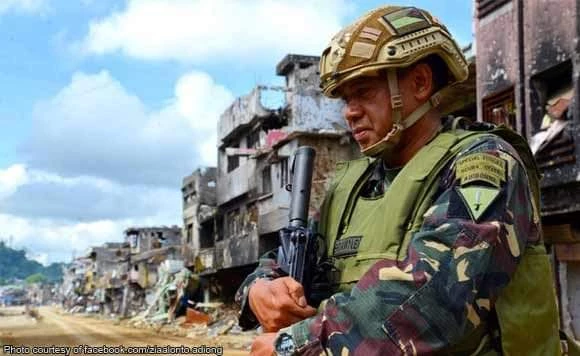 Before his current assignment, he served as the Commandant of Cadets of the Philippine Military Academy, Commander of the 103rd Brigade during the liberation of Marawi City, and served as the Chief of AFP Public Affairs Office.
The Baguio Boy completed his primary and secondary education at the Special Education Center and University of the Philippines (UP) College - Baguio High School.
The Marawi siege veteran was also a member of the Philippine Military Academy "MAKATAO" Class of 1989 and in 2013, he was awarded as one of the Most Outstanding Filipino Soldier in the country.
MGen Brawner is Philippine Army's 4th Infantry Division new Commander
MGen Romeo Brawner Jr. was installed as the new Commander of the 4th Infantry Division of the Philippine Army based at Camp Evangelista in Patag, Cagayan de Oro City.
MGen Brawner named new PH Army Commanding General
PRESIDENT Rodrigo Duterte has named MGen. Romeo Brawner Jr. as the new Commanding General of the Philippine Army effective December 7.
Defense Secretary Delfin Lorenzana sent to media the appointment paper of Brawner.
"I wish to inform you that per your letter-endorsement and in accordance with the recommendation of the Chief of Staff, Armed Forces of the Philippines, and Chairman, AFP Board of Generals, pursuant to Republic Act 8186, as amended by Republic Act 9188, the designation of Major General Romeo Brawner Jr., Philippine Army as Commanding General, Philippine Army, vice Lt. Gen. Andres Centino is hereby approved," Duterte said.
The Igorot replaced Armed Forces of the Philippines (AFP) chief of staff Lieutenant General Andres Centino, who concurrently served as the Army chief.
Salute to you Major General Romeo Brawner Jr.!