Headed by the company's CEO, Ms. Jennylyn Delos Santos Floresca, the RayCasa delegation traveled to the country's capital to acknowledge their most awaited awards. Viral Awards 2022 is an award-giving body focusing on people who are outstanding at what they do, it encompasses all people from different walks of life. From the most creative artist to the most effective and efficient leader, Viral Awards recognize true and great talents who can be great role models to their respective audiences.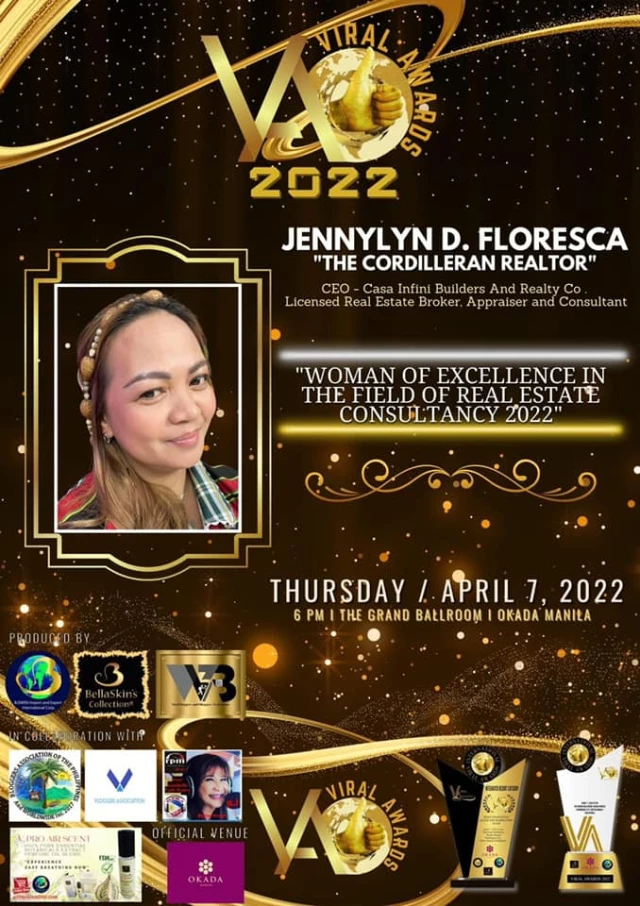 This year, the prestigious awards show, graced Okada Manila's grand ballroom together with some of the biggest names coming from different industries. Sine Cordillera's, Ms. Jinky Lontoc was one of our lucky kailyan (fellow) who had a chance to catch a short interview with the amazing artist, Neptalie "Rico" Aunzo, who goes by the moniker Pedrong Masipag. He is a self-taught modernist artist who paints from the heart and draws inspiration from life experiences. Rico is the recipient of the VISUAL ARTIST OF THE YEAR award.
Viral Awards found excellence in Raycasa Group of Companies
"I am always an awarded fellow since my elementary days, Now as the CEO - COO of my own company which I started Single-handedly 10 years ago ---- I will walk the stage of the Grand Ballroom of my second home Okada Manila with my PROTEGEES, MENTEES, And PERSONNEL. They are my real awards. Attitude is everything. Indeed, attitude is everything."
She goes by Direk Jianlin of Sine Cordillera or you might know her as The Cordilleran Realtor, Jennylyn Delos Santos Floresca is the company CEO. Passionate about different fields, she is committed to helping and inspiring her team to achieve excellence in their area of expertise. Direk Jianlin also expressed her appreciation to the Awards' Executive Creative Director, Mark Namoro, saying he shouldn't think twice about events like the Viral Awards and should continuously raise the bar high.
On top of Direk Jianlin's Woman of Excellence in the field of Real Estate Consultancy award, Ms. Jinky Lontoc, Ms. Jovielyn Malonzo, Mr. Elmer Diga, and Mr. Nicco Ymana also have their share of pride for the company. Ms. Delos-Santos Lontoc was awarded, The Outstanding Woman of Leadership in the field of Real Estate Business and Business Strategy Development. She has been closely working with the Marketing's production team, creating meaningful content for the company's growing community reach. Closing in 300 homes for 300 families, Ms. Jovielyn Malonzo received the award, Woman of Excellence In The Field Of Real Estate Sales and Operations 2022.
On the other hand, Mr. Diga's excellence in Film and TV production was awarded Best Cinematography. Thanks to Diga's production skills, the organization's first-ever short film, Dayas, was internationally and locally acclaimed. A back-to-back success is expected as Sir Diga and Direk Jianlin work on their first full-length film, Cordillera in the Hands of War, which will probably hit your screens later this year. Mr, Nicco Ymana, the youngest talent among the delegates, received the Millenial Creative Artist 2022 Award. Ymana's creative works played a significant role in realizing the production house's ultimate objectives, which are always for the benefit of the company.
Where is Raycasa headed this 2022
These awards are manifestations of where the company is going and is aiming to be, better than before, never settling for less. For 8 long years, Raycasa Group of Companies has shown resilience. This 2022, the company and its partners will welcome 40 delegates from all around the world for this year's edition of the Man of the World pageant.
This event will create more than 300 jobs as the city welcomes the delegation together with their respective teams. The fact that this event is international, is expected to open new opportunities for the company and for those who want to be a part of it.
The company is set to hold its Brand Alliance Gala on April 30 at Holiday Inn, Baguio City. This event welcomes all entrepreneurs for potential partnerships with the company and the Man of the World Organization. This concept will be taken to Okada, Manila this June and the company calls it, Summit and Trade. It will bring together entrepreneurs, CEO's, team leaders, creatives and more from anywhere around the world.
Stanley Bawalan Be Unrivaled Productions