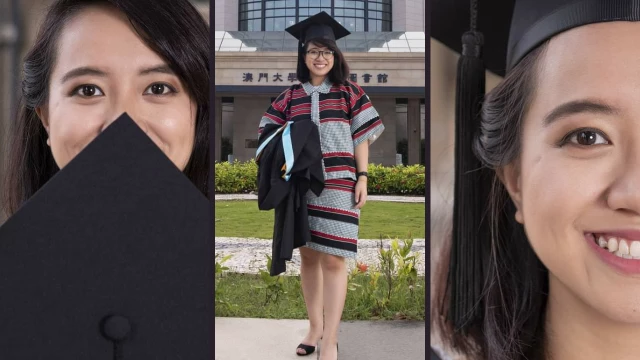 Joanne Bilag, a proud Ibaloi-Igorota from La Trinidad, Benguet, proudly wears a traditional "divet" on her graduation from the University of Macau.
In a Facebook post, she shares that wearing a toga is one thing but wearing a traditional "divet" of the Ibaloi tribe is another. The Ibaloi also added that the Igorot from the North are constantly seeking knowledge that they could share with other people.
It's one thing to wear a toga and graduate from the University of Macau, yet it's another to wear "Divet", an Igorot traditional attire from ibaloi tribe and show beyond doubt that we, from the north, keep aspiring for knowledge, for education, to be informed, and later to inform and educate.
The University of Macau (UM) was founded in 1981. Its predecessor was the private University of East Asia. The UM campus is located in the east of Hengqin Island, Guangdong province in Mainland China, on a piece of land leased to the Macau SAR government, but is under the jurisdiction of Macau.
Through 37 years of development, UM is now not only the best university but also the only public comprehensive university, in Macao. Over the years, the university has produced many outstanding graduates for society.
UM is committed to producing versatile and creative graduates with a global outlook, including bilingual language professionals proficient in Chinese and Portuguese, professionals in the Chinese history and culture, in data sciences, innovative entrepreneurship, physics, chemistry, and biomedical sciences. Over the years, UM graduates have found employment in various industries. UM attaches great importance to training high-caliber professionals.
UM is ranked among the Top 400 in the Times Higher Education (THE) World University Rankings 2018, No.62 in the Asia-Pacific University Rankings 2018, and No. 60 in the Young University Rankings. Its place in the Quacquarelli Symonds (QS) World University Rankings is also rising steadily to No 443 in 2019.
Congratulations Joanne Bilag and your family! That's right, no matter where the Igorots are, we are proud of our heritage and seek to elevate the people around us. Spread your reach and continue to inspire fellow Cordillerans!