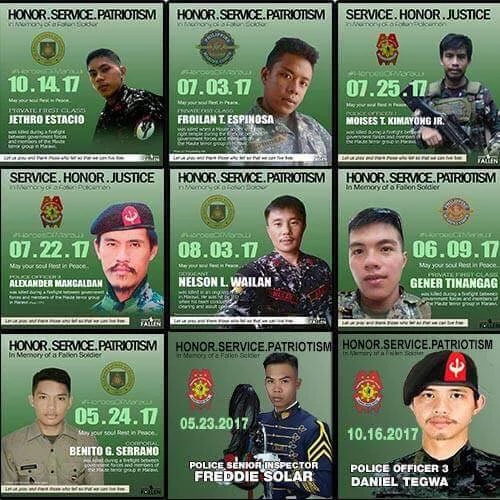 Mothers and wives of the Cordilleran heroes of the Marawi crisis received additional financial support from various donors in a private campaign initiative.
In a simple ceremony on Tuesday, the Cordilleran Binnadang Fund Drive organizers turned over more than P400,000 to at least nine families of the Cordilleran soldiers and police officers who were killed in Marawi last year.
"After four months, the second Cordilleran Binnadang, with the help of friends, family and other donors who remained anonymous, raised P459,150.44 for the families of the nine heroes identified since October 2017," said Alexander Bangsoy, an Igorot entrepreneur-lawyer and coordinator of the private campaign initiative.
The fund drive started on 31 October 2017 and ended last February 2.
The collected funds were divided equally among the nine with at least P50,938.93 share of each. An innovation was introduced such that the parents and the wives share the same amount, Bangsoy said.
For the married soldiers, the mother and wife received equal share of P25,469.46 each. For the single, the parents received the whole amount.
Among the beneficiaries of the Cordillera Binnadang were the families of Police Senior Insp. Freddie Solar of Baguio City; Army Corporal Benito Serrano of Conner, Apayao; Marine Private 1st Class Gener Tinangag of Barlig, Mountain Province, PO3 Alexis Mangaldan of Bangued, Abra; PO3 Daniel Tegwa of Bauko, Mountain Province; PO1 Moises Kimayong of Lagawe, Ifugao; PFC Jethro Estacio of Ifugao and La Union; Army Cpl. Nelson Wailan of Tabuk City, Kalinga, and PFC Froilan Espinosa also of Tabuk City, Kalinga.
Most of the soldiers left very young children and one left a pregnant wife.
Bangsoy said that the funds came from the hearts of Cordillerans who were willing to help their "kakailian" (townfolk) who perished last year. Aside from donations by various groups, churches and individuals, other supporters held garage sales, concerts for a cause, a football tournament for a cause, and dance for a cause. The organizers also sold shirts which were marked in memory and tribute of the Cordilleran heroes.
Another fund drive is being done by the group and some volunteers to raise funds for at least two more Cordilleran Marawi heroes from Kalinga, namely Sgt. Jeff Sangdaan from Pinukpuk and PFC Melvin Albino from Tabuk City.
Bangsoy co-organized the group that started the Cordillera Binnadang Fund Drive to provide financial assistance to the 14 Cordilleran families of police officers from the region who were killed during the Mamasapano encounter in 2015.
"Binnadang" is a Kankana-ey term for cooperation.