To travelers who dream of a soulful getaway into nature, the Cordillera Administrative Region (CAR) in the Philippines will be waiting for you.

Found amidst the mountainous Northern Luzon island, the region is closely connected to its cool and verdant environment. It is also home to a thriving community of artists and master craftsmen, who bring color, culture, and life to this mountainous domain.

But until we can travel again, stay at home, dream, and #WakeUpInPH by planning your next getaway to the Cordillera Administrative Region: philippines.travel/wheretogo#CAR

#Cordillera
#TogetherInTravel
#TravelFromHome
#TravelTomorrow
#ItsMoreFunInThePhilippines

*This video was shot and produced prior to the COVID-19 pandemic.
Igorotage supports Video Creators!
Out of the box, Igorotage supports link sharing — Yes, including Youtube videos! Are you a vlogger? Grow your channel for free by sharing your videos with the Igorot community!
Igorotage is on Youtube as well! Support us by subscribing to our channel.
Igorotage Weekly Digest
Don't miss anything important from the Igorot community! Each week we curate the best new information and deliver it directly to your inbox every Sunday morning.
Wallposts
You might also like these related wallposts.
Another young Cordilleran soldier killed in an ambush
2nd Lt. RALF AMANTE C. ABIBICO, 23, from Mt. Data Cliff, Monamon Sur, Bauko, Mountain Province was killed in an ambush in Himamaylan City, Negros Occidental this morning, April 19, 2019.

Abibico was one of three soldiers killed in a clash between government troops and the New People's Army (NPA).

Four Cordilleran soldiers were killed in an encounter in Patikul, Sulu on Friday.

CTTO

#RalfAbibico #MtProvince #ambush #NegrosOccidental
TWO New COVID-19 Deaths reported in the Cordillera
COVID-19 Cases Regional Update as of 5:00pm of August 1, 2020

Twenty (20) new Recoveries, five (5) new Cases and two (2) new Deaths Reported in the Region:
Recoveries:
- 5 in Abra
- 4 in Apayao
- 5 in Baguio City
- 3 in Ifugao
- 2 in Kalinga
- 1 in Mt. Province

Cases:
- 3 in Baguio City
- 1 in Benguet
- 1 in Kailinga

Deaths:
- 1 in Abra
- 1 in Baguio City

for additional or more detailed information visit:
caro.doh.gov.ph/doh-car-covid-19-tracker/

NOTE:
• Some data may change as new information occur based on further validation and investigation.

#BeatCOVID19 #covid19 #Cordillera
#WeHealAsOne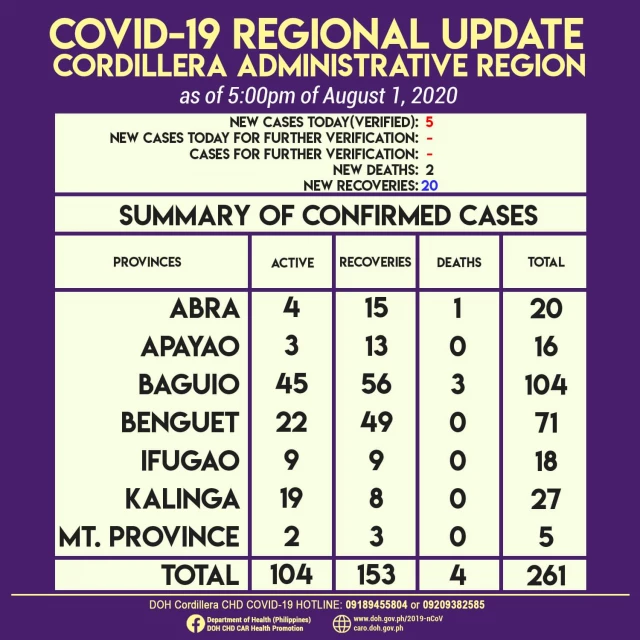 Another Igorot added to High-ranking Cordilleran Police Roster
The Cordilleras has added another star in its roster of high ranking police officers.

Newly-promoted Police Brigadier General Oliver Alilis Enmodias took his oath yesterday (April 23, 2019) and he shall be assigned at the Directorate for Integrated Police Operation for Northern Luzon.

PBGen Enmodias traces his roots from Barlig, Mountain Province. He was once the Provincial Director of the Mountain Province Police Provincial Office. Congratulations Sir.

By Maam Cristine Enmodias

#General #Igorot #Cordilleran #Enmodias #Police
FROM THE WOUNDED: Another fallen Cordillera Hero
Rest in peace, Staff Sergeant Alexander B. Bolesa, the 12th gallant member of the 21st Infantry Battalion who perished during an encounter against the Abu Sayyaf Group in Sitio Bud Lubong, Brgy. Danag Patikul, Sulu on April 17, 2020.

Deepest sympathies and condolences to his family in Brgy. Catacdegan, Manabo, Abra.

- YouLike Cordillera

#AlexanderBolesa #ambush #PatikulSulu
Ganito ka-astig mga Pulis Cordillera!
Ganito ka-astig mga Pulis Cordillera! Salute!

PSBRC Class 2018 - 1 Kasandagan Highlights - Cordillera Administrative Region Training Center

Audio: The Drum by The Seige

#CARTC #Pulis #Cordillera