Igorotage supports Video Creators!
Out of the box, Igorotage supports link sharing — Yes, including Youtube videos! Are you a vlogger? Grow your channel for free by sharing your videos with the Igorot community!
Igorotage is on Youtube as well! Support us by subscribing to our channel.
Igorotage Weekly Digest
Don't miss anything important from the Igorot community! Each week we curate the best new information and deliver it directly to your inbox every Sunday morning.
Wallposts
You might also like these related wallposts.
TWO New COVID-19 Deaths reported in the Cordillera
COVID-19 Cases Regional Update as of 5:00pm of August 1, 2020

Twenty (20) new Recoveries, five (5) new Cases and two (2) new Deaths Reported in the Region:
Recoveries:
- 5 in Abra
- 4 in Apayao
- 5 in Baguio City
- 3 in Ifugao
- 2 in Kalinga
- 1 in Mt. Province

Cases:
- 3 in Baguio City
- 1 in Benguet
- 1 in Kailinga

Deaths:
- 1 in Abra
- 1 in Baguio City

for additional or more detailed information visit:
caro.doh.gov.ph/doh-car-covid-19-tracker/

NOTE:
• Some data may change as new information occur based on further validation and investigation.

#BeatCOVID19 #covid19 #Cordillera
#WeHealAsOne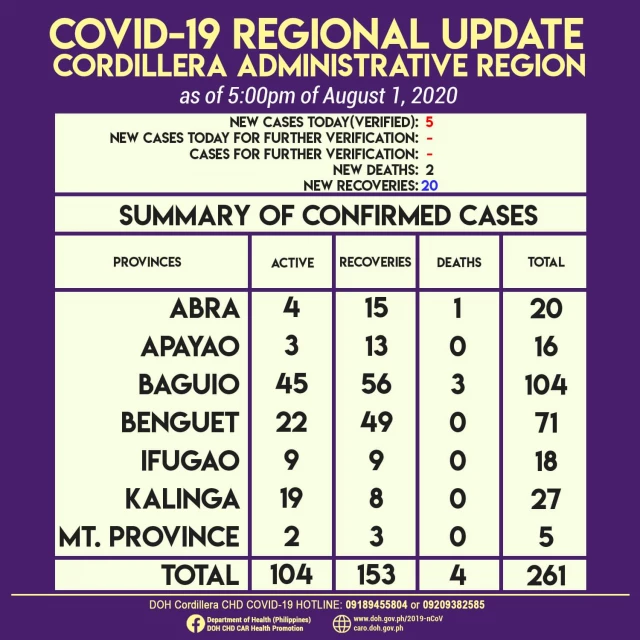 The Kalinga People of the Cordilleras, Ethnic Group in Philippines
Due to the mountainous terrain and warrior-culture of the people, the Kalinga were able to preserve their culture despite centuries of occupation in the lowlands by the Spaniards, Americans, and the Japanese.

The Kalinga people are highlanders and the most extensive rice farmers of the Cordillera peoples, having been blessed with some of the most suitable land for both wet and dry rice farming. Like the Ifugao, the Kalinga are prolific terrace builders. The Kalinga are also skilled craftsmen, well-versed in basketry, loom weaving, metalsmithing, and pottery, the last centred in the lower Chico River Valley.

On February 22, 2019, the Department of Tourism announced the bid of Digdiga Ni Tupayya, a Kalinga courtship dance, to be included in the UNESCO Intangible Cultural Heritage Lists.

From ASEAN Heritage & History

Photo Credits: This Is It Photography, Parangal_Org, and others

#Kalinga #ethnic #culture #UNESCO #heritage
Ganito ka-astig mga Pulis Cordillera!
Ganito ka-astig mga Pulis Cordillera! Salute!

PSBRC Class 2018 - 1 Kasandagan Highlights - Cordillera Administrative Region Training Center

Audio: The Drum by The Seige

#CARTC #Pulis #Cordillera
LOOK: Igorot Bureau of Corrections chief Gerald Bantag rides a horse to inspect the vicinity of the New Bilibid Prison in Muntinlupa City.

Later on, Bantag also checks a wall where most of the contraband items, such as mobile phones and drugs, are allegedly smuggled inside the facility.

via Danny Pata / GMA News

#Igorot #BUCOR #GeraldBanrag #NewBilibidPrison #Muntinlupa #horse
How is autonomy different from federalism?

Autonomy is the establishment of a regional government for people living in areas who share a distinct culture, history, heritage and socio-economic conditions. Federalism is a political system in which several states or regions are grouped together to form due to geographic location.
While there exists some measures of self-government, the different state governments shall be under a federal government that would exercise power over them.

As we celebrate the 33rd founding anniversary of the Cordillera this month of July, let's know more about the regions's history and aspirations toward a #OneResilientCordillera!

#OneCordillera | #WeHealAsOne | #CordilleraAt33

Credit: PIA Cordillera

#autonomy #federalism #Cordillera