88-year-old Lola in Mayoyao, Ifugao receives financial help from the DSWD
88-year old Mary P. Monchiguing from Mayoyao, Ifugao received the financial assistance from DSWD's Assistance to Individuals in Crisis Situation as on the the Government's Social Amelioration Program.

Lola Mary is living with her daughter whose livelihood was affected by the enhanced community quarantine.

Her daughter heartily expressed gratitude now that they no longer have to worry over money to purchase her mother's maintenance medications. Accordingly, they will also use the subsidy in buying basic commodities to get through the economic consequences of the COVID 19 crisis.

Courtesy: Donald Bulahao

#Mayoyao #Ifugao #SocialAmeliorationProgram #COVID19 #coronavirus
Igorotage supports Video Creators!
Out of the box, Igorotage supports link sharing — Yes, including Youtube videos! Are you a vlogger? Grow your channel for free by sharing your videos with the Igorot community!
Igorotage is on Youtube as well! Support us by subscribing to our channel.
Igorotage Weekly Digest
Don't miss anything important from the Igorot community! Each week we curate the best new information and deliver it directly to your inbox every Sunday morning.
Wallposts
You might also like these related wallposts.
COVID-19 Regional update as of 12nn of June 10, 2020

No new case reported in the Region.

NOTE: 1 case is reflected in CAR (Baguio) but the patient is admitted in NCR since our reporting is based on the place of residence.

[UPDATE] COVID CASE UPDATE TODAY JUNE 10, 2020

BOMBO NEWS DEPARTMENT
JUNE 10,2020

BAGUIO CITY--Maibasar iti datus manipud kadagiti local government units ken DOH-Cordillera, nailista ti maysa a kaso ti covid sadiay La Trinidad, Benguet nu sadinu daytoyten ti maika-15 a confirmed case ti probinsya.

Ti nasao a covid-patient ket agtawen ti 28, truck helper, ken residente ti Little Kibungan La Trinidad, Benguet.

Daytoy ket maatap a close contact ti 22-anyos a truck helper manipud Botiwtiw, La Trinidad a nagpositibo iti covid-19 kalpasan a nagturong sadiay Cubao Quezon City idi May 31, 2020.

Malaksid iti daytoy, nailista met ti maysa a kaso ti covid-19 sadiay KALINGA nu sadinu nakasangpet ita ti swabtest result daytoy kalpasan a nagtaud sadiay Caloocan, Metro Manila.

Dagus met a naiturong daytoy iti isolation area ti Tabuk City bayat a maipatpatungpal metten ti contact tracing nu sadinu daytoy ti maysa a pasahero ti victory liner bus no.1 nga adaan iti 25 a pasaeors.

Kabayatanna, nailista metlaeng ti kabarbaru a kaso iti covid-19 sadiay Lagawe Ifugao ita nga aldaw.

Daytoy ket maysa a lalaki, 30-anyos ken OFW a nagtaud sadiay Dubai.

Sigun iti LGU-Lagawe, simmangpet daytoy iti nasao a munisipyo idi June 7 ken dagus a nagturong daytoy iti Municipal Community Quarantine sadiay.

Nagpaisong met daytoy iti Rapid test a nagresulta iti reactive kasta metten a naipasidong daytoy iti swab test nu sadinu naamuan a nagpositibo daytoy iti covid-19 ita nga aldaw.

Iti agdama ket ada daytoyen iti natalged a kasasaad bayat a manarimaan metten ti contact tracing kadagiti indibidual a nakapulapol daytoy.

#BeatCOVID19 #covid19 #WeHealAsOne #Coronavirus #COVIDkaya19to #Cordillera
What is "UBBU" in Ifugao?
In the central part of Ifugao where I was born and raised, I have witnessed a lot of times what they call "ubbu".

It is a term used to describe a traditional Ifugao practice, where a person calls the help of other folks to be part of a work (usually in their ricefields). In return, the person who called for help must repay it with work, commensurate to the number of days the person worked for him/her.

They don't use money to pay workers, but they use work to barter for work.

When these folks gather to work, it's a time for a good fellowship, and in the olden times, it is used to learn their traditional hymn of "Hudhud" for the ladies.

It is still very much alive in my native barangay. But in many parts of Ifugao, "ubbu or ub-ubbu" is becoming strange; just a part of our rich history.

What can the new generation of the "real sons and daughters of Ifugao" do?

By: Abe Ngipol

#Ubbu #Ububbu #binnadang #Ifugao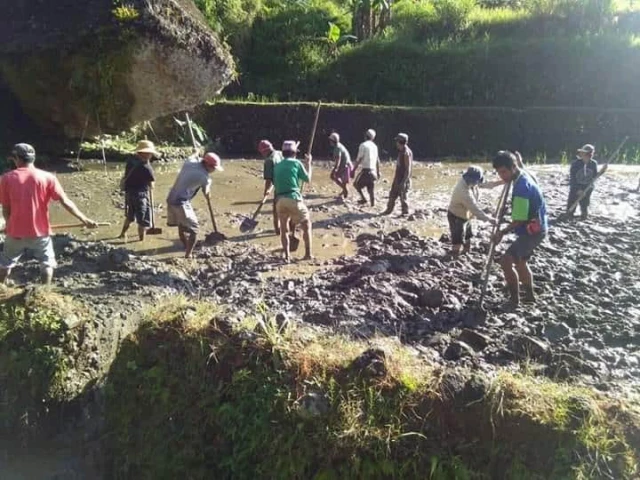 Honest Ifugao 4Ps beneficiary returns emergency subsidy given to her mother
Hungduan, Ifugao 4Ps beneficiary Rosalina Guiniling returns the emergency subsidy given to her mother.

Accordingly, her mother recently moved in with her family due to the need for care and the inability to work.

Her mother is already covered by the SAP provided to the 4Ps family where she is now staying with.

Courtesy: Donald Bulahao

#Hungduan #Ifugao #honest #SocialAmeliorationProgram #4Ps
This is the Chaya cluster of the breathtaking Mayoyao Rice Terraces in Mayoyao, Ifugao, photographed from the Mt. Nagchajan Viewpoint, also in the same town. It is part of the Rice Terraces of the Philippine Cordilleras inscribed as UNESCO World Heritage Site in 1995 (along with those in Batad and Bangaan in Banaue, Hungduan, and Nagacadan in Kiangan, all located in the province of Ifugao).

These payew ('rice terraces' in Henanga, the language of the Majawjaw or Mayoyao people) witnessed the victory of our lolo and lola beteranos in the last World War II battle fought in the Philippines, exactly 75 years ago on this day. The capture of Mayoyao defense line of Imperial Japanese Army Commander Tomoyuki Yamashita resulted in the eventual surrender of the Japanese in the Philippines. In this event, Ifugao warriors fought together with fellow Filipinos from other provinces, as well as the American soldiers.

This coming 3 September 2020, the grateful Filipino people will commemorate the 75th anniversary of the end of World War II in the Philippines.

The National Historical Commission of the Philippines (NHCP) commemorated the Victory at Mayoyao with a historical marker installed at the Mt. Nagchajan.

Credits: Ivan Henares, National Quincentennial Committee, Republic of the Philippines

#Chaya #Mayoyao #RiceTerracss #Nagchajam #Ifugao #payew
108-year-old Ifugao Centenarian Receives 100k Cash Gift
Tinoc, Ifugao - Natanggap na ni Lola Martina Campoy Gugunay, 108 taong gulang, ang kanyang centenarian cash gift mula sa DSWD-CAR.

Ang centenarian gift mula sa national na pamahalaan ay nagkakahalaga ng Php 100,000.00 na ibinibigay sa mga senior citizens na nakaabot ng 100 years old at higit pa.

Photo courtesy of MSWDO Esther Paduyao Juan

#centenarian #Tinoc #Ifugao #DSWDCAR #seniors