The city government is planning to reopen the Loakan airport by 2020.

Cordillera region's only airport located in Baguio City ceased commercial operations following the damage incurred by the earthquake that struck northern Luzon in 1990.

Source: Liza Agoot/Philippine News Agency

#LoakanAirport #Baguio #Cordillera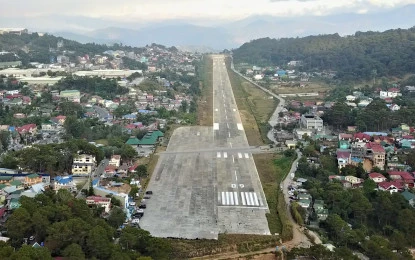 Igorotage supports Video Creators!
Out of the box, Igorotage supports link sharing — Yes, including Youtube videos! Are you a vlogger? Grow your channel for free by sharing your videos with the Igorot community!
Igorotage is on Youtube as well! Support us by subscribing to our channel.
Igorotage Weekly Digest
Don't miss anything important from the Igorot community! Each week we curate the best new information and deliver it directly to your inbox every Sunday morning.
Wallposts
You might also like these related wallposts.
TWO New COVID-19 Deaths reported in the Cordillera
COVID-19 Cases Regional Update as of 5:00pm of August 1, 2020

Twenty (20) new Recoveries, five (5) new Cases and two (2) new Deaths Reported in the Region:
Recoveries:
- 5 in Abra
- 4 in Apayao
- 5 in Baguio City
- 3 in Ifugao
- 2 in Kalinga
- 1 in Mt. Province

Cases:
- 3 in Baguio City
- 1 in Benguet
- 1 in Kailinga

Deaths:
- 1 in Abra
- 1 in Baguio City

for additional or more detailed information visit:
caro.doh.gov.ph/doh-car-covid-19-tracker/

NOTE:
• Some data may change as new information occur based on further validation and investigation.

#BeatCOVID19 #covid19 #Cordillera
#WeHealAsOne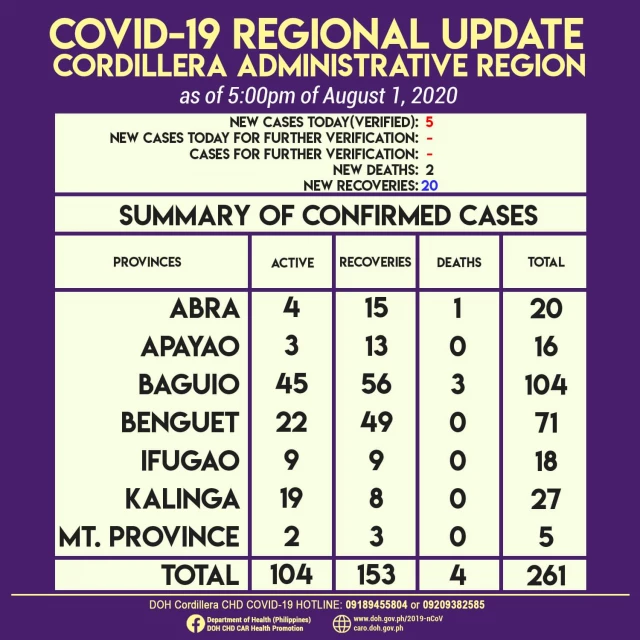 Inspired by the K-drama Crash Landing On You, this online store allows you to order local products from the Cordillera region while helping the livelihood of Filipino farmers at the same time. Teddy Baguilat Jr. of the CLOY (Cordillera Landing On You) team says, "Literally, we're from Cordillera-I'm from Ifugao. And we're bringing in products from Cordillera to land in the city-in Metro Manila." They offer vegetables from Benguet, pasalubong items from Baguio City (yes, strawberries and ube included!), Cordilleran coffee, and face masks locally made by the weavers from Ifugao.

#KDrama #TeddyBaguilatJr #Cordillera #Ifugao #CrashLandingOnYou
Baguio Canine "microchipping" starts November
Want to give "man's best friend" a bit more protection in case they get lost or stolen?

The mandatory installation of microchip tags on dogs will start this November.

Thus bared City Veterinary and Agriculture Office (CVAO) chief Dr. Bridgit Piok during the City Hall flag-raising program.

She said, installation of microchips is mandatory for pets that are three-months old or over.

The microchip tagging of dogs is pursuant to Ordinance No. 60-2020. It establishes easier ownership tracking of dogs; protection of pets from theft; monitoring schedule of anti-rabies jabs; and, establishing accountability of pet-owners, among others.

The micro tag which rests under the dog's skin holds information on the owner's name, address, contacts, and description of the canine.

It costs P300 per dog and may be administered in barangays during scheduled mass tagging activities or at the CVAO.

A registration certificate shall then be issued after the dog had been microchipped. It is a permanent record that lasts until the dog's lifetime, unless there a change of ownership.

When the dog passes, the owner is required to inform the barangay or CVAO within five days.

In changes of ownership, the new owner must report the same within a period not exceeding ten days. Registration by the new owner costs P250.

Under the ordinance, Piok revealed, absence of the chip on a dog three-months old or over violates Ordinance No. 60-2020. A fine of P2,000 shall be imposed upon the owner.

A fine of P2,000 is likewise imposed upon owners of stray pooches.

She said, any person who releases an impounded dog without it having been micro-tagged or without fees or fines having been paid by the owner shall be fined P1,000, over possible administrative or criminal charges.

The ordinance imposes an impounding fee of P500 per dog; maintenance fee of P50 per dog per day; and, adoption fee of P500 per dog, she added.

Piok disclosed, within three-days, unclaimed dogs at the city pound may be put up for adoption; or, donated for scientific studies; or, put down.

Report from Gaby Keith via PIO-BAGUIO (26 July 2020)

Your thoughts?

#Baguio #microchip #dogs
The Kalinga People of the Cordilleras, Ethnic Group in Philippines
Due to the mountainous terrain and warrior-culture of the people, the Kalinga were able to preserve their culture despite centuries of occupation in the lowlands by the Spaniards, Americans, and the Japanese.

The Kalinga people are highlanders and the most extensive rice farmers of the Cordillera peoples, having been blessed with some of the most suitable land for both wet and dry rice farming. Like the Ifugao, the Kalinga are prolific terrace builders. The Kalinga are also skilled craftsmen, well-versed in basketry, loom weaving, metalsmithing, and pottery, the last centred in the lower Chico River Valley.

On February 22, 2019, the Department of Tourism announced the bid of Digdiga Ni Tupayya, a Kalinga courtship dance, to be included in the UNESCO Intangible Cultural Heritage Lists.

From ASEAN Heritage & History

Photo Credits: This Is It Photography, Parangal_Org, and others

#Kalinga #ethnic #culture #UNESCO #heritage