The viral photos of Philippine National Police (PNP) chief General Archie Gamboa showing him with a group of people without face masks and not following the protocols on physically distancing were actually taken before the imposition of pandemic restrictions.

The Philippine National Police (PNP) threatened to file complaints against individuals who are spreading photos of the PNP chief.

On Tuesday, August 18, the Philippine Star posted the photos, saying that the images were of Gamboa's controversial Baguio City dinner allegedly held on Saturday, August 15. The publication said the information came from a reliable source.

However, the photos were taken on February 18 at a dinner party in Forbes Park, Makati City, weeks before the coronavirus lockdown and health protocols were enforced.

#Baguio #Gamboa #PNP #protocol #COVID19
Igorotage supports Video Creators!
Out of the box, Igorotage supports link sharing — Yes, including Youtube videos! Are you a vlogger? Grow your channel for free by sharing your videos with the Igorot community!
Igorotage is on Youtube as well! Support us by subscribing to our channel.
Igorotage Weekly Digest
Don't miss anything important from the Igorot community! Each week we curate the best new information and deliver it directly to your inbox every Sunday morning.
Wallposts
You might also like these related wallposts.
Baguio Boy is Next PNP Chief
UPDATE: Lieutenant General Camilo Cascolan is the next Philippine National Police (PNP) chief, replacing retiring top cop General Archie Gamboa, Interior Secretary Eduardo Año confirmed to Rappler on Tuesday, September 1.

Cascolan is set to retire on November 10 as he reaches the mandatory age of retirement of 56, unless President Rodrigo Duterte decides to extend his term.

Asked about Cascolan's possible short term, Año said the public should not focus on the span of his stint, but the work to be done.

"Matagal pa naman ang 2 months (2 months is still long). We don't think of that yet. There is a lot to be done," he said.

In terms of seniority, Cascolan was next in line to be chief as the deputy chief for administration of the PNP. He belongs to the Philippine Military Academy Sinagtala Class of 1986.

...

Police Lt. Gen. Camilo Pancratius Cascolan will serve as officer-in-charge of the Philippine National Police (PNP) upon the retirement of Gen. Archie Gamboa on Wednesday, Malacañang said Tuesday.

Known by his nickname "Pikoy," Cascolan is also a member of the Philippine Military Academy Class of 1986, to which his two predecessors, Police Generals Gamboa and (now Senator) Ronald de la Rosa also belonged.

A native of Baguio City, he is a product of the Maryknoll Convent School and the University of the Philippines Baguio High School.

#Baguio #Pikoy #Cascolan #PMA #PNP
Baguio Boy takes Oath as PNP Chief before Duterte

President Rodrigo Duterte has administered the oathtaking and donning of rank of newly-appointed Police General Camilo Cascolan as the new chief of the Philippine National Police (PNP) in a ceremony at the Malacañang Golf (MALAGO) Clubhouse in Manila on Sept. 7, 2020.

Cascolan is the first Baguio resident to become CPNP.

Cascolan is one of the police generals who crafted Oplan Double Barrel, the police's bible in anti-drug operations under the Duterte administration which institutionalized Oplan High-Value Target and Oplan TokHang.

Cascolan is also among the generals called the "Davao boys" for enjoying links with President Duterte, serving multiple times in the Davao Region.

Cascolan also belongs to PMA Class of 1986 - the same class as Gamboa, Albayalde, and Dela Rosa. Among them, Cascolan considers former top cop Dela Rosa as one of his closest friends.

Credit: Baguio Midland Courier, Rappler, PCOO

#Cascolan #Baguio #PNP #Chief #Duterte #PMA
For the first time in nearly two months, no coronavirus disease (COVID-19) case was recorded in the city on Saturday, September 5.

The last time this city did not record a single case of COVID-19 was last July 23.

Magalong however reminded the public not to be complacent, and, instead, be receptive to adopting the established health and safety protocols as a new way of life.

"Please observe all these protocols even if no one is looking, even if there are no police authorities present to remind you. This is our new normal and we have to embrace it so we can learn to live with the virus and move on with our lives," he said.

#Baguio #ZeroCOVID #Magalong #COVID19
Baguio Boy promoted to Two-Star Army General
True-blue Baguio boy Benedict Musni Arevalo has been promoted to two-star Army general during donning of ranks at Camp Aguinaldo last week with Armed Forces of the Philippines Chief of Staff Felimon Santos donning his second star. A member of the Philippine Military Academy Class of 1990, Arevalo is the current AFP Deputy Chief of Staff for Civil-Military Operations.

Arevalo is the son of retired military officer Filoteo Arevalo Sr. of PMA Class of 1956.

The newly-promoted Army officer has also four siblings, who are all military officers namely Alexander of PMA Class 1982, Filoteo Jr. of PMA Class 1984 (now a commercial pilot), Robert of PMA Class 1985, and Armand of PMA Class 1991.

Photo: AFP-PAO
Credit: Baguio Midland Courier

#Baguio #Army #General #BenedictMusniArevalo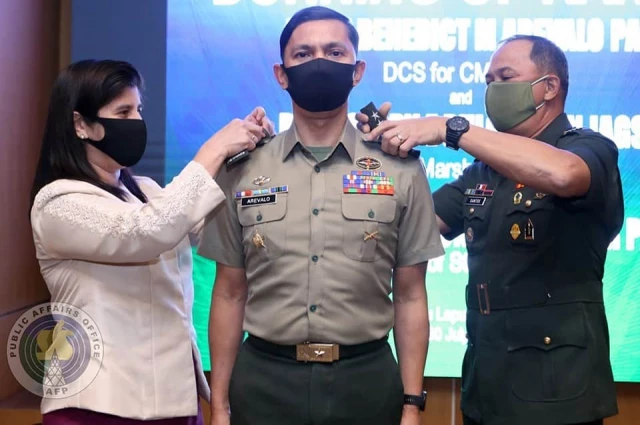 Baguio City Jail holds first DOTA tournament for inmates
E-Sports: BCJMD conducted its 1st E-games tournament for PDL.

The event was largely participated by PDL.

"Over 40% said that gaming improves emotional well-being. That's a serious benefit if you consider that one in five people in America experience mental health issues each year." Qutee Research.

#BaguioCityJail #ESPORTS #DOTA
#ChangingLivesBuildingASaferNation
#defeatboredom

Source: BJMP BAGUIO CJ-MD