Jennylyn De Los Santos- Floresca, better known as Direk Jianlin. A Real Estate Broker, Appraiser, Consultant, and the Director/Producer of the Cordilleran Short Film "Dayas" was awarded as the International Best Screen Writer and Director for the year 2021 by Dangal ng Lahi Awards held at Okada, Manila after wrapping up as one of the selections and winner for Best Actor in several International Film Festivals.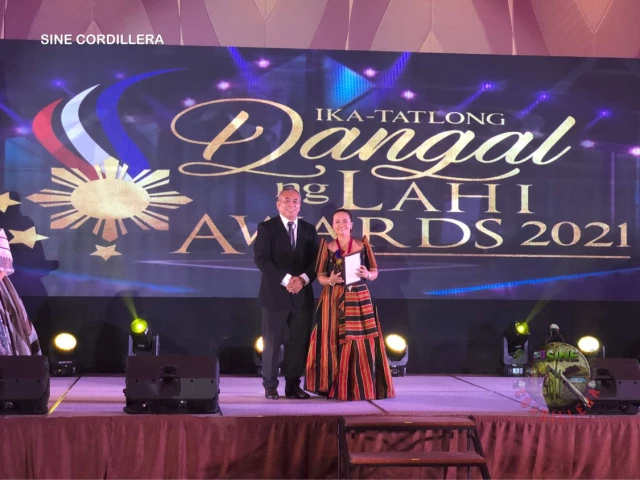 Direk Jianlin, an entrepreneur from Brgy. Ucab, Itogon Benguet, started her career in Shanghai China where she met her present business partner, the President of Ray Education International, James Hu.
Born as an achiever, Direk Jianlin was offered to open Ray Education Philippines which was launched in 2012 at Baguio City. Ray Education Philippines is part of the conglomerate of several International Schools around the world that help filipino students in achieving their dreams with global competence.
Later on she pursued her career in the Real Estate World where she is able to help hundreds of employees and families to have their own home and introduced Financial Literacy where her clients and partners call her Cordilleran "RealtoR". Her company Ray-Casa Group is one of the leading Real Estate Companies in Baguio City.
Direk Jianlin, an enthusiast of arts and film, founded the organization for talented cordilleran students in the University of Baguio: "Biag Sa Entablado" later on directed the stories of teachers in the stage play "Existencia Maestra".Produced and directed the Albums of Kap Peter Wasing: Shiman Shiman, Surat Ina and Longayban starring Jeyrick Sigmaton and Jaimee Tampoa. She is also the producer and Director of the Music Video Minsan Mali din Ang Tadhana written and sang by Jeo Solar.
Came pandemic, she directed the online variety show 'Rise-up' where she was able to help the affected talents of the Cordilleras and front liners.
The young cordilleran director saw the potential of young Igorot talents. In 2021, she wrote the story of a miner in the name of Benjamin Galletes, her uncle. That is where she got the idea of combining Benjamin's story and the tragedy brought by the continuous rain fall in Benguet followed by the onslaught of 'Typhoon Ompong' that caused a massive landslide and killed several people, mostly miners, in the Level 070 of Barangay Ucab, Itogon Benguet.
The short film "Dayas" earned local and international recognitions due to its unique story, talents, and cultural presentation.
In an interview during the Film Ambassadors' Night 2022, Direk Jianlin says: "As a first time producer, writer, and Director of Films in the Cordilleras. It really means validation. Nothing is impossible. If You really like it, just do it... with prayer and good intention talagang wala syang boundaries." https://youtu.be/I_qoEHp6uRM
This June 2022, through the leadership of Direk Jianlin. Sine Cordillera and Ray-Casa Group of Companies will bring the community of Man of the World in the Cordilleras. She envisions the creation of international connections for the cordilleran business onwers and investors to introduce indigenous products and talents. It is also a part of her advocacy that aims to help Cordillera in Tourism Recovery where people appreciate Culture and its Preservation of Heritage.
Middle of year 2021, Direk Jianlin adopted a story by Direk Perry De Guzman entitled "1941: Cordillera Iti Ima Ti Gubat" that occured during World War II. The story depicts warrior spirit and the sacrifices of cordilleran women during the Japanese occupation in the Cordilleran Region.
Direk Jianlin invites everyone to watch-out for her next full length film, 1941: Cordillera Iti Ima Ti Gubat, starring Team Lakay, Kidlat Tahimik, Jaimee Tampoa and Mark Neumann. co-directed by Direk Perry De Guzman. https://youtu.be/NRF45J9r7cI
The whole Cordillera is proud of you Direk Jianlin. Agbiag Ti Igorota, Agbiag Ti Cordillera!
written by: Elmer O. Diga