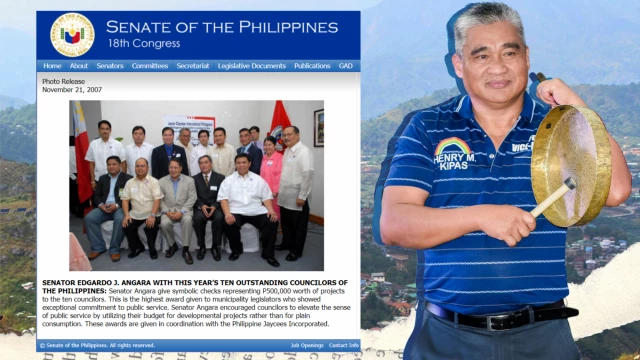 Mr. Henry M. Kipas is a certified "promdi" and a true son of the "kaigorotan." He is blissfully married to Mary Jane Kis-ing Jiminez (Lepanto, Mankayan, Benguet) and has been blessed with five children, all of whom are now successful professionals in their respective fields.
He has served as a municipal councilor in Betag from 1992 to 2007 and again from 2010 to 2019. In the same way, he has also served as an OIC Board Members in 2002 (PCL Ex Officio 2002), and as a barangay captain in Betag (1988-1989).
Among his many accomplishments on the national level, he was reportedly a nominee for "The Outstanding Filipino (TOFIL)" in 2009 and the lone recipient of "The Outstanding Councilor of the Philippines (TOCP)" in 2007. To date, he is said to be the only recipient of the outstanding award in the state of Benguet.
He holds a number of degrees, including a Masters in Development Management and Governance from the University of Makati in 2016, and a Bachelor of Science in Animal Technology from BSU in 1987. He completed his secondary schooling at the MSAC BSU's Agricultural Science Department and his elementary schooling at Ilang Elementary School BSU (Easter School)
In his boyhood, he worked as a baggage boy, shoeshine boy, garbage boy, and pin boy. As an additional trivia, he is also skilled in sewing and knitting bonnets and sweaters, among other things.
As a legislator, he has reportedly funded and sponsored several programs and projects that exposed youths to public service, along with volunteerism as well as distributing some support and assistance among students, learners, and families during times of natural catastophes.
Furthermore, the following are some of his other initiatives and ordinances passed as per his portfolio:
1. Operation "Zero Dust"
2. Students in elementary, high school and college can compete in open and interchurch choral competitions, as well as in literacy and musical competitions (declamation, oration, solo, duet, stage musical play etc.)
3. Friends of Henry Kipas, which has reportedly eight components, including a yearly complete school supply for nearly 500 beneficiaries, a minimal distribution of educational materials, and support for day care centers.
4. No. 3-2005, Order No. 4. which provides guidelines and regulations for the operation, maintenance, and management of the public market building constructed in 2002, as well as imposing penalties for those who violate the guidelines and regulations.
5. Order No. 3-2012. 5.
In the municipality of La Trinidad, establishing a lending center for sports equipment and supplies and providing finances is a practical option to distract children and young people away from any sort of addiction.
6. Executive Order No. 32-2018.
Upgraded the benefits of living World War II soldiers and widows under the La Trinidad post. With the exception of death benefits, only La Trinidad is said to provide cash help to veterans and widows while they are still alive.
7. Revenue Code of 2005
Under the code, a penalty should not be a form of income. As a result, a business-friendly ordinance was passed, which reduced the penalty provision from 20% to 10%.
He was also influential in passing relevant resolutions such as:
1. Res.33-2018 which authorized the Hon. Mayor to use the full force of the applicable laws and orders to apprehend and stop the numerous and continuing illegal activities within the Puguis communal forest in La Trinidad, Benguet, and to prevent them from occurring in the future.
2. Res.20-2013 which states that in accordance with Republic Act 7160 and Presidential Decree 957, the Land Registration Authority-National Office in Quezon City, Philippines, and the Registry of Deeds in the Province of Benguet are requested not to process and approve land titles of proposed subdivision projects unless a subdivision approval has been issued by the municipality of La Trinidad, Benguet.
3. Res.55 and 56_ The La Trinidad Water District (Res.55) and BENECO (Res.56) were requested to implement the "prorated basis of computation" in the collection of surcharges for late payment of water and electric usage in the 2006 resolutions.
4. Resolution No. 166-2017. This approved Committee Report No. 97-2017 of the committee on laws and authorized Hon. Mayor Romeo Salda to sign and enter into Memorandum of Agreement (MoA) with the Cordillera Administrative Regional office (DOH CAR) to implement the PHP 4,500,00/- project to construct a rural health unit in La Trinidad, Cavite.
His notable memberships include:
The Strawberry Chapter of the Guardian Brotherhood (GCFI, PGBI)
The Buyagan Operators and Drivers Association Cooperative
La Trinidad Vegetable Trading Post Cooperative
BSU Cooperative
BSU Alumni Association Inc.

BSU Cooperative
BSU Alumni Association Inc.
NOTE: All information detailed in this piece were with approval and provided by Ms. Lig Anne Duayne.