In Cervantes, Ilocos Sur, there stands a bridge that signifies more than just a passage. Aluling Bridge, affectionately known as the "Longest bridge in the Philippines," is a testament to resilience and unity.
Imagine a project that stretched over an astonishing 35 years, bridging not just rivers but generations. Its story began in 1978, amidst the serene landscapes of Ilocos Sur. This bridge is more than a mere structure; it's a lifeline for communities.
So, what makes Aluling Bridge truly remarkable? In this article, we'll take you through its history, from its humble beginnings to becoming an essential link for communities. We'll explore the challenges it confronted, the individuals who breathed life into its construction, and the profound impact it had on the region. From allegations of corruption to the triumph of Igorot contractor Arnel Peil, we'll unveil the captivating story of Aluling Bridge, a bridge that stood strong against the test of time.
Join us on this journey to understand how a simple vision transformed into an iconic structure, connecting not only provinces but also transforming lives along the way.
The Birth and Evolution of Aluling Bridge
Back in 1978, folks in Cervantes, Ilocos Sur, had a simple yet bold dream - to build a bridge. This bridge, known as the "Longest bridge in the Philippines" due to the extended duration of its construction, wasn't just about bricks and steel; it was about connecting lives.
The 180-meter Aluling Bridge in Cervantes, Ilocos Sur, is a significant infrastructure project. Planning and construction began in 1978 during the administration of the late President Ferdinand Marcos Sr.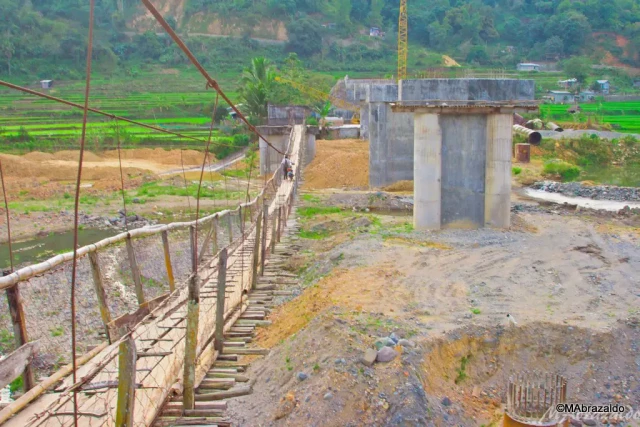 However, the administrations of Marcos and subsequent presidents, including Cory Aquino, Fidel Ramos, Joseph Estrada, and Gloria Macapagal-Arroyo, passed, and the bridge connecting Ilocos Sur and Mountain Province remained unfinished.
A Vision of Connection
The need was clear. People in Cervantes had long braved the Abra River's rampaging waters, seeking to cross over to Tadian town in Mt. Province. Initially, they relied on "bangsal," simple water rafts, to navigate the river's currents. Later, the "galong-galong," a wooden box-like contraption, similar to a cable car, became their means of crossing. This wooden ride was pulled by road workers stationed on opposite ends of the river.
Back then, this wooden box could carry four people, and they rode it for free thanks to government workers. Later on, a footbridge made life a bit easier, allowing trade with Benguet, La Union, and neighboring provinces.
Overcoming Challenges
The journey of building the Aluling Bridge faced formidable challenges right from the start. Construction commenced in 1978 with a five-span Reinforced Concrete Deck Girder-Type bridge funded by the Department of Public Works and Highways (DPWH).
In 1990, floods inflicted damage, and in 1999, DPWH decided to relocate the bridge due to these unforeseen circumstances. This project extended across six presidencies and encountered allegations of corruption and neglect.
These hurdles included girders often succumbing to the relentless currents of the river and the hazardous, costly transportation of materials due to poor road access. To address these issues, engineers implemented innovative solutions such as installing heavier and more robust girders made from pre-stress materials. Additionally, some of the river's water was diverted for irrigation purposes, easing the project's logistical complexities and expediting its completion.
The Aquino Era
It was under former President Aquino's term that the 180-meter bridge was finally completed after an astonishing 35 years of work since its conceptualization in 1978. The bridge, which had been a long-cherished dream, was about to become a reality.
Mr. Aquino had initially been set to open the bridge himself, but due to unforeseen circumstances, he was represented by his sister, Viel Aquino-Dee. She, along with Public Works Secretary Rogelio Singson and Defense Secretary Voltaire Gazmin, stepped in to represent the President on this momentous occasion.
Community Efforts
It's worth noting that the completion of the Aluling Bridge was the result of relentless efforts by the people of Cervantes. They undertook a signature campaign, gathering thousands of signatures, which symbolized the solidarity and determination of the community to see the bridge completed.
Furthermore, the leadership of Mountain Province officials, the local government of Cervantes, and various other groups played a crucial role in this achievement. Their collective efforts were instrumental in making the dream of a connected Cervantes a reality.
In the upcoming sections, we'll continue to explore the remarkable journey of the Aluling Bridge and the pivotal role of Igorot contractor Arnel Peil, along with the positive changes it has brought to the region.
Arnel Peil: The Igorot Engineer and His Committed Crew
Meet Arnel Peil, an Igorot engineer from Mainit, Bontoc, Mountain Province, and the driving force behind the Aluling Bridge's completion. Arnel didn't work in isolation; he led a dedicated team from Arnel I. Peil Construction.
With an engineering and construction background, Arnel brought valuable expertise. His experience and leadership were pivotal in overcoming the bridge's long-standing construction challenges.
Arnel's roots trace back to the resilient Igorot community, known for its tight bonds. Alongside his team, he set out to turn the dream of connecting Cervantes into reality.
Their collective efforts were remarkable. Arnel and his crew worked tirelessly, ensuring the bridge met top-notch standards. From intricate engineering to hands-on execution, they left no stone unturned.
Arnel and his team inspired the local community, demonstrating the power of determination and teamwork. Local testimonials hailed their dedication and leadership as symbols of hope for Cervantes' people and their long-held dream.
In a historic turn of events, the Aluling Bridge was finally completed on March 25, 2013, marking a significant milestone for the region.
In the following sections, we'll delve deeper into the Aluling Bridge's impact on the region and the positive changes it has brought about.
Bridging Communities and Boosting Trade Today
The Aluling Bridge stands as a vital link connecting Ilocos Sur, Mt. Province, and Benguet in the present day. This bridge plays a pivotal role in uniting these provinces and continues to have a significant impact.
Today, this newfound connectivity continues to foster economic growth and enrich the lives of the local population. The bridge has made transportation of goods swift and efficient, benefiting local economies. What used to be a lengthy journey has been transformed into a matter of minutes, promoting sustained economic development and prosperity.
The Aluling Bridge remains a symbol of unity and progress, bridging not just physical divides but also fostering ongoing economic growth and cultural exchange. In the following sections, we'll delve deeper into the profound and lasting impact of this bridge on the region's communities and their bright prospects for the future.
Conclusion: A Historic Achievement in Cervantes, Ilocos Sur
In summary, the Aluling Bridge stands as a remarkable feat in Cervantes, Ilocos Sur. Its long journey from conception to completion, spanning 35 years, is a testament to the perseverance and collaborative efforts of the community.
This bridge is not just a physical structure but a symbol of unity, progress, and economic growth. It continues to play a vital role in connecting communities, facilitating trade, and boosting tourism. It stands as the "Longest bridge in the Philippines," not just in terms of its span but in the enduring legacy it represents.
We encourage you to visit and experience this historic bridge firsthand, appreciating its rich history and the indomitable spirit of the people who made it possible. The Aluling Bridge is not just a bridge; it's a living testament to the power of determination and community collaboration in shaping a better future for all.