Loisa Faith Biba Soliba, a proud Igorota from Sagada, Mountain Province, was among 361 out of 2,367 (15.25%) examinees who successfully passed the October 2021 Certified Public Accountant Licensure Exam (CPALE).
It's the unseen enemy that's to be blamed, for sure.
It's not just lethal and paralyzing to the body, but rather to the entirety of one's being.
It causes not just fatalities and casualties, but least to our awareness, it devours even the mind as the first seat of decisiveness.
Faced with uncertainty, a person can become mentally anxious and thereon, be prone with impulsive decisions in life.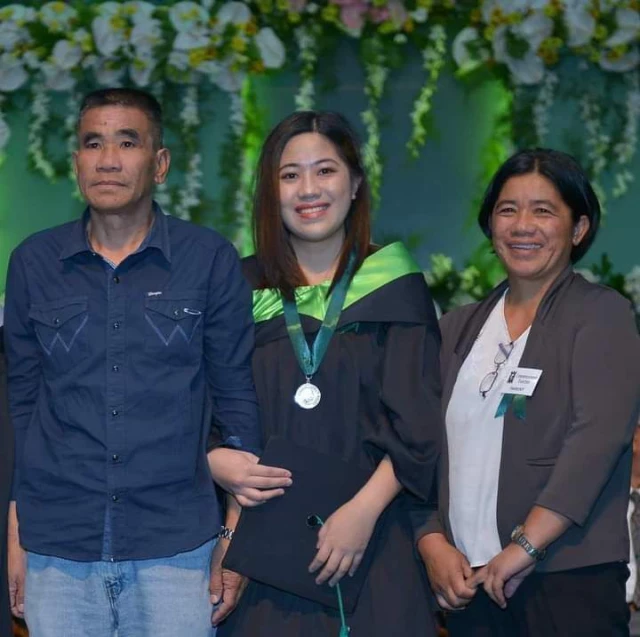 This happened to one of the 361 CPA Licensure Exam passers, which was just held recently last October 10-12. Ms. Loisa Faith Soliba, who is an Igorota, residing in Baguio, finished her Bachelor's Degree in Accountancy way back August 2019.
Together with other board exam candidates from various fields of intellect, she also expected to hit the CPA title few months after her graduation.
Unfortunately, the unexpected COVID-19 virus prevailed over the last two years, which caused a three-time postponement of the professional licensure examination.
Waiting for more than a year, and staying on a stagnant review season without the assurance when will the board exam push through, is a daily torture. Her statement tells it so.
"Before the CPALE, my life was a mess. I stepped into random boats of opportunities which I do not know where exactly will they take me. I entered law school, and since it was a decision, I was not sure of in the first place, it only lasted for one semester then I quitted.

I went back for a CPALE review season. This time, I encountered some personal problems and got depressed. It took me three months, dealing with my depression, and I really thank God that He held me most tight at my weakest. After those difficult moments, I was blessed to be hired in an auditing firm in Baguio. I was able to deviate my attention to work, and I somewhat forgot the anxiety triggered by the pandemic.

My job there lasted for another three months, and again, I decided to take a full blast of review for the remaining three months before the exam. This time, I am more confident that the exam will be carried on, so I really studied concepts after concepts, in each of the board exam subjects. My spirit is stronger at this point in time. I strategized with my review. I solved as many quizzers as I can. I repeated the process for three months.
Just when I thought, I was fully equipped and armored for the exam, another test of faith happened. I got an infection on my face the night before the big day. In order to survive the three-day exam, I endured to take pain relievers because it was really excruciating. I cannot eat properly. It was probably the worst three days of my life, because I did not just battle mentally but unlike with normal examinees, I battled with physical pain.

After the exams, I still have doubts but I spoke to God-'Lord, I did my part. I entrust everything to You now. If it's my time, thank You so much, but if it's not, please prepare me for the worst'.

The wait is agonizing, but deep inside me, I still believe that I nailed it. And indeed, I did!

The CPA title finally landed on my name after four years of thriving in college, and two years of waiting under an uncertain state. I thank God the most for all those years, and all the circumstances in between. Because of these experiences, I know fully that I became bolder and wiser. The best thing is, I got to know and trust the Creator of life, even greater. What more can I ask?"

"He's not yet done with my life. I vow to finish strong."
Loisa Faith Soliba's Actual Post
Thank you Lord ❤️☝️ I owe everything to you Lord. I was sick during the exam but you proved you are greater than all the challenges I encountered until I finally passed the CPALE. Thank you ♥️

To my parents, thank u for the unending support since day 1 of the exam. Cguro nu mblin ai alaen u nan rikriknaek ai sakit isan exam days ko et inikan u, salamat sin amin ma and dad. Pirmi ai pa salamat ak for having u as my parents. Salya thank u cn amin amok maumuma ka cn amin ai istoryak ya aga ngm wda k kyt ai nangdedenge.

To all my relatives thank u for all the support especially mnang Lingayo, mnang Michelle, thank you for everything. Dakel nan tulong u sin ninuskilaak iyaman. For anti Maria thank u so much anti ai mngbawas cn stress ko cn review days ko.
Her testimony of her CPA journey seemed like a storyline of familiar movies, which an ordinary person won't believe it may happen. How inspiring to know that being considered to be the Philippine's Most Difficult professional examination, the CPALE can still be spiced up with such extra special stories of conquering and survival. To all aspiring CPAs, the difficulty of the examination cannot fathom your passion to profess and to hold the title you've been extremely fighting for, from the very beginning. Padayon!
Credits:
Elizabeth Faith Ibarra Cabillon
Reign Julius Ceria