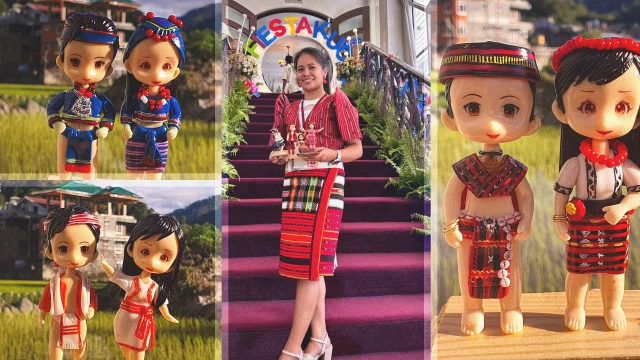 Rovanie Joy Fegcan, an Igorot with roots in Sadanga and now residing in Samoki, Bontoc, Mountain Province, embarked on an artistic journey that seamlessly blends passion, creativity, and cultural celebration. She discovered her love for art during the COVID-19 pandemic and chose to work with Air Dry Clay, a material that doesn't require special equipment, despite having no formal art training.
A Leap into the Artistic Unknown
Rovanie, at 39 years old and living in Samoki, Bontoc, boldly stepped into the world of art despite her academic background in Education. She ventured into this unfamiliar terrain during a period marked by personal and global challenges.
Crafting Miniature Wonders
In 2020, she began her artistic journey by creating miniature sculptures that celebrated the vibrant Igorot culture in her area. Each of these meticulously crafted pieces was inspired by her online discoveries, demonstrating that passion knows no boundaries. Her work became a reflection of resilience and hope during challenging times.
The Power of Online Presence
As Rovanie refined her artistic vision, she realized the importance of branding and establishing an online presence. Her journey started with sculpting a couple adorned in traditional Bontoc attire, adding a touch of local heritage to her art. These sculptures range in price from 450 to 1,200 pesos, depending on their size and intricate details.
A Growing Canvas of Creativity
Today, Rovanie offers a diverse array of designs, techniques, and product options to her clients, showcasing her limitless creativity. Her journey has evolved from that initial spark of inspiration into a vibrant world of possibilities, all connected by a profound appreciation for her culture.
RJs Arts and Crafts: A Creative Hub
Efficiently managing her own Facebook page, "RJs Arts and Crafts," Rovanie has created a platform where clients can request bespoke sculptures and explore her rich portfolio of arts and crafts. Her story exemplifies how the digital age provides opportunities for artists to connect with a broader audience while preserving and celebrating their local culture.
Rovanie Joy Fegcan's journey in art seamlessly combines her passion, personal growth, and a deep appreciation for her roots. Her art not only demonstrates her creative talent but also serves as a bridge that celebrates and preserves the Igorot culture in her area. It's a testament to the resilience and creativity that can emerge during challenging times, showcasing a perfect blend of art, culture, and personal growth.