Park Seo Joon, famous South Korean actor (Itaewon Class, What's Wrong with Secretary Kim?, Hwarang, etc.) appreciated Ifugao wood carvings displayed in Manila mall during his last visit in the Philippines.

#ParkSeoJoon #Ifugao #WoodWorks #art
Igorotage supports Video Creators!
Out of the box, Igorotage supports link sharing — Yes, including Youtube videos! Are you a vlogger? Grow your channel for free by sharing your videos with the Igorot community!
Igorotage is on Youtube as well! Support us by subscribing to our channel.
Igorotage Weekly Digest
Don't miss anything important from the Igorot community! Each week we curate the best new information and deliver it directly to your inbox every Sunday morning.
Wallposts
You might also like these related wallposts.
What is "UBBU" in Ifugao?
In the central part of Ifugao where I was born and raised, I have witnessed a lot of times what they call "ubbu".

It is a term used to describe a traditional Ifugao practice, where a person calls the help of other folks to be part of a work (usually in their ricefields). In return, the person who called for help must repay it with work, commensurate to the number of days the person worked for him/her.

They don't use money to pay workers, but they use work to barter for work.

When these folks gather to work, it's a time for a good fellowship, and in the olden times, it is used to learn their traditional hymn of "Hudhud" for the ladies.

It is still very much alive in my native barangay. But in many parts of Ifugao, "ubbu or ub-ubbu" is becoming strange; just a part of our rich history.

What can the new generation of the "real sons and daughters of Ifugao" do?

By: Abe Ngipol

#Ubbu #Ububbu #binnadang #Ifugao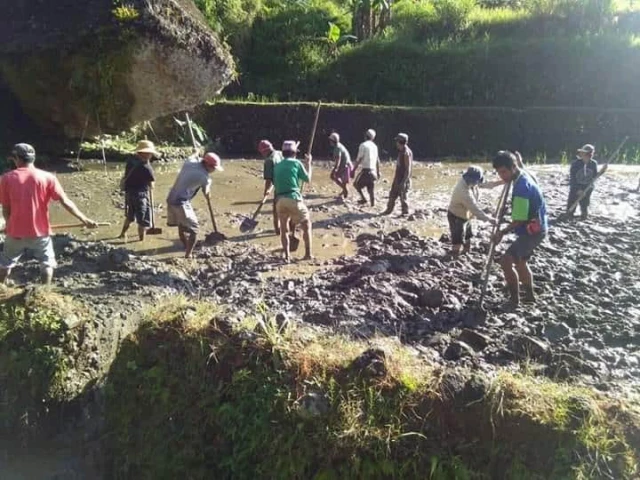 108-year-old Ifugao Centenarian Receives 100k Cash Gift
Tinoc, Ifugao - Natanggap na ni Lola Martina Campoy Gugunay, 108 taong gulang, ang kanyang centenarian cash gift mula sa DSWD-CAR.

Ang centenarian gift mula sa national na pamahalaan ay nagkakahalaga ng Php 100,000.00 na ibinibigay sa mga senior citizens na nakaabot ng 100 years old at higit pa.

Photo courtesy of MSWDO Esther Paduyao Juan

#centenarian #Tinoc #Ifugao #DSWDCAR #seniors
Baguio Canine "microchipping" starts November
Want to give "man's best friend" a bit more protection in case they get lost or stolen?

The mandatory installation of microchip tags on dogs will start this November.

Thus bared City Veterinary and Agriculture Office (CVAO) chief Dr. Bridgit Piok during the City Hall flag-raising program.

She said, installation of microchips is mandatory for pets that are three-months old or over.

The microchip tagging of dogs is pursuant to Ordinance No. 60-2020. It establishes easier ownership tracking of dogs; protection of pets from theft; monitoring schedule of anti-rabies jabs; and, establishing accountability of pet-owners, among others.

The micro tag which rests under the dog's skin holds information on the owner's name, address, contacts, and description of the canine.

It costs P300 per dog and may be administered in barangays during scheduled mass tagging activities or at the CVAO.

A registration certificate shall then be issued after the dog had been microchipped. It is a permanent record that lasts until the dog's lifetime, unless there a change of ownership.

When the dog passes, the owner is required to inform the barangay or CVAO within five days.

In changes of ownership, the new owner must report the same within a period not exceeding ten days. Registration by the new owner costs P250.

Under the ordinance, Piok revealed, absence of the chip on a dog three-months old or over violates Ordinance No. 60-2020. A fine of P2,000 shall be imposed upon the owner.

A fine of P2,000 is likewise imposed upon owners of stray pooches.

She said, any person who releases an impounded dog without it having been micro-tagged or without fees or fines having been paid by the owner shall be fined P1,000, over possible administrative or criminal charges.

The ordinance imposes an impounding fee of P500 per dog; maintenance fee of P50 per dog per day; and, adoption fee of P500 per dog, she added.

Piok disclosed, within three-days, unclaimed dogs at the city pound may be put up for adoption; or, donated for scientific studies; or, put down.

Report from Gaby Keith via PIO-BAGUIO (26 July 2020)

Your thoughts?

#Baguio #microchip #dogs
3 honest Ifugao kids return found valuables
A lost belt bag containing cash found along Paypay, Poblacion, Hingyon, Ifugao was turned-over to PNP Hingyon office by these three good samaritans of the day namely; Dexter Lagmoy, Bryson Dagumay and Zaijan Dagumay, all residents of Poblacion, Hingyon, Ifugao.

Thanks to these little but responsible kids of Poblacion. God bless you a thousand fold.

Good parenting!

Credit: Pnp Ifugao Hingyon

#Hingyon #Ifugao #Honesty
This is the Chaya cluster of the breathtaking Mayoyao Rice Terraces in Mayoyao, Ifugao, photographed from the Mt. Nagchajan Viewpoint, also in the same town. It is part of the Rice Terraces of the Philippine Cordilleras inscribed as UNESCO World Heritage Site in 1995 (along with those in Batad and Bangaan in Banaue, Hungduan, and Nagacadan in Kiangan, all located in the province of Ifugao).

These payew ('rice terraces' in Henanga, the language of the Majawjaw or Mayoyao people) witnessed the victory of our lolo and lola beteranos in the last World War II battle fought in the Philippines, exactly 75 years ago on this day. The capture of Mayoyao defense line of Imperial Japanese Army Commander Tomoyuki Yamashita resulted in the eventual surrender of the Japanese in the Philippines. In this event, Ifugao warriors fought together with fellow Filipinos from other provinces, as well as the American soldiers.

This coming 3 September 2020, the grateful Filipino people will commemorate the 75th anniversary of the end of World War II in the Philippines.

The National Historical Commission of the Philippines (NHCP) commemorated the Victory at Mayoyao with a historical marker installed at the Mt. Nagchajan.

Credits: Ivan Henares, National Quincentennial Committee, Republic of the Philippines

#Chaya #Mayoyao #RiceTerracss #Nagchajam #Ifugao #payew