Igorotage supports Video Creators!
Out of the box, Igorotage supports link sharing — Yes, including Youtube videos! Are you a vlogger? Grow your channel for free by sharing your videos with the Igorot community!
Igorotage is on Youtube as well! Support us by subscribing to our channel.
Igorotage Weekly Digest
Don't miss anything important from the Igorot community! Each week we curate the best new information and deliver it directly to your inbox every Sunday morning.
Wallposts
You might also like these related wallposts.
At least 3 Abu Sayyaf members killed in Sulu clash led by Ifugao Lt Col Ruben Guinolbay
Sa katapangan ng 45th infantry batallion na pinamunuan ni Lt Col Ruben Guinolbay mula Ifugao. Nasakmal ng tropa ng Joint Task Force Sulu ang mga teroristang Abu Sayyaf sa engkwentrong naganap sa Latih, Patikul, Sulu alas sais kagabi, ika-22 ng Abril 2020.

Nilapitan ng tropa ng 45th Infantry Battalion na pinamunuan ni Lt Col Ruben Guinolbay ang mga bandido kaya agad itong nabigwasan.

Kumaripas ng takbo ang mga bandido nang paisa-isa silang tinamaan sa naturang bakbakan na umabot ng kalahating oras.

Tinugis sila ng tropa sa running gunbattle hanggang nagkakahiwalay sila sa sobrang takot nang dumami ang natamaan sa kanilang hanay.

Natagpuan ng mga sundalo ang 3 sa mga napatay na bandido at nabawi ang mga personal na kagamitan na kinuha nila sa mga 11 na namatay kamakailan lang.

#RubenGuinolbay
#Ifugao #PatikulSulo #ambush #resbak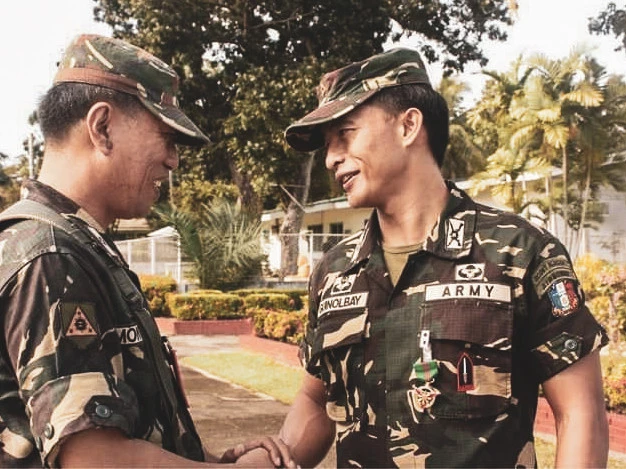 Inspired by the K-drama Crash Landing On You, this online store allows you to order local products from the Cordillera region while helping the livelihood of Filipino farmers at the same time. Teddy Baguilat Jr. of the CLOY (Cordillera Landing On You) team says, "Literally, we're from Cordillera-I'm from Ifugao. And we're bringing in products from Cordillera to land in the city-in Metro Manila." They offer vegetables from Benguet, pasalubong items from Baguio City (yes, strawberries and ube included!), Cordilleran coffee, and face masks locally made by the weavers from Ifugao.

#KDrama #TeddyBaguilatJr #Cordillera #Ifugao #CrashLandingOnYou
BAGUIO CITY: THE CITY OF PINES! (2019)
Burnham Park|Our Lady of Lourdes Grotto|Wright Park|The Mansion|Mines View Park|The Botanical Garden|Strawberry|Jam|Wine|IceCream||Farm|CampJohnHay|Philippine Military Academy(PMA)|Pasalubong Center|Night Market
Part 1 - www.youtube.com/watch?v=QIu90Zh1SZc
Part 2 - www.youtube.com/watch?v=rH39OSYYxQY&feature=youtu.be
Part 3 - youtu.be/3e70UAx45Fs

Tara, makisaya't makibahagi, sa ilang araw na pamamalagi,
Sa lugar na madalas pinipili, kasama ang pamilyang natatangi!

Isang biyaya na kami'y nagawi, magandang tanawi'y aming nasaksi,
Hiling namin ito ay manatili, Lungsod ng mga Pino, Baguio City!

Baguio City: The City of Pines! (2019) Trailer #vlog? ?
It's more fun in the PhilipPINES!
If you are following the journey of "Kulas" over the past days, you would have watched his solo travels from Baguio going up to Atok, Buguias, Mankayan and all the way to Bontoc.

Kyle Gennerman or Kulas is one of the famous non-Filipino vloggers that started his YouTube career in Cagayan De Oro in the Northern part of Mindanao. He created his own video content that are all genuine and full of positive vibes to promote every bit of the Filipino culture including the people, language, food, and almost everything you could think of. He is the kind of a vlogger who likes interacting with the local people almost everywhere.

Kulas is a very polite, positive, happy and a down to earth vlogger who truly loves the Philippines and the Filipino people.

In his latest post in his Facebook page, he made a live stream to express his admiration to the Igorots of the Cordilleras and the beauty of the rice terraces.

"Igorots are freaking tough. I just wanted to go live just to say how much I appreciate you people in the mountains because of your attitude, and your strength and your courage...," Kulas said while showing scenes of the Bontoc river in the background.

Kulas also acknowledged how the Igorots work so hard planting rice in the field and building massive and beautiful rice terraces. He then encourages every tourists to always remember that behind the beauty we see are the Igorots who built them.

"We have to always remember that there are people who are living here who are doing back-breaking labor to provide rice for others and to make these rice terraces that beauty that they are," Kulas said.

He also had a message to those people who are discriminating the Igorots calling them uncivilized only because they are living in the mountains.

"I tell you right now. For anybody who comes to the Philippines, if you discriminate without getting to know people, you shouldn't even come here.... All it takes is coming up and talking to people and understand . 'Cause I tell you right now, I met some of the most civilized people in my life here in the mountains. They open up for you, they give you tea, they care for you, they take you somewhere and they want nothing in return," Kulas added.

#Kulas #BecomingFilipino #Mankayan #atok #Benguet #Igorot #tough #KyleGennerman
Undefeated Carl Jammes "Wonder Boy" Martin of Ifugao will battle the "dangerous" Rakesh "Battu" Lohchab of India on June 9 at the Midas Hotel and Casino in Pasay City.

The 20-year-old Martin, with 12 wins, zero loss and 11 knockouts to his record, retired Pethchorhae Kokietgym of Thailand during the 3rd round of their fight on Feb. 16 at the SM City North EDSA Skydome, Quezon City.

Martin earlier TKO'd Hashimu Zuberi of Tanzania in the 2nd round to win the vacant World Boxing Organization (WBO) Oriental Youth bantamweight title in the April 28, 2018 fight in Lagawe, Ifugao.

He knocked out Indonesia's George Lumoly to win the vacant World Boxing Association (WBA) Asia bantamweight title on June 21, 2018, in Lagawe.

Martin retained the WBO Oriental Youth bantamweight title by retiring China's Huerban Qiatehe in the 2nd round of the Aug. 28, 2018 fight in Bayombong, Nueva Vizcaya.

He also kept his WBA Asia bantamweight championship by knocking out Moon Chul Suh of South Korea on Oct. 27, 2018, in Lagawe.

On the other hand, the 22-year-old Lohchab (6W-0L, 2KO) knocked out Ghulam Ghous on March 30, 2019 bout in India. He also won by a unanimous decision over Suredra Beniwal on Jan. 19.

#WonderBoy #Martin #Ifugao #boxing