Welcome to Baguio City, affectionately known as the "Summer Capital of the Philippines" and the "City of Pines." Nestled within the Cordillera Administrative Region, this city is a delightful escape from the scorching heat that blankets much of the country. Baguio's main claim to fame? Its pleasantly cool climate, which lures both locals and tourists.
But there's more to Baguio than just temperate weather. Imagine a place where you're surrounded by lush landscapes and towering pine trees - it's like stepping into a nature lover's dream. Adding to its allure is the rich tapestry of culture and heritage that's woven into the city's fabric.
In this comprehensive guide, we invite you to embark on a journey of discovery through Baguio City. Whether you're planning your first visit or returning for another adventure, our aim is to provide you with an in-depth exploration of this captivating destination. So, pack your bags and get ready to uncover the secrets and wonders of Baguio City.
Historical Insights into Baguio City
Baguio City's history is a captivating tale that unfolds against the backdrop of its picturesque landscapes. Founded in 1900 by the American colonial government, this city was envisioned as a summer capital, offering respite from the sweltering lowlands. Its name, "Baguio," finds its origin in the Ibaloi word "Bagiw," meaning "moss."
In 1903, Baguio City officially earned the title of the "Summer Capital of the Philippines." Its cool climate and picturesque setting made it an ideal retreat for government officials and tourists alike. The meticulous planning of the city, complete with well-designed streets and parks, bears the legacy of this era. Notably, the renowned Burnham Park, named after American architect Daniel Burnham, stands as a testament to the city's early development.
During World War II, Baguio faced a significant chapter when Japanese forces occupied the city. The historical Baguio Cathedral, an iconic landmark perched on a hill, witnessed these wartime events and remains a solemn reminder of the past.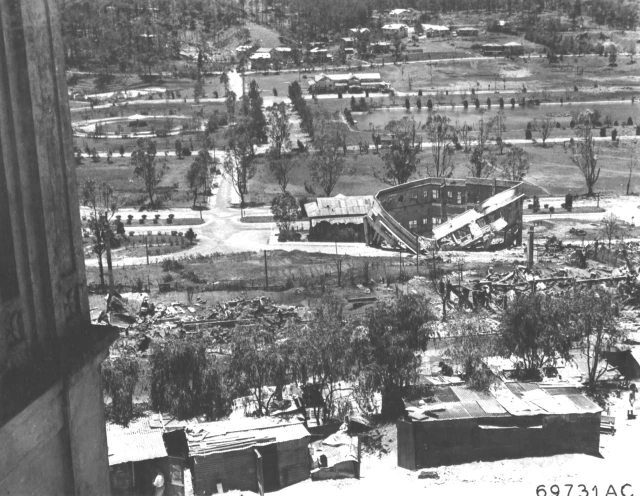 After the war, Baguio entered a phase of growth and development, expanding its infrastructure, culture, and tourism appeal. Today, Baguio continues to preserve its history through various landmarks. The Baguio Cathedral, officially known as Our Lady of the Atonement Cathedral, offers panoramic views and serves as a testament to the city's enduring spirit. Session Road, the bustling commercial heart of Baguio, is lined with shops and restaurants that tell stories of commerce and culture. The Mansion, once the official summer residence of the Philippine President, now stands as a historical site, echoing with memories of the past.
As you explore Baguio's streets and landmarks, you'll walk in the footsteps of history, appreciating the rich tapestry that defines the "Summer Capital of the Philippines."
Location and Geography of Baguio City
Let's dive into Baguio City's spot on the map. This lovely city is nestled in the Cordillera Administrative Region, a mountainous area in the northern Philippines. Baguio's location is quite special - it sits at an elevation of around 1,525 meters (5,000 feet) above sea level, which is pretty high up compared to most Philippine cities.
Now, that elevation isn't just a random fact. It plays a big role in what makes Baguio unique. You see, being up in the hills gives Baguio a special kind of weather. While the lowlands sizzle in tropical heat, Baguio enjoys pleasantly cool weather throughout the year. It's the sort of place where you can savor refreshing breezes, even in the middle of summer.
All around Baguio, you'll find the grand Cordillera mountains, adding to its scenic beauty. Among these peaks is Mount Santo Tomas, which not only enhances the city's landscape but also provides fresh, clean air. As for water, Baguio City is crisscrossed by various streams and rivers, with the Balili River being one of the most notable.
So, there you have it - Baguio City's geographical location and the wonderful effects it brings. With its special elevation, nestled among the Cordilleras and blessed with cool winds, it's no wonder Baguio City earned its title as the "Summer Capital of the Philippines."
How to Get to Baguio City
Heading to Baguio City? We've got you covered with various transportation options, ensuring you can reach this charming city in a way that suits your budget and preferences.
1. By Plane: If you prefer to soar through the skies, the nearest airport to Baguio City is the Loakan Airport, located approximately 10 kilometers from the city center. Airlines like Philippine Airlines, Cebu Pacific, and AirAsia offer flights from Manila to Loakan Airport. The cost of a one-way flight ranges from ₱2,000 to ₱5,000. It's a quicker way to reach Baguio if you're coming from Manila.
2. By Bus: For those who enjoy a scenic journey, buses are a popular choice. Several bus companies operate routes from Manila to Baguio City, offering comfortable rides with amenities like reclining seats and air conditioning. You can catch these buses in key points like Cubao, Pasay, and Sampaloc in Manila. Booking your tickets in advance is advisable, especially during peak seasons or holidays. The one-way bus ticket from Manila to Baguio City ranges from ₱500 to ₱1,000, with travel times averaging around 6 hours.
BOOK: Manila to Baguio Bus Ticket (via PITX and Cubao)
3. By Car: If you're all about the road trip experience, you can drive to Baguio City from Manila. The journey takes approximately 5 hours, depending on traffic and road conditions. The cost of fuel for your trip will depend on your car's fuel efficiency, so it's a flexible option for those who like to take things at their own pace.
BOOK: Private Intercity Van Transfer between Manila and Tagaytay, La Union, Baguio, and More
4. Getting Around in Baguio City: Once you arrive in Baguio City, getting around is a breeze. Here are your options:
Jeepneys and Buses: Jeepneys are the city's most popular mode of transportation. Additionally, there are a few bus lines operating within Baguio City. These options are budget-friendly, with fares ranging from ₱10 to ₱20. They can conveniently take you to various parts of the city.

Taxis: If you're seeking convenience, taxis are readily available and can be hailed on the street or through a call. While they are pricier than jeepneys, they offer more comfort. Taxi fares generally range from ₱50 to ₱100.

Walking: Exploring the city center by foot is a delightful way to soak in the sights, especially if you're staying in the heart of Baguio City.
Your choice of transportation in Baguio City ultimately depends on your budget, needs, and preferences. If you're on a tight budget, jeepneys are the wallet-friendly option. For convenience, taxis are your go-to. Traveling with a group? Renting a car can be a smart choice. And if you're eager to explore on foot, lace up your shoes and hit the pavement. Baguio City's transport options ensure your journey is as enjoyable as your destination.
Where to Stay in Baguio City
When it comes to finding the perfect place to stay in Baguio City, you're spoiled for choice. Whether you're a luxury traveler or on a budget, Baguio City offers a wide array of accommodation options to suit every preference.
1. Luxury Hotels: If you're seeking the ultimate in comfort and service, Baguio City boasts several luxury hotels that will make your stay unforgettable. These hotels often come with stunning views, top-notch dining options, and luxurious amenities. Some of the city's prestigious accommodations include Hotel Supreme Baguio, The Manor at Camp John Hay, and The Forest Lodge at Camp John Hay.
2. Mid-Range Hotels: Baguio City offers a fantastic selection of mid-range hotels that provide comfort without breaking the bank. These hotels are perfect for travelers looking for a balance between affordability and quality. Consider options like Microtel by Wyndham Baguio, Casa Vallejo Hotel Baguio or Hotel Veniz.
3. Budget-Friendly Inns and Hostels: Traveling on a tight budget? Baguio City has numerous budget-friendly inns and hostels that offer clean and comfortable rooms. You can find these accommodations in various parts of the city, making them convenient for budget travelers. Some recommendations include Baguio Holiday Villas and Hotel Henrico Kisad.
4. Transient Houses: For those traveling in large groups or seeking a more homey atmosphere, transient houses are a great choice. These houses often come with multiple bedrooms and common areas, providing a cozy and communal experience. Check out options like Villa Silvina Hotel and Restaurant and Baguio Vacation House - Baguio Transient for a taste of local hospitality.
5. Campgrounds and Nature Lodges: If you're an outdoor enthusiast, Baguio City has campgrounds and nature lodges that allow you to immerse yourself in the city's natural beauty. These accommodations are perfect for travelers looking for a unique experience. Consider staying at Baguio Country Club or Mt. Costa.
6. Lodging by Area: Baguio City is divided into several districts, each with its own charm. You can choose your accommodation based on the area you want to explore. For instance, staying near Burnham Park offers convenient access to the city's central attractions, while accommodations near Mines View Park provide stunning vistas.
Whether you're in Baguio City for relaxation, adventure, or exploration, finding the right place to stay is essential for a memorable trip. With its diverse range of accommodations, Baguio City ensures that every traveler can enjoy their stay in the "Summer Capital of the Philippines."
Must-Visit Attractions in Baguio City
Baguio City is a treasure trove of attractions, each offering a unique experience that will make your visit memorable. Whether you're a nature enthusiast, a history buff, or simply looking for a relaxing stroll, Baguio City has something for everyone.
1. Burnham Park: This iconic park is a must-visit for anyone coming to Baguio City. It's a sprawling green space that features a man-made lake where you can rent a paddleboat. Take a leisurely walk, have a picnic, or rent a bike to explore this beautiful park. Don't forget to try the local street food from nearby vendors.
2. Mines View Park: If you're interested in local crafts and souvenirs, Mines View Park is the place to go. Here, you can shop for handmade jewelry, woodcarvings, and woven items. The park also offers a panoramic view of abandoned mines, providing a glimpse into Baguio's mining history.
3. Botanical Garden: Immerse yourself in the beauty of nature at the Botanical Garden. This serene place is home to a wide variety of plants, including colorful orchids and towering ferns. Explore the garden's different sections, each representing a different indigenous tribe in the Cordillera region.
4. Baguio Cathedral (Our Lady of the Atonement Cathedral): This stunning Catholic cathedral is known for its distinctive pink façade and hilltop location, offering a picturesque view of the city. It's not only a place of worship but also a popular spot for tourists seeking Instagram-worthy shots.
5. The Mansion: Once the official summer residence of the Philippine President, The Mansion is now a historical site. While you can't enter the building itself, the beautiful gardens and architecture are worth admiring. Don't miss the opportunity to take a photo by the iconic entrance gate.
6. Camp John Hay: A former rest and recreation facility for the United States Armed Forces, Camp John Hay is now a vibrant commercial and historical area. Explore the historical Bell House, go for a leisurely walk through the pine forests, or enjoy a round of golf.
7. Session Road: As Baguio City's main commercial street, Session Road is a hub of activity. Explore a variety of shops, restaurants, and cafes. It's an excellent place to try local cuisine and pick up souvenirs.
8. Panagbenga Park: If you visit during the Panagbenga Festival (Baguio's Flower Festival), you'll find the city adorned with vibrant flower displays. But even outside the festival, the park is a pleasant place for a quiet walk and some beautiful floral sights.
9. Lion's Head: This 40-foot limestone head is a popular tourist attraction in Baguio City. It is located along Kennon Road and offers stunning views of the city and the surrounding mountains. The park is located in the heart of Baguio City and is easily accessible by jeepney or taxi. There are a number of restaurants and cafes in the park, as well as a playground and a boating lake.
10. The Baguio City Market: The market is located in the heart of Baguio City and is easily accessible by jeepney or taxi. It is a great place to buy souvenirs, handicrafts, and local produce. There are also a number of restaurants in the market where you can try different Filipino dishes.
11. The Tam-awan Village: This village is a cultural center that showcases the Igorot culture. Visitors can learn about the Igorot way of life and see traditional Igorot houses and handicrafts. The village is located in the outskirts of Baguio City and is accessible by jeepney or taxi. There is a restaurant in the village, but it is advisable to bring your own food and drinks.
These attractions offer a glimpse into the heart and soul of Baguio City. Whether you're interested in nature, culture, or history, exploring these places will make your visit to the "Summer Capital of the Philippines" truly unforgettable.
Outdoor Adventures in Baguio City
Baguio City's stunning natural beauty isn't just for sightseeing; it's also the backdrop for exciting outdoor adventures. Whether you're an adrenaline junkie or simply looking to connect with nature, Baguio offers a range of outdoor activities to suit every preference.
1. Trekking: The lush mountains and trails surrounding Baguio City are a trekker's paradise. Popular trekking spots include Mt. Yangbew, Mt. Kalugong, and Mt. Costa. Each trail offers its own unique challenges and rewards, from breathtaking panoramic views to encounters with local flora and fauna. Remember to wear appropriate footwear, stay hydrated, and consider hiring a local guide for a safe and enjoyable trekking experience.
2. Strawberry Picking: A visit to Baguio wouldn't be complete without trying your hand at strawberry picking. Head to strawberry farms in nearby La Trinidad, Benguet, where you can pluck fresh, ripe strawberries right from the plants. It's a fun activity for families and couples. Just be sure to follow the farm's guidelines and avoid damaging the crops.
3. Horseback Riding: At Wright Park and the nearby horse riding areas, you can enjoy a leisurely horseback ride through scenic trails. It's an ideal activity for travelers of all ages, and the friendly horses are accustomed to beginners. Safety helmets are provided, so you can explore the area confidently.
4. Ziplining: For an exhilarating adventure, try ziplining at Camp John Hay. Soar through the treetops and enjoy breathtaking views of the surrounding forests and mountains. Safety harnesses and experienced guides ensure a thrilling yet secure experience.

5. Eco-Park Visits: Explore Baguio's eco-parks, such as the Botanical Garden, where you can admire indigenous plants and learn about the region's rich biodiversity. These parks offer serene environments for picnics, leisurely walks, and photography.
6. Mountain Biking: Baguio's rugged terrain and scenic landscapes make it an excellent destination for mountain biking enthusiasts. You can rent bikes or join guided tours to explore challenging trails with rewarding views.
Safety Tips: Regardless of the adventure you choose, safety should always come first. Wear appropriate clothing and footwear, carry essentials like water and snacks, and follow local guidelines and instructions. When in doubt, consult with local guides or authorities for the latest safety information.
Recommended Gear: Depending on your chosen activity, consider packing essentials like a hat, sunscreen, insect repellent, a first-aid kit, and a reusable water bottle. If you're trekking, sturdy hiking boots and a lightweight backpack are crucial.
Baguio City's outdoor adventures allow you to immerse yourself in its natural wonders while enjoying exciting activities. Whether you're trekking through the mountains or picking strawberries in the fields, these experiences will make your visit to Baguio truly unforgettable.
Dining and Cuisine in Baguio City
Baguio City is not only a feast for the eyes but also for the taste buds. Its vibrant food scene reflects the city's cultural diversity and offers a wide array of culinary delights to explore.
1. Traditional Cordilleran Dishes: Your gastronomic adventure in Baguio City must include trying traditional Cordilleran dishes. Don't miss "pinikpikan," a chicken dish prepared by beating the chicken with a stick before cooking, and "etag," a flavorful smoked pork. These dishes provide a taste of the local Igorot culture.
2. Ukoy: Savor "ukoy," a crispy shrimp and vegetable fritter that's a favorite among locals. It's typically served as an appetizer and can be found in many local eateries.
3. Baguio Strawberries: Baguio is renowned for its strawberries. You can enjoy them fresh, in jams, or incorporated into various desserts. Visit the Baguio Strawberry Farm to pick your own strawberries for a truly immersive experience.
4. Panagbenga Rolls: During the Panagbenga Festival, local bakers create "Panagbenga rolls," a type of bread shaped like flowers. These rolls are both visually appealing and delicious.
5. Café Culture: Baguio City boasts a thriving café culture. Cafes like Arca's Yard and Café by the Ruins offer not only delicious coffee but also scenic views. They are perfect for relaxing afternoons or enjoying breakfast with a view.
6. Night Market Street Food: The Baguio Night Market is a must-visit for street food enthusiasts. You can find a wide range of affordable and tasty snacks, from grilled meats to fried delicacies. It's also an excellent place for souvenir shopping.
7. International Cuisine: If you're craving international flavors, Baguio City has you covered. There are restaurants offering Korean, Japanese, Italian, and American cuisines, among others.
8. Good Shepherd Convent: Make sure to stop by the Good Shepherd Convent for delectable treats like "ube jam" and "strawberry jam." These products make for perfect souvenirs to take home.
9. Baguio Craft Brewery: For beer lovers, the Baguio Craft Brewery is a must-visit. They offer a variety of craft beers that pair well with their food menu.
10. Fresh Produce Markets: Explore local markets like Baguio City Market and La Trinidad Strawberry Farm to buy fresh produce, including vegetables, fruits, and local delicacies.
Foodie Tips: When dining in Baguio City, remember to try "Iced Tea" or "Strawberry Taho" from street vendors. These refreshing beverages are popular among locals and tourists alike.
Baguio City's culinary landscape is a delightful fusion of cultures and flavors. From enjoying traditional Cordilleran dishes to indulging in international cuisines, your taste buds are in for a treat. Don't forget to explore the local markets and cafes for a complete foodie experience.
Festivals, Culture, and Arts in Baguio City
Baguio City is not just about breathtaking landscapes and cool climates; it's also a melting pot of rich cultures and vibrant traditions. As you explore this charming city, you'll discover the tapestry of cultures that have woven together to create its unique identity.
Celebrating Igorot Culture: At the heart of Baguio's cultural heritage lies the Igorot people, the indigenous inhabitants of the Cordillera region. Their presence is felt throughout the city, from their intricate tattoos to their exquisite woodcarvings and handwoven fabrics. It's a living testament to their enduring traditions and artistic skills.
Festivals that Ignite the Spirit: Baguio City comes alive with a burst of colors and rhythms during its festivals. The most famous of these is the Panagbenga Festival, also known as the Baguio Flower Festival. Held every February, it's a month-long celebration featuring vibrant floats adorned with flowers, street dancing, and a grand parade. The Panagbenga Festival not only showcases the city's love for flora but also its warm hospitality.
Another notable event is the Ibaloy Festival, which honors the indigenous Ibaloy culture. It's a time when the city pays homage to its roots and celebrates its cultural diversity. The Ibaloy Festival typically features traditional dances, rituals, and displays of Ibaloy craftsmanship.
Artistry in Every Corner: Baguio City is not just a hub for natural beauty; it's also a sanctuary for artists and artisans. The city is known for its woodcarving, where skilled hands transform wood into intricate masterpieces. You can witness these artisans at work in various shops and markets.
The art scene thrives in Baguio, with numerous galleries and cultural centers. Places like the Baguio Museum and Tam-awan Village offer insights into the city's past and present through art exhibitions, workshops, and cultural performances.
So, as you explore Baguio City's cool climate and lush landscapes, don't forget to immerse yourself in its vibrant culture and arts. From festivals that ignite the spirit to the fine craftsmanship of its people, Baguio City offers a tapestry of experiences that will leave a lasting impression.
Shopping in Baguio City
Baguio City isn't just a feast for the eyes; it's also a paradise for shoppers seeking unique treasures and souvenirs. As you wander through its vibrant streets and markets, you'll find an array of delightful items to bring home as mementos of your visit.
Markets Bursting with Character: Baguio is renowned for its bustling markets, each with its own distinct charm. One such gem is the Baguio Public Market, a labyrinth of stalls where you can find everything from fresh produce to handicrafts. It's a sensory delight with the aroma of strawberries and local delicacies wafting through the air.
If you're on the hunt for traditional woven fabrics and Igorot handicrafts, the Baguio City Public Market is a treasure trove. It's the perfect place to pick up beautifully handwoven textiles like the "ina-es" and "tapis," which showcase the craftsmanship of the local women.
Strawberry Goodies: Baguio's cool climate is ideal for cultivating strawberries, and you'll find a variety of strawberry-inspired products. From jams and jellies to taho (sweet tofu) with a strawberry twist, these delectable treats are a must-try. Don't forget to take home some fresh strawberries too - they're bursting with flavor.
Wooden Wonders: Baguio City has a thriving woodcarving industry, and you can find intricately carved wooden items in various shops and markets. Look out for sculptures, figurines, and furniture made by talented artisans. These pieces are not only beautiful but also a testament to the city's artistic heritage.
Souvenirs with a Story: When it comes to souvenirs, Baguio City offers much more than the usual trinkets. Choose unique items like handwoven baskets, silver jewelry, and traditional Cordillera clothing. These items not only make for memorable souvenirs but also support the livelihoods of local artisans.
As you explore the shopping scene in Baguio City, you'll discover that every item tells a story and reflects the rich cultural heritage of the region. So, take your time to browse, haggle, and collect these treasures that will forever remind you of your visit to the "Summer Capital of the Philippines."
Tips for a Memorable Baguio City Trip
A trip to Baguio City promises a memorable experience, but a little preparation goes a long way in ensuring a smooth and enjoyable visit. Here are some practical tips to make the most of your adventure in the "Summer Capital of the Philippines."
Pack Layers: Baguio's cool climate means that temperatures can change throughout the day. It's wise to pack layers of clothing, including sweaters and jackets, so you can easily adapt to the weather.
Comfortable Footwear: Exploring Baguio City often involves walking, whether you're strolling along Session Road or visiting parks. Comfortable footwear, like sneakers or walking shoes, will keep your feet happy.
Cash is King: While many establishments accept cards, it's a good idea to carry some cash, especially if you plan to shop at local markets or enjoy street food. ATMs are readily available in the city.
Respect the Environment: Baguio's natural beauty is a treasure, so do your part to keep it pristine. Dispose of trash properly, use designated smoking areas, and follow local environmental regulations.
Stay Hydrated: The cool weather can be deceiving, and you might not realize how much you're sweating. Carry a reusable water bottle and stay hydrated, especially if you're out trekking or exploring.
Try Local Delicacies: Baguio City is known for its unique culinary delights, like strawberry taho and fresh produce. Don't miss the opportunity to savor these local flavors.
Plan for Traffic: Baguio City's popularity means that traffic can get congested, especially during peak tourist seasons. Plan your travel times accordingly to avoid long delays.
Respect Local Customs: Baguio City is home to diverse cultures, including the indigenous Igorot people. Be respectful of local customs and traditions, especially when visiting cultural sites.
Stay Informed: Stay updated on local news and weather forecasts, especially if you plan outdoor activities. Baguio's weather can be unpredictable, so it's good to be prepared.
Explore Beyond the Usual: While Baguio has its famous attractions, consider exploring lesser-known spots and interacting with locals to discover hidden gems.
By keeping these tips in mind, you'll not only have a memorable visit to Baguio City but also contribute to the preservation of its natural beauty and cultural heritage. Enjoy your journey in this enchanting mountain retreat!
Frequently Asked Questions (FAQs)
Q: What is Baguio City known for?

A: Baguio City is known for its cool climate, stunning mountain landscapes, and vibrant cultural scene. It's often called the "Summer Capital of the Philippines."

Q: How do I get to Baguio City?

A: Baguio City is accessible by plane, bus, or car. The nearest airport is Loakan Airport, and there are also bus services from various parts of the Philippines.

Q: What are the must-visit attractions in Baguio City?

A: Some iconic attractions include Burnham Park, Mines View Park, Botanical Garden, and the Baguio Cathedral.

Q: When is the best time to visit Baguio City?

A: The best time to visit is during the dry season from November to April when the weather is cool and pleasant.

Q: What are the famous festivals in Baguio City?

A: Baguio City is famous for the Panagbenga Festival, a month-long flower festival celebrated in February, and the Ibaloy Festival, which showcases the culture of the indigenous Igorot people.

Q: Where can I enjoy traditional Cordilleran cuisine in Baguio City?

A: You can savor Cordilleran dishes at local eateries and restaurants like Café by the Ruins, Arca's Yard, and Good Taste.

Q: Are there outdoor activities in Baguio City?

A: Yes, Baguio City offers outdoor adventures like trekking in the mountains, strawberry picking in La Trinidad, and horseback riding at Wright Park.

Q: Can I shop for souvenirs in Baguio City?

A: Absolutely! Baguio City is famous for its markets like the Baguio City Public Market, where you can buy handicrafts, woven products, and fresh produce.

Q: What is the significance of the Igorot culture in Baguio City?

A: The Igorot culture is an integral part of Baguio's identity. It's celebrated through festivals, arts, crafts, and even in the architectural design of some landmarks.

Q: What are the safety tips for travelers in Baguio City?

A: Baguio City is generally safe, but it's advisable to take common precautions like securing your belongings and following local guidelines.
Explore the enchanting city of Baguio and discover the answers to these and more questions as you embark on a memorable journey to the "Summer Capital of the Philippines."
Conclusion
In the heart of the Cordillera mountains, Baguio City beckons as a haven of cool breezes, lush landscapes, and rich cultural tapestries. As the "Summer Capital of the Philippines," this city promises a unique getaway that marries natural beauty and cultural vibrancy.
From its historical roots as an American hill station to its present-day status as a bustling hub, Baguio City offers a myriad of experiences. You can explore its iconic parks, delve into outdoor adventures, savor diverse cuisines, and immerse yourself in local culture and arts.
Whether you're drawn to the serene tranquility of Burnham Park, the panoramic vistas of Mines View Park, or the vibrant colors of the Panagbenga Festival, Baguio City has something for every traveler.
So, pack your bags, layer up for the cool climate, and embark on a journey to Baguio City. Experience the warmth of its people, the richness of its history, and the beauty of its landscapes. Baguio City awaits your exploration, promising memories that will last a lifetime. Plan your trip today and uncover the charm of this captivating mountain retreat.