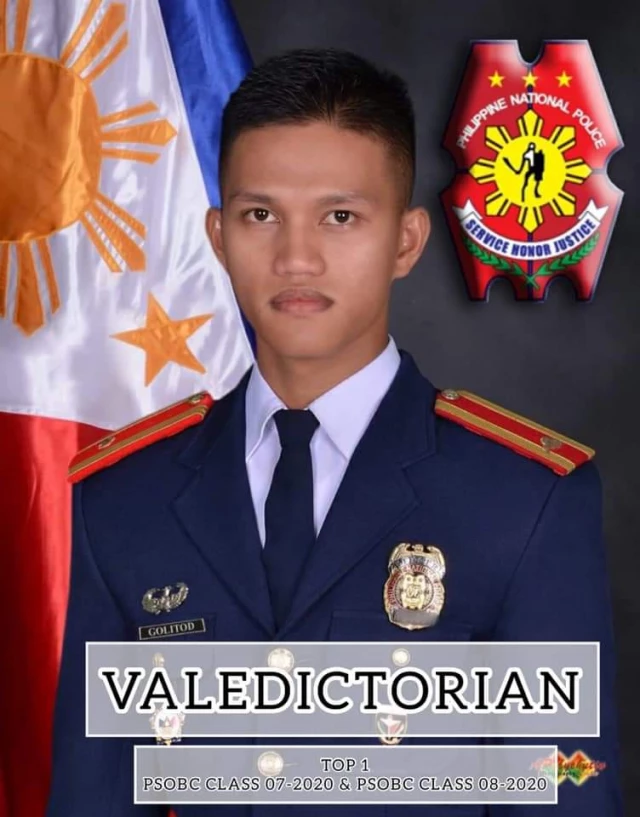 PLT KALVIN JOMARI GOLITOD - PRO4B, from Kalinga is the Public Safety Officers Basic Course (PSOBC) Class 07 and 08 Valedictorian.
PLT Golitod is a member of the Philippine National Police Academy (PNPA) "Masidlak" Class of 2017 and is currently assigned to the Regional Mobile Force Battalion - MIMAROPA and at the same time the Public Information Officer of PNPAAAI - MIMAROPA.
The Kalinga boy will receive:
DR. JOSE P. RIZAL Award

Academic Excellence Award for being the overall Valedictorian for PSOBC Classes 07 and 08.

LAPU-LAPU Leadership Award

For being the Class Marcher of PSOBC Class 08-2020.
PLT Golitod thanked the Almighty God and his "lucky charm" for his new achievement in a Facebook post.
Thank you My Love.😘😍

God is so good indeed!❤ Garnering the Top Rank is a gift from the Almighty. I never dreamt to be one, I just wanted to finish my schooling. However, with what I have prayed for, He gave me more than that.

And..... there was YOU.

Thank you for supporting me all throughout my journey. Those sleepless nights, those tears, those food and Koreanovelas that we watched were all worth it. And behind those memories is a strong and determined woman who pushed me to the limits. I may not have done this, if not through you, my family, and yours.

As I always tell you, let's support each other and keep each others back. Let's face the realities of life and be open to reach out our hands to those in need.

You will always be my Lucky Charm.

I love you My Doc Captain Ayek! 😘
The Public Safety Officers Basic Course (PSOBC) aims to develop the student's competence and character to prepare them to assume staff positions in major city police stations/offices and chiefs of lower-level police stations or as block/community police commanders to include parallel/designations in the National Support Units (NSUs) with the corresponding duties and responsibilities.
It is composed of Academic and Non-Academic Phases which will last for 14 weeks.
Academic Phase

Composed of 6 modules namely; Public Safety: Its context and dimension, Public Safety Administration, Corruption Prevention and Public Accountability, Laws and Jurisprudence for Public Safety Law Enforcers, Public Safety Operations, Basic Police Tactics (FTX).

Non-Academic Phase

Firearms Proficiency; Defense tactics; Values Education, Physical Fitness Test (PFT); Reveille/Sports Development, Drills, and Ceremonies and Educational Tour.
Congratulations sir KALVIN JOMARI GOLITOD! Another pride of the Cordilleras!