Cordillera's Kandama Collective clothing line showcasing the beauty and intricacy of Ifugao fabric is set to hit the New York Fashion Week runway in September.

The Filipino social entreprise will highlight the weaves of women of Julongan village in Kiangan, Ifugao for The Society Fashion Week in New York on September 7.

Kandama Collective founder Victor Baguilat Jr. shared in an Inquirer interview that their goal is to empower women through their looms and skills without harming the environment and the ones who patronize them. Kandama, after all, means "power" in the language of Ifugao, the Tuwali.

"We want to facilitate the empowerment of indigenous women and for those who wear us to feel their power within," said Baguilat who himself has Ifugao heritage.

#Kandama #Cordillera #Igorot #Ifugao #fabric #textile #fashion
Igorotage supports Video Creators!
Out of the box, Igorotage supports link sharing — Yes, including Youtube videos! Are you a vlogger? Grow your channel for free by sharing your videos with the Igorot community!
Igorotage is on Youtube as well! Support us by subscribing to our channel.
Igorotage Weekly Digest
Don't miss anything important from the Igorot community! Each week we curate the best new information and deliver it directly to your inbox every Sunday morning.
Wallposts
You might also like these related wallposts.
The Kalinga People of the Cordilleras, Ethnic Group in Philippines
Due to the mountainous terrain and warrior-culture of the people, the Kalinga were able to preserve their culture despite centuries of occupation in the lowlands by the Spaniards, Americans, and the Japanese.

The Kalinga people are highlanders and the most extensive rice farmers of the Cordillera peoples, having been blessed with some of the most suitable land for both wet and dry rice farming. Like the Ifugao, the Kalinga are prolific terrace builders. The Kalinga are also skilled craftsmen, well-versed in basketry, loom weaving, metalsmithing, and pottery, the last centred in the lower Chico River Valley.

On February 22, 2019, the Department of Tourism announced the bid of Digdiga Ni Tupayya, a Kalinga courtship dance, to be included in the UNESCO Intangible Cultural Heritage Lists.

From ASEAN Heritage & History

Photo Credits: This Is It Photography, Parangal_Org, and others

#Kalinga #ethnic #culture #UNESCO #heritage
What is "UBBU" in Ifugao?
In the central part of Ifugao where I was born and raised, I have witnessed a lot of times what they call "ubbu".

It is a term used to describe a traditional Ifugao practice, where a person calls the help of other folks to be part of a work (usually in their ricefields). In return, the person who called for help must repay it with work, commensurate to the number of days the person worked for him/her.

They don't use money to pay workers, but they use work to barter for work.

When these folks gather to work, it's a time for a good fellowship, and in the olden times, it is used to learn their traditional hymn of "Hudhud" for the ladies.

It is still very much alive in my native barangay. But in many parts of Ifugao, "ubbu or ub-ubbu" is becoming strange; just a part of our rich history.

What can the new generation of the "real sons and daughters of Ifugao" do?

By: Abe Ngipol

#Ubbu #Ububbu #binnadang #Ifugao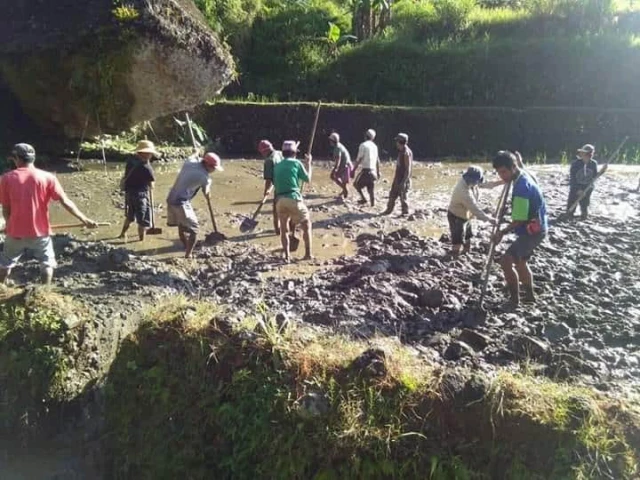 TWO New COVID-19 Deaths reported in the Cordillera
COVID-19 Cases Regional Update as of 5:00pm of August 1, 2020

Twenty (20) new Recoveries, five (5) new Cases and two (2) new Deaths Reported in the Region:
Recoveries:
- 5 in Abra
- 4 in Apayao
- 5 in Baguio City
- 3 in Ifugao
- 2 in Kalinga
- 1 in Mt. Province

Cases:
- 3 in Baguio City
- 1 in Benguet
- 1 in Kailinga

Deaths:
- 1 in Abra
- 1 in Baguio City

for additional or more detailed information visit:
caro.doh.gov.ph/doh-car-covid-19-tracker/

NOTE:
• Some data may change as new information occur based on further validation and investigation.

#BeatCOVID19 #covid19 #Cordillera
#WeHealAsOne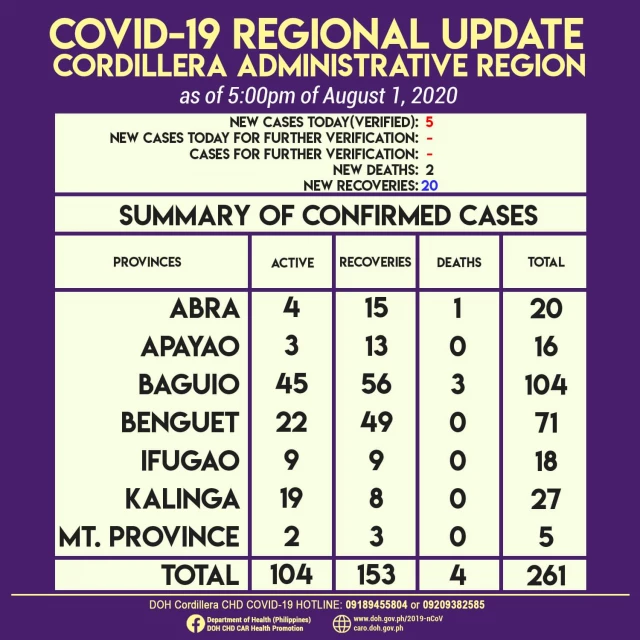 Proud Igorot OFW is a United Arab Emirates Hero
Proud Igorot, now a frontliner in the United Arab Emirates!

Red Cloud Decaleng Capuyan is one of the healthcare workers who continues to fight COVID-19 in the UAE.

Red is from the Cordillera Administrative Region.

He graduated with a Bachelor of Science in Nursing from the St. Louis University in Baguio city. He also has an International Interprofessional Wound Care Course at the University of Toronto in Canada.

He has been an Overseas Filipino Worker for five years. He is also the founding president of the Philippine Nurses Association in the UAE (PNA-UAE).

Despite the danger to the chosen profession, Red remains hopeful.

We salute you all Igorots abroad! Stay safe and see you the soonest!

Credit: GMA Pinoy TV

#ProudIgorot #OFW #frontliners #heroes #UnitedArabEmirates #COVID19 #RedCloudDecalengCapuyan
Ganito ka-astig mga Pulis Cordillera!
Ganito ka-astig mga Pulis Cordillera! Salute!

PSBRC Class 2018 - 1 Kasandagan Highlights - Cordillera Administrative Region Training Center

Audio: The Drum by The Seige

#CARTC #Pulis #Cordillera