Simmangpeten dagiti COVID-19 rapid test kits a ginatang ti LGUs ken PGA nga idadauloan ni Gov. Joy Valera Bernos nga usaren iti random testing dagiti amin nga LGU.

#COVID19 #RapidTestKits #Abra
Igorotage supports Video Creators!
Out of the box, Igorotage supports link sharing — Yes, including Youtube videos! Are you a vlogger? Grow your channel for free by sharing your videos with the Igorot community!
Igorotage is on Youtube as well! Support us by subscribing to our channel.
Igorotage Weekly Digest
Don't miss anything important from the Igorot community! Each week we curate the best new information and deliver it directly to your inbox every Sunday morning.
Wallposts
You might also like these related wallposts.
LOOK: Abra Province, nagiwaras ti libre nga manok

Naiwaras ti manok a sidaen dagiti residente sadiay Sal-lapadan, Bucay, Lagangilang, La Paz, Danglas, ken San Juan kas kanayunan nga ayuda kabayatan ti enhanced community quarantine.

Photo by : Abra Province

#ABRA #CommunityQuarantine #COVID19 #Coronavirus
TWO New COVID-19 Deaths reported in the Cordillera
COVID-19 Cases Regional Update as of 5:00pm of August 1, 2020

Twenty (20) new Recoveries, five (5) new Cases and two (2) new Deaths Reported in the Region:
Recoveries:
- 5 in Abra
- 4 in Apayao
- 5 in Baguio City
- 3 in Ifugao
- 2 in Kalinga
- 1 in Mt. Province

Cases:
- 3 in Baguio City
- 1 in Benguet
- 1 in Kailinga

Deaths:
- 1 in Abra
- 1 in Baguio City

for additional or more detailed information visit:
caro.doh.gov.ph/doh-car-covid-19-tracker/

NOTE:
• Some data may change as new information occur based on further validation and investigation.

#BeatCOVID19 #covid19 #Cordillera
#WeHealAsOne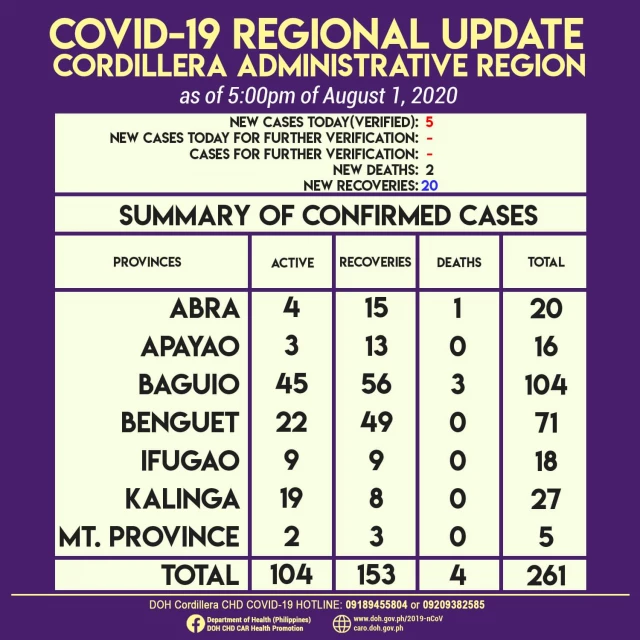 REGIONAL UPDATES: As of 12NN of 25 April 2020, Kagawaran Ng Kalusugan - Cordillera (DOH-Cordillera) reports 9 new confirmed cases in the Cordillera (7 from Baguio City, 1 from Benguet, and 1 from Ifugao).

The total number of confirmed cases in the region is now 35 of whom 14 are admitted in hospitals, 3 in home/facility isolation, 17 already recovered, and 1 died.

Apayao, Mountain Province, and Kalinga remain COVID-19 free or have no confirmed cases while the 3 confirmed cases in the province of Abra already recovered.

#COVID19 | #KayaNatin | #WeHealAsOne #coronavirus
The Municipality of Danglas is the first municipality in Abra province to completely disburse the financial assistance under the Social Amelioration Program-Assistance to Individuals in Crisis Situation of the DSWD.

720 families were targeted to receive the assistance amounting to PhP 5,500.00.

#Danglas #Abra #SocialAmelioratiomProgram #DSWD #COVID19 #coronavirus

Photos: LGU Danglas FB Account
Abra's youngest COVID-19 patient blew out her birthday candle Tuesday at the Abra Isolation Unit (AIU).

The province's youngest COVID-19 patient, "AC37", 4, was surprised by the AIU staff with a birthday cake and balloon. Her eyes glimmered, looking surprised as she faced the medical healthworkers and blew out her birthday candle.

"AC37" from Sallapadan town in Abra turned out to be positive for COVID-19 via RT-PCR test on Aug. 6, 2020.

#Abra #COVID19 #patient