The Municipality of Danglas is the first municipality in Abra province to completely disburse the financial assistance under the Social Amelioration Program-Assistance to Individuals in Crisis Situation of the DSWD.

720 families were targeted to receive the assistance amounting to PhP 5,500.00.

#Danglas #Abra #SocialAmelioratiomProgram #DSWD #COVID19 #coronavirus

Photos: LGU Danglas FB Account
Igorotage supports Video Creators!
Out of the box, Igorotage supports link sharing — Yes, including Youtube videos! Are you a vlogger? Grow your channel for free by sharing your videos with the Igorot community!
Igorotage is on Youtube as well! Support us by subscribing to our channel.
Igorotage Weekly Digest
Don't miss anything important from the Igorot community! Each week we curate the best new information and deliver it directly to your inbox every Sunday morning.
Wallposts
You might also like these related wallposts.
88-year-old Lola in Mayoyao, Ifugao receives financial help from the DSWD
88-year old Mary P. Monchiguing from Mayoyao, Ifugao received the financial assistance from DSWD's Assistance to Individuals in Crisis Situation as on the the Government's Social Amelioration Program.

Lola Mary is living with her daughter whose livelihood was affected by the enhanced community quarantine.

Her daughter heartily expressed gratitude now that they no longer have to worry over money to purchase her mother's maintenance medications. Accordingly, they will also use the subsidy in buying basic commodities to get through the economic consequences of the COVID 19 crisis.

Courtesy: Donald Bulahao

#Mayoyao #Ifugao #SocialAmeliorationProgram #COVID19 #coronavirus
BREAKING: Another BGHMC nurse tests positive for COVID
Another nurse at the Baguio General Hospital and Medical Center tested positive for Coronavirus disease (COVID-19).

Mayor Benjamin Magalong said the patient is a 22-year old female residing at La Trinidad, Benguet.

He said appropriate measures are now being undertaken by authorities to facilitate contact tracing, quarantine, disinfection and medical interventions to prevent the spread of the disease.

The patient is the second nurse from BGHMC to be afflicted with the disease.

- PIO Baguio

Praying for her fast recovery! God Bless our frontliners.

#COVID19 #coronavirus #Baguio #frontliners
Abra's youngest COVID-19 patient blew out her birthday candle Tuesday at the Abra Isolation Unit (AIU).

The province's youngest COVID-19 patient, "AC37", 4, was surprised by the AIU staff with a birthday cake and balloon. Her eyes glimmered, looking surprised as she faced the medical healthworkers and blew out her birthday candle.

"AC37" from Sallapadan town in Abra turned out to be positive for COVID-19 via RT-PCR test on Aug. 6, 2020.

#Abra #COVID19 #patient
TWO New COVID-19 Deaths reported in the Cordillera
COVID-19 Cases Regional Update as of 5:00pm of August 1, 2020

Twenty (20) new Recoveries, five (5) new Cases and two (2) new Deaths Reported in the Region:
Recoveries:
- 5 in Abra
- 4 in Apayao
- 5 in Baguio City
- 3 in Ifugao
- 2 in Kalinga
- 1 in Mt. Province

Cases:
- 3 in Baguio City
- 1 in Benguet
- 1 in Kailinga

Deaths:
- 1 in Abra
- 1 in Baguio City

for additional or more detailed information visit:
caro.doh.gov.ph/doh-car-covid-19-tracker/

NOTE:
• Some data may change as new information occur based on further validation and investigation.

#BeatCOVID19 #covid19 #Cordillera
#WeHealAsOne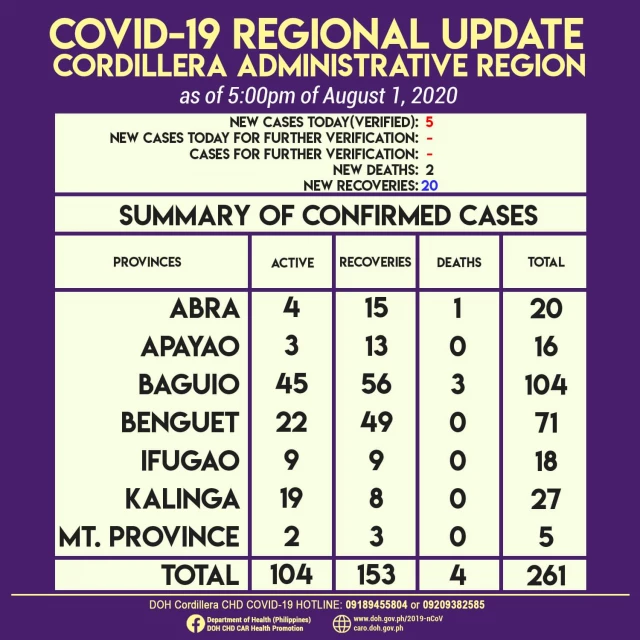 Cordillera: 65,623 families received PhP 5,500.00 cash aid from DSWD
As of 21 April 2020, a total of 65,623 families have already received the PhP 5,500.00 financial assistance from the Department of Social Welfare and Development (DSWD).

The assistance provided was worth PhP 354,024,500.00. Meanwhile, 59,742 Pantawid Pamilyang Pilipino Program families have also received their emergency subsidy.

There are 56 local government units (LGUs) out of the 77 that are already conducting the payouts. The remaining LGUs are expected to start the payout as soon as possible.

Credits: Donald Bulahao and Rina Claire Reyes

#DSWD #assistance #PantawidPamilya #Cordillera