878 newly promoted Cordillera Police took their oath in a ceremony simultaneously held in the different Police Offices in the Cordillera region on January 15, 2021.
Leading the ceremony in Camp Dangwa, La Trinidad, Benguet, the simultaneous mass oath-taking, donning, and pinning of ranks was administered by PROCOR Regional Director, PBGEN R'WIN S PAGKALINAWAN.
Of the 878 promotees, 15 of which are Police Commissioned Officers (PCOs) and 863 are Police Non-commissioned Officers (PNCOs).
For the PCO positions, 5 were promoted to Police Lieutenant Colonel, 7 to Police Captain, and 3 to Police Lieutenant. Furthermore, for the PNCOs, 61 were promoted to Police Executive Master Sergeant, 52 to Police Chief Master Sergeant, 127 to Police Senior Master Sergeant, 65 to Police Master Sergeant, 105 to Police Staff Sergeant, and 453 to Police Corporal.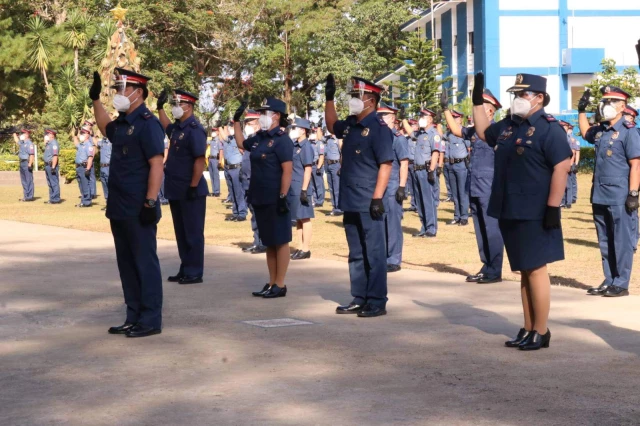 Said personnel underwent series of screening processes conducted by the PROCOR Promotion Board wherein, from all the qualified applicants for promotion in the Cordilleras, only the 878 police personnel were successfully promoted after the careful and meticulous process of selection by the Board.
The 34 promotees assigned in the Regional Head Quarters, 125 promotees in the Regional Mobile Force Batallion15, and 118 in Benguet Police Provincial Office (PPO) physically attended the ceremony at the PROCOR Parade Grounds, Camp Major Bado Dangwa in La Trinidad, Benguet while the others joined virtually from their respective units.
196 promotees from Abra Police Provincial Office (PPO) took their oath in Camp Juan Villamor in Bangued, 35 promotees from Apayao PPO in E.K.B Multipurpose Hall and Evacuation Center in Luna, 111 from Baguio City Police Office in Melvin Jones, Baguio City, 88 from Ifugao PPO in Camp Joaquin P Dulnuan in Lagawe, 85 from Kalinga PPO in Camp Capt Juan M Duyan in Tabuk City, and 86 from Mountain Province PPO in Camp Lt. Geronimo Montes in Bontoc.
In his message, PBGEN PAGKALINAWAN congratulated all the newly promoted personnel for achieving a new milestone in their career as police officers. He reiterated to the promotees that as they move to a higher rank, they should be ready to accept more responsibilities and face more challenges in the service, at the same time continuing to be dedicated to giving selfless service to the community. Also, he reminded everyone to always uphold that PROCOR is the "Home of Most Disciplined Cops."
This ceremony is part of a nationwide simultaneous mass oath-taking, donning, and pinning of ranks for 2nd Level Uniformed Personnel promoted under CY 2020 Continuous and Regular Promotion Programs.
Press Release: PNP Cordillera FB Page